How to Make a 3D Character Model
3D character modeling is the process of creating a virtual 3D model of a character using special software. 3D animation allows you to bring 3D character models to life and discover virtual worlds with them.
3D models have a number of advantages over 2D graphics, and this article covers all points of the advantages, as well as questions creating a character model in 3D, such as: "how does 3D modelling work", step by step guide "how to draw a 3D character" and even where you can find an artist for this job. Let's have a deeper look at it.
What to do if you need 3D character modeling
When considering working with 3D characters, you might face different issues such as lack of skills, deficient visual experience, the device abilities that are insufficient to download and process the software needed for creating 3d models, and simply lack of time. However, for making your own 3D character you need all the things mentioned above: and it seems not so hard when you know who can help you with that.
Let's have a look at who can handle any issues with 3D and would love to do it with joy and focus.
Advantages of ordering at CyberFox
People who have been working with Cyberfox for a long time note that they feel light and relaxed, because using Cyberfox is extremely easy. The interface is intuitive, so even a beginner can quickly find anything you want. They save a lot of time and working with 3D is a pleasure for them.
Punctuality
We give you a realistic assessment of the work completion time. You always get the job right on time.
Flexibility
Based on your project, we will suggest how to achieve the best result. Just send the materials you have.
Knowledge
Our experience and knowledge allow us to offer the best solutions to show your ideas. If you have questions, just ask.
Speed
We perfectly understand when you need visualizations urgently. We work fast.
Experience
We share our expert opinion on how best to present your project because we care.
Saving time
You do not need to understand the software or 3D imaging technology. Everything is available at CyberFox.
How does 3D Character Modeling Work
The purpose of 3D characters can be very different depending on the project. And depending on where the character will be used, the way it is created may vary. Most often, they are used in games and animation.
When creating a game character, you need to remember that in the game all scenes are calculated by computer resources in real time, so you should do the maximum possible optimization. It is necessary to create textures of the optimal size, as well as optimize the mesh.
The process of creating a cartoon character is different from creating game characters. The first is the level of detail. In the case of a cartoon character, it is important that the quality of the textures is as good as possible, the 3D mesh does not need to be optimized, it should, on the contrary, be as smooth and detailed as possible. You can also use full-fledged modeling of hair and clothes.
In general, when creating a 3D character, it is best to start with the simplest sketches, but strive for complication and more detailed rendering. The more detailed your character, the more alive and real it seems.
What's most important in creating 3D character models
The production of 3D characters is based on three main points: experienced skilled artists, communication, and a set of tools.
1. Skilled artists are the most important and valuable asset of any studio. Relevant experience allows the artist to take responsibility for the task, which determines the quality of the future product, which can become something truly outstanding.
2. The 3D character development process requires clear communication between teams: from concept artists to 3D modelers and animators, all teams must be aligned to achieve great results.
3. A set of tools is what determines what the final product will be. Even the most experienced artist won't make something unique with just one tool. Therefore, the wider the choice, the more detailed and better the final result will be.
What Makes a Three-Dimensional Character Different
Let's try to consider the differences that distinguish 3D graphics from 2D.
Advantage when rotating an object.
If you just move 2D objects back and forth in space, then you don't get any modifications, since 2D is flat, there are no additional angles of view.
In 2D, it is difficult to understand their location, but in 3D, the relative position of all objects and their rotation angles are immediately clear.
Benefits of object size ratio (perspective).
In 2D mode, to create the illusion of space and the object placement, perspective principles are used (distant objects are smaller than close objects, shadows, lines converging to the horizon, etc.), which cannot always give accurate information about objects.
Thus, if you see an object for the first time, you will never determine its size and location. In 3D, less data is required for the ratio of the sizes of objects, and even if the objects are located in a chaotic manner at different distances, a person immediately captures their real sizes and location in space.
Greater information content of individual screen areas (for complex objects).
In 3D mode, a complex object looks clear, that is, a pile of graphics looks like a clear geometric figure. In 2D mode, complex geometric constructions cannot be used, as they will be unreadable.
When even just two symbols are shown in the picture, they are difficult to understand in 2D. If you look at them in 3D (blue-red) glasses, then you will make out the inscription in 3D.
Thus, it is possible to place more complex graphics in 3D mode.
Ordinary 2D charts and graphs do not add to the information content. And in 3D mode, you can include additional variables (not just one variable, but many), while not losing readability.
What you always thought was flat can become voluminous.
This allows you to create new pictorial forms in 3D. This opens up opportunities to redefine your outlook on life and bring in new sensations.
Influence on the vestibular apparatus of the viewer.
With the correct construction of the scene in 3D, it is possible to achieve the effects of disorientation of the viewer in space, namely the effects of falls, dizzying races, etc. In 2D, such effects are difficult to achieve. For example, if you are looking at a 3D model of a room on a big screen and suddenly the room topples over on its side, you may fall.
The ability to combine reality and virtual graphics with accurate mapping.
All 3D objects on the screen you see in space. If real objects are placed in front of you, then the 3D image flying out of the screen will be literally between them. This is especially noticeable in 3D cinema: objects literally seem to be located among the viewers sitting in front. If we correctly calculate the location of real objects and virtual objects, then we can get a so-called mixed reality.
The main advantage is that 3D allows you to create something new. Currently, new schemes are being worked out, standard effects are being improved, and new ones are being invented. With the help of 3D, you can create unexpected solutions that no one has done before you.
Which Character Modeling Type is Best?
There are several 3D modeling methods that a 3D modeler uses, the most common of which are polygonal and NURBS modeling. They can be used both separately and in combination.
Polygon modeling
Polygon modeling is a type of 3D modeling that appeared at a time when, in order to determine the location of a point, it was necessary to manually enter its coordinates along the X, Y, Z axes. If you set three coordinate points as vertices and connect them with edges, you get a triangle, which in 3D modeling is called a polygon.
A polygon with three vertices is called a triangulated polygon, and one with four vertices is called a quadrangulated polygon. If you look at the models created using polygons, you can see that most of them are created by a number of polygons with four and three vertices. Each polygon can have its own texture and color, and by combining several polygons you can get a model of any object. The interconnected polygons form a polygon mesh or a polygon object.
In order for the edges of the model not to have a faceted appearance, it is necessary for the polygons to be small in size, and the surface of the object consists of small planes.
NURBS simulation
NURBS modeling or Non-Uniform Rational B-Spline technology is a technology, creating smooth shapes and models that do not have sharp edges like poly models. It is because of this distinctive feature that NURBS technology is used to build organic models and objects (plants, animals, people).
The NURBS curves used in this simulation are of two types: P (Point) curves and CV (Control Vertex) curves. Point curves are controlled by vertices that are directly on the line or object itself, while Control Vertex curves are controlled by points that lie outside the line or object. The difference is clearly seen in the illustration:

How to Draw 3D Characters
Any character development for a video game starts with an idea and a concept.
Creating a Concept Art
Concept art as a character sketching is the stage of creative search, selection of references and thinking through the character's history, development of the image, poses, emotions, clarification of details and rendering of the final result. In order to start drawing, you need to accumulate enough references.
It is necessary to make several sketches in any technique. They determine the image and composition of the figure. The position of the head, gestures and facial expressions convey the mood of the character, one can partly understand his character. Next, you need to clarify the details of clothing, hairstyles, and any attributes of the character.
After creating the sketch, it is necessary to draw characteristic poses. There are mostly three of the most popular ones:
"natural poses": the usual state of the character in a standing position;
"habitual poses": body positions characteristic of the character;
"staging poses": poses taken by the character in the presence of a third person.
Character Modeling
Then you can move on to 3D-modeling of the character. Modeling is the next stage which animation and motion design of the model begin from. And it is important freedom in the choice of tools and techniques.
Character Texturing
Before approaching character texturing, the modeler creates a scan of the given texture (UV scan): this is a 2D image containing information about the surface of the model. UVs are needed so that the texture fits perfectly on the model, there are no errors or bugs.
Next, the textures are drawn, rendered and attached to the model. As a result, we get a set of textures, such as: color, bump map, normal map, specular map, transparency map and many others, using which we can see the full image of a model or character: from clothes and hairstyles to crinkles.
Character Rigging and Skinning
The next step after texture mapping is the creation of the "skeleton": the setup artists create the bones and the tools (controllers) to manipulate those bones, using which the animators can bring the model to life and the character will look real and actual.
Character Animation
The main task of the animator is to make the movements of the model as realistic and alive as possible. This is especially relevant in movies, when 3D characters are mixed with real actors and they need to interact in the same frame together.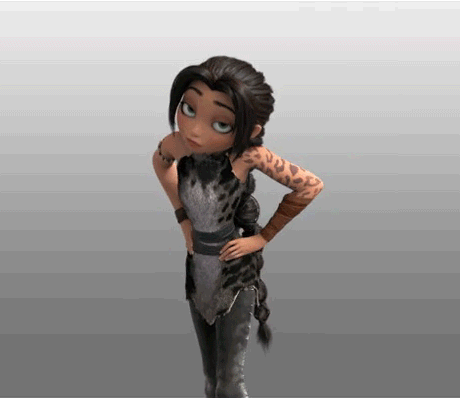 As for the simplest method of animating characters – key frame animation. First, the specialist sets the position of the character in the first and final frames of the movement of a 3d character, and the program calculates the position in the intermediate frames on its own. Although the method is quite simple, it is time-consuming to create complex unique movements that are specific to a particular 3D character, and require sufficient experience and skill from the animator to make the character realistic.
Character Rendering
The final step is rendering of the whole scene.
There are two types of rendering: real-time rendering and non-real-time or it is also called pre-rendering.
Speaking of computer games, they use real-time rendering, because the reactions to the player's actions must occur instantly, online. Shadows and lights are formed using pre-calculated maps and textures, and objects are projected onto the screen in perspective. To ensure that the quality of the graphics is not affected, games often use 3D accelerators. The main criterion in the game is the speed of calculation.
In cinema, it is not rendering speed and reaction that comes to the fore in importance, but high image quality, so pre-rendering is used. Each individual frame can take up to 100 hours to render.
There is also another type, such as photorealistic rendering: a task that particular render farms will help to cope with. They help to significantly reduce rendering time.
Top 3D Character Design Software
Let's list some of the best software for creating animated characters:
Blender
Price: free.
Level: for professionals and amateurs.
Platforms: Windows, macOS, Linux.
A project for creating 3D and 2D animation that supports all the necessary tools for development from scratch: from modeling and sculpting to simulation, rendering, post-processing and video editing.
This program is open source and weighs less than 200 MB, but it has very decent features, such as a particle-based hair system, texturing on models, as well as Python support for creating logic in games and tasks automatization.
Autodesk Maya
Price: Starts at $205/month with a free 30-day trial.
Level: for professionals mostly.
Platforms: Windows, macOS, Linux (Red Hat Enterprise, CentOS).
This is a popular program among editing professionals and creators for drawing 3D models, animation, modeling and rendering complex scenes. It is most commonly used by 3D designers and artists who create complex, detailed characters and special effects in games and movies.
Cinema 4D
Price: starting from 60 euros per month, there is a free 14-day trial.
Level: for professionals and amateurs.
Platforms: Windows, macOS.
This program was developed primarily for motion design, modeling and animation for movies and games. But thanks to its simple interface and low system requirements, Cinema 4D has conquered both the advertising world and social networks.
With this program, you can do modeling, sculpting, drawing, creating compositions and animation, allowing you to perform high-quality rendering, to implement unusual 3D effects. The program also allows you to write code in C ++, Python, create your own scripts, plugins and other tools.
FreeCAD
Price: free.
Level: for amateurs.
Platforms: Windows, macOS, Linux.
This is a specific environment for technical modeling and computer-aided design based on boundary views, which means that models are displayed using their boundaries. However, if you are used to polygon meshes, you can use them.
A significant part of the FreeCAD program is written in the Python programming language. If you know it, then you can add functions to expand the capabilities within the program. There is also an add-on manager: you can add modules and macros to work in various areas, such as architecture or projecting 3D models onto a flat drawing.
Fusion 360
Price: from $60 per month; has a free 30 days trial of commercial use or 1 year for personal use.
Level: for professionals and amateurs.
Platforms: Windows, macOS.
This program allows you to develop machines and mechanisms, assemble 3D structures from parts, represent streamlined shapes using splines, thanks to automated design and the ability to analyze and simulate physical processes in three-dimensional space. It also supports solid modeling with extrude, revolve, blend, and other tools.
Where to Find the Best 3D Characters?
If you have not yet mastered independent modeling, the Internet is full of resources where you can download models created by other users for free. Consider the best sites with large collections and convenient search.
3D illustration of man holding a smartphone. Close up portrait of cartoon smiling businessman using phone, isolated on white background. Communication in social networking, mobile connection.
Thingiverse
Thingiverse has a truly huge database of models. It was created by Makerbot, which actively develops and supports the maker community, so Thingiverse is very popular.
On the site, you can like and comment on publications, so this resource is somewhat reminiscent of a social network. Here you will surely find what you are looking for: from plastic vacuum cleaner parts to Lego blocks. If you know how to create cool 3D models, you can publish your collection.
Instructables
Instructables is famous for its wide range of amateur DIY projects, which are grouped by direction. For example, in the "Workshop / 3D printing" section, you will find all projects that are somehow related to printing on a 3D printer.
You can find anything here: a figured plastic vase or a detail of a big mechanism. Since a published project may not be limited to 3D printing, sometimes you will have to go to the store for arduinos, tools, paint, and other DIY consumables.
Pinshape
There is a really diverse collection of models with an emphasis on fun things: toys, interior stray and other beauties. And the site also has a convenient search and navigation: you can not notice how you spend a couple of hours here, looking at the figures.
STLFinder
The STLFinder site is a search engine for 3D models. Thus, by entering your query into the search bar, you will see search results for several popular resources at once and save yourself a lot of time.
NASA 3D archive
Among the many sites with source collections, there is also the official NASA archive: here engineers post 3D models of spacecraft and celestial objects in STL format.
How to Hire 3D Character Artists?
If among the finished characters you could not find a suitable one, then it is time to talk about an experienced artist who can make all your desires regarding the characters come true. Where can they be found?
Freelance Portals
Now more than ever there are opportunities to work with people who prefer to pay for projects: the most frequent sites for finding contractors are Upwork, Fiverr and Freelancer. Here you can find specialists by different criteria, such as work experience or hourly rate. Freelancers typically charge $25 an hour or more, depending on skill and ability.
In-House Employees
The most important advantage of full-time staff is that you can see all your employees and communicate with them live. When the work is built in office mode, it is easier and faster for the manager to negotiate with employees, maintain an emotional connection, and also maintain discipline and organization, which is often lacking in remote mode. However, you need to remember that for the employer this type of work is a little more expensive.
Outsourcing Studios
Transferring individual tasks or even entire projects to an outsourcing company is a very popular trend nowadays. This is not surprising: the team has already been assembled in the same way as if everyone worked in offices, most often they all work under an official contract and taxation, so they can always start working right away, because they have certain obligations to the employer
This method of cooperation is used by the world's leading video game development companies and is considered the most comfortable.
What Type of Collaboration is Better?
Based on thе table above, it's obvious that the most reliable and effective way to hire a 3D character artist as an outsourced specialist. Outsourced studios have work processes that are well-established and perfectly organized, so the high quality standards are not something meaningless for them, so they always strive to exceed customer expectations in order to ensure a good reputation and credibility in the gaming market.
If you are not sure about the specialists and you need your work to be well done, contact us. Cyberfox will answer all your questions, assemble the perfect team and take care of everything in your project.
How Much Does It Cost to Create a 3D Game Character?
Pricing is influenced by factors such as:
The level of complexity and detail of the character,
The need for animation
Number of appearance options,
Work speed.
Let's take a look at the approximate timeline of creating a character:
1. On average, the stage of creating a concept takes up to 20 hours.
2. Modeling averages 50 hours.
3. Texturing and rigging will take about 15 hours.
4. To create 1 second of animation it takes an average of 5 hours.
In total, a character model can be created in about 100 hours. In this case, the approximate price for an abstract model could be around $2000. When it comes to a real project, any 3D character modeling agency will offer you a free quote with specific estimates.
Conclusion
This article presents a complete step-by-step guide on how to create a 3D character, which programs are the most comfortable to work with, how much it costs to hire a professional team, and what an average price of your project might be.
If you are thinking about your project and have not yet decided on specialists, Cyberfox is ready to introduce you to its team and make a quality product in the shortest possible time.
FAQ
If you want to make your own 3D character, you can download one of the top 3D software programs available on your device and do the step by step sketching, drawing, texturing, animating and rendering of your character.
Making 3D characters realistic is usually not an easy job: you need to draw them as detailed as possible. Hair, blinking, breathing, mimics and skin – every single thing matters.
If you need to have a 3D cartoon character, you need to go through all the process of creating a character using a software program.
There are different popular software programs for creating a character, such as Blender, AutoCAD, Maya and others.
If you want to make characters yourself, you need to draw and animate them in a 3D creating software. If you want to have specialists for that, you can call for an outsourced studio.
Speaking in general, it takes about 100 hours to make a second of one animated character.
Check out our other articles
Leave a request,
we reply in 1 day
Or contact us in the social networks