Top 7 Online Product Configurators for Your Business
A product configurator, also known as product configurator software, is an automation tool that allows sales representatives to alter product parameters, shorten the time it takes to produce quotes, and eventually improve manufacturing and sales procedures.
A product configuration tool manages product choices, visualization, and pricing, simplifying the marketing, sales, and manufacturing processes for businesses. These tools are frequently integrated into CPQ software. These technologies may be used to provide consumers more options during the production or assembly process, ensuring the final product is more in accordance with their expectations.
Today, Cyberfox would like to share with you our top picks for the best online product configurators that can revolutionize your business. Read on and learn about these tools in detail in order to make the right choice in the future. Let's get to the point!
What is an Online Product Configurator?
Ecommerce product configurators are interactive programs that enable online shoppers to alter the appearance of products depending on a variety of configuration options and features, including color, size, text, images, texture, and more. In order to give clients a realistic representation of their items, eCommerce product configuration, in other words, visualizes the product according to real-time adjustments. If your company offers this service, this is also a clever tool for clients to create their own customized items.
For instance, if your online business sells bicycles, you may provide a visual setup of the bike and offer a variety of color options. Customers may alter the color of the bike with a few clicks to discover which one best suits them.
An online product configurator is a crucial tool for every eCommerce company since it enables potential clients to simply make a choice about their purchase by giving them a thorough display of the things they are interested in.
Key Features to Look for in an Online Product Configurator
Product configurators may be distinguished by a few essential aspects. When assessing solutions, the following standout qualities should be taken into account:
Customization possibilities;
3D visualization;
Pricing in real time;
Checks for compatibility;
Ability to integrate;
Mobile friendliness;
Multilingual assistance.
The presence of these elements and the extent to which they are offered may vary between 3D product configurator software programs. When evaluating options, take into account your requirements in each of these categories.
7 Best Online Product Configurators
Now, let's get to the main point of the article – below are the top 7 online product configurators that are worth considering when choosing one for your business exactly:
Cyber Fox
CyberFox is a company that is dedicated to digital technologies. Among the services we offer are graphic design, internet marketing, and the establishment and maintenance of websites. The goal of our workforce is to help companies succeed in the rapidly evolving digital marketplace of today.
Here are the benefits you'll be able to enjoy if you opt for Cyberfox exactly:
3D modular configuration on the spot. The user can design his own special project using a configurator. Visitors to your website don't have to download any apps or plugins because it is hosted online and operates straight in the browser. In order to allow consumers to quickly open the collection of components they're interested in and build custom goods from them, the configurator launch button may be placed right in the catalog of necessary items.
Real-time price calculation. With a thorough costing estimate, any configuration is offered. Ordering and administrative mistakes are less common at the offer stage.
Multi-device support. No matter if you're using a desktop or mobile device, it will function without a hitch in any current browser. With the configurator's support for many devices, you may use it even with a sluggish Internet connection and subpar hardware.
Integration into modern eCommerce systems. The most recent and well-liked eCommerce platforms may easily include a 3D configurator. Through the price API, users may get real-time pricing in addition to creating configuration images for automatic item list compilation and cart transfer. Each element may be customized for your sales.
KBMax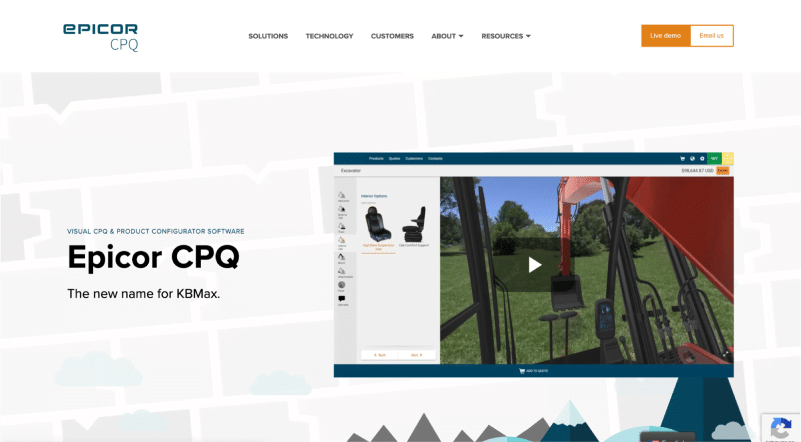 Numerous jobs, such as document creation, CAD design generation, and unique pricing operations, are made easier by the KBMax platform.
With its simple drag-and-drop functionality, KBMax makes it simple to build configuration rules and streamlines a number of operational processes including branding, shipping, and terms of service.
This platform also has a potent analytics section that gathers user data and provides businesses with knowledge on how to enhance their offerings. On the downside, there is no free trial version available, and you need to pay extra to use certain sophisticated capabilities like 3D visualization, CRM connectivity, and CAD automation.
Configure One
Users may handle dynamic sales and production scenarios with the aid of Configure One. Customizing the adaptable solution is simple. Users can modify the solution to fit their own branding and marketing demands.
Users of Configure One who are technologically skilled can add extra customisation using CSS. In client quotations, they may also provide further details like line-item price and customer information. To manage sales, Configure One logs quotation modifications and interfaces with the eCommerce module.
Equally noteworthy are its product configurator tools. It has flexible settings, in-flight product visualization, and cost/price estimation. There is no longer a need for additional plugins or software since internal users may develop and customize 3D visualizations and show them in a web browser. By altering the components, zooming in and out, and panning, customers may engage with and personalize 3D product models.
Users may create unique reports with Configure One, which interfaces with other business systems via an API. Users may generate stunning 3D graphics with the online application.
3D Source
By focusing on both big and small firms, the product configurator from 3D Source seeks to level the playing field. Employing digital assets and 3D technology enables businesses to expand their sales and boost their income.
Users of the adaptable solution can modify a 3D piece for product photography, trade show collateral, or product configurator software. Real-time product visualization, rule-based setup, cost and price calculations, among other crucial capabilities, are all included in the flexible and powerful 3D Source. Users may produce both 2D and 3D drawings and models.
In addition to integrating with popular business systems, 3D Source meets the demands of internal users and members. It works well with CRM and resource management programs and links easily to eCommerce websites created using platforms like WooCommerce and Shopify.
The 3D Source is a cloud-based platform, but it can still be installed locally on Windows-powered PCs and then used. It may also be accessed using the iOS and Android mobile operating systems.
Apttus
Apttus is a multi-channel sales tool for businesses that was created expressly to assist businesses by helping configure, price, and quote transactions more quickly and precisely.
This application is capable of managing intricate product and price arrangements across a variety of sales channels, including telesales, partners, field, and online retail. Apttus CPQ can be integrated with top CRM programs like Microsoft Dynamics 365 and Salesforce and is compatible with popular cloud platforms like Microsoft Azure.
The Apttus interface is not the most user-friendly, but it does help with important activities like contracts, billing, order management, and the Quote-to-Cash process. Without using custom code, it can be difficult to construct complicated rules, and some users complain that the interface is cumbersome and has too many stages and slowly loaded components.
Verenia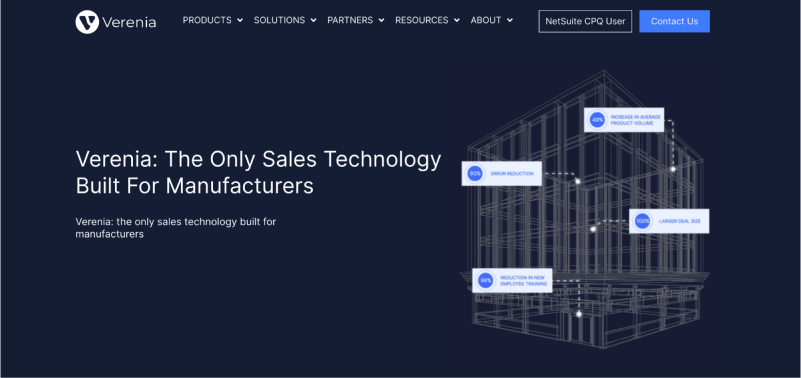 A cloud-based collection of sales pipeline technologies called Verenia CPQ includes eCommerce and CRM solutions. Despite serving industrial companies as its main target market, the CPQ application also provides useful services to the retail and marketing sectors.
You are able to create product images based on user-specific configuration choices and build up business rules to present product alternatives anyway you see fit. In addition, Verenia offers tools for handling financial reporting, 3D modeling, and cost and price computations. The more complex 3D tooling is included in a different offering, which is one drawback.
Powertrak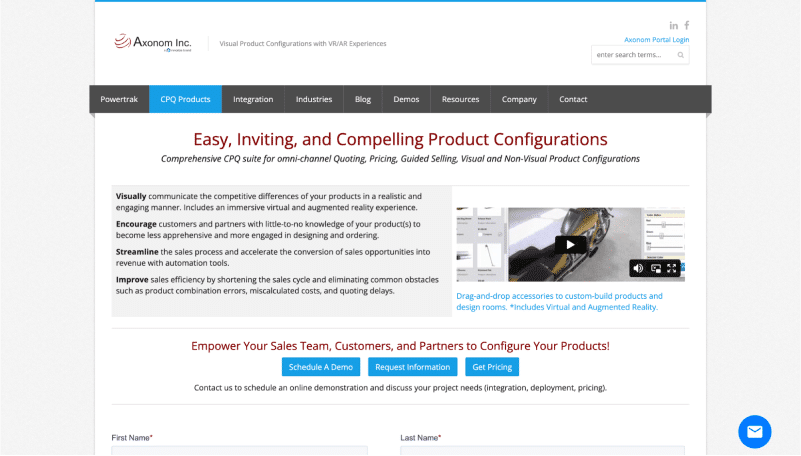 Axonom Inc.'s Powertrak Product Configurator software is aimed at the industrial industry and has special virtual reality capability. Customers may interact with and personalize product interactions using the VR capability.
Customers may set 3D graphics utilizing text-based instructions on the system using virtual reality. Despite being a web-based service, Powertrak offers a better mobile user experience. Users may produce 2D and 3D models using it, and it gives customers a real-time selection of products.
Powertrak interacts with well-known ERP and CRM programs and has a data adapter that enables users to send data to partner apps. Powertrak's premium services include the ability to interact with and alter 3D objects in a virtual reality setting. However, this unique service is priced more and is available only as a premium component.
Selecting the Best Configurator for Your Business
Starting a product configuration business and connecting a product configuration website with your eCommerce website should not be challenging procedures. The finest product configurator for your company will need to be chosen, though. You must also take into account the fact that as technology has advanced through time, so too have customer requirements and expectations undergone a major shift.
Brands must use interactive visuals to explain their products. They must also be able to demonstrate the value of complex goods and solutions, as well as the breadth of their product portfolio. Finally, they need to execute it in a way that draws in, keeps, and grows their consumer base. The most effective product configurators will be simple to use while also showcasing your goods in lifelike 3D quality, helping to convert leads into paying consumers.
Conclusion
Product configuration, when done right, has the potential to take your company to new heights. So you require a flexible product configurator that gives you instant access to innovation.
Our 3D configuration platform at Cyberfox contributes to an improved eCommerce experience for both customers and enterprises. Customers can envision and configure their perfect product before making an order, which benefits your business through higher conversion rates, fewer returns, effective sales enablement tools, 3D asset management that enables you to expand your product offers, and contented clients.
As always, it's all up to you! But remember the most crucial – our Cyberfox team is always happy to see new clients and help them all of their ideas, even the craziest ones, to life. Thank you for your time!
Leave a request,
we reply in 1 day
Or contact us in the social networks
FAQ
The process of choosing and organizing components in a configuration that may be produced and delivered to satisfy a particular client requirement is known as product configuration. A salesman, sales engineer, or a software program can configure products manually or automatically.
A tool called a product configurator enables buyers, developers, and salespeople to alter the features and parts of a given product. It may be used to make sure that the final configured commodity satisfies requirements and is faultless.
Although configuration file information is frequently unique to the associated program or system, it typically belongs to one of three main content types: comments, flags, and settings.
Product configurator software, also known as a product configurator, is a software that helps you choose alternatives for a product to satisfy the unique demands of your clients. A product configurator automates the process of generating quotes and specifications, accelerating the quotation process and moving the product into production.