Best 3D Character Creator
Technology is always what drives progress and changes in the lives and mindset of people at all levels. And with each new discovery, technology makes our lives easier or more joyful, trying to satisfy our most, at first glance, insignificant (but important) needs.
Even small innovations in entertainment content also drive progress, because small short steps through the decades become one big bright and important step, changing the direction of other industries and pushing the boundaries. This step was once 3D.
Few of us know that 3D is based on simple mathematical theories put forward by scientists before the 20th century. Later, closer to our time, the first ray tracing algorithms were studied for rendering a three-dimensional scene, characters, and so on.
And now some 3D characters are not only related to their films and video games, where we are used to seeing them, but they now "live their own lives". Some 3D characters are more popular than many stars and have a huge number of followers on social networks. The designers who once came up with a unique character and put it on the Internet have absolutely ensured a comfortable living for themselves for the rest of their lives, because their character does not require a salary, but takes money for advertising.
Of course, creation of 3d characters is not an easy profession, especially if we are talking about quality work with a proper responsible approach. However, no matter how difficult the path would be, the most difficult thing is to start. And then there are a huge number of courses, applications, programs, video guides that help you understand 3D design.
In this article, we will look at the 10 most popular programs used in 3D modeling by both beginners and pros.
3D
character creation
with CyberFox
When you think about creating a 3D character yourself, the first thing to do is to download some software and try to make it yourself using guides and video tutorials. If it doesn't work the first time, don't despair, try again another day.
However, if it will be a difficult process for the third time, and something special is needed for you or your business, but you are not ready to spend a huge amount of time learning it, just put it in the hands of our professionals from CyberFox.
Firstly, we have already spent more than 10,000 hours studying and practicing in this area by today: we know exactly how to get this work done;

Secondly, we love our work and are focused on success, therefore we are ready to understand your goals and desired results 24/7;

And thirdly, while we are working, you can relax or do the work that you love just as the CyberFox team loves 3D.
Benefits of using CyberFox 3D
character design
services
CyberFox makes 3D characters based on drawings, sketches, and photographs. We help implement any project, from modeling parts for production to making a souvenir product model. Use the callback order service, and we will tell you the deadline for completing the order and the cost of 3D modeling.
What is the best 3D software to create 3D characters?
Before you call us, you'd want to try some software yourself, and in this article we provide a list of the best and most popular software for 3D character creation. Let's take a closer look at each of them.
1. MakeHuman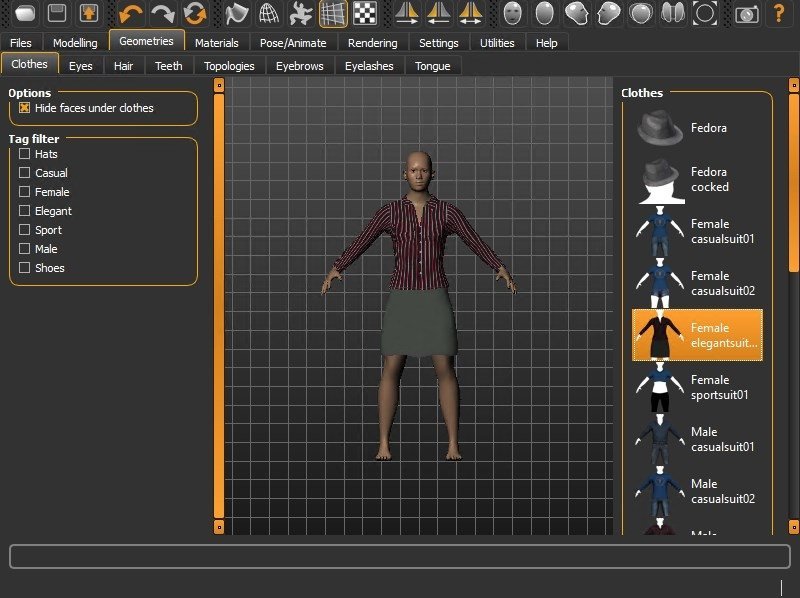 Many users call MakeHuman software one of the best programs because:
It is easy to use for everyone (it is

open source

);

Compatible with different operating systems (Windows, Linux, Mac and so on);

Suitable for professionals (multifunctional and has a wide range of effects);

Suitable for beginners (intuitive interface);

Offers users the morph target animation function to create 3D

animated character

s;

It has the option of adjusting the character's parameters using sliders: thus, you can change and select its weight, height, gender, limb length, ethnicity, and more;

The program has a huge community of users exchanging thoughts, opinions, experience and possible ways how to deal with this or that challenging issue during the work in the program;
Although,
It does not offer a large number of clothing items and accessories;

There is no option to add scars and wrinkles on bodies, which is sometimes a small issue for the ones who love details a lot in the process of

character creation

.
The program is totally free of charge, which means you don't need to pay anything before or after downloading the program, as well as there is no trial period and you can use it freely.
2. DazStudio
Daz Studio is also quite popular among 3D modelers and is chosen for a number of reasons, which we will discuss below.
Perfect

modeling software

for

character design

including posing, rendering, 3D animation;

Providing such add-ons for graphic design, such as Genesis 2, 3 and 8, which are responsible for working on movements, facial expressions, articulation, allowing you to create the most realistic picture;

The program is equipped with a large abundance of functions that allow you to customize scenes and characters;

Offers Victoria 4, which has a lot of polygons to make your 3D character as accurate and alive as possible;

You can create a 3D model optimized for 3D printing;

More often you can find what exactly professional illustrators say about using Daz Studio, while for beginners there is too much detail here;
The software is completely free, although they used to charge $249 a short time ago.
3. Autodesk Maya
This program, most likely, does not require additional introduction, but it's still important to highlight some points about it that may not be familiar to everyone.
Most people say that the feature pack here is more geared towards professionals, and it's really difficult for beginners to get to grips with it;

It takes a very long time to render and it is better to have a computer with as powerful video card as possible;

For some, the texturing and sculpting options offered by Autodesk Maya are not enough, they would like even more detailed rendering referring to

character design

;

It can be studied endlessly, because it is constantly updated with new plugins, effects, which earned such attention from experienced designers.

The program is very powerful, with a large set of

software tools

, so if you want to create something really high-quality and worthwhile, then you need a good computer and a lot of patience. But users say it's worth it;

However, there are a large number of tutorials that help to understand not only the basic things, but also the details;

Maya has a large community of users who are ready to help if something is not clear;

3D models are of the highest quality, detailed, clear and lively;

Works with Windows, Mac OS and Linux operating systems;
Among the obvious shortcomings that can be found on the Internet is only the indignation of users that the program costs too much, and is almost unaffordable if you are a freelancer. The program starts at $205 per month or $1505 per year, and a free 30-day trial is also offered.
4. Blender
Along with the previous member of our top list of the best programs for 3D artists, Blender is also very popular among illustrators, but in this case, it is also mentioned by beginners.
Although the program is full of features and modifiers for 3D

character creation

, scenes, and various individual items, many people call it quite easy to learn compared to other programs;

It is very easy to use Shortcuts, which speed up the workflow;

The sculpting and texturing options are for the most part a delight for users;

However, if you detail too much, the program often lags; so, it is not considered as suitable for complex animation;

If you load factory settings, you will lose your current file if you don't save it;

The

design software

is an

open source

public project, which means anyone can use it.

Created as simply as possible: you can make a 3D picture even with the help of a photograph.
Another benefit is that Blender is completely free.
5. Adobe Fuse CC
Adobe Fuse CC, or as it is also popularly called Mixamo (by the name of the mixamo.com website), has a slightly lower rating compared to previous programs, but it also has the right to be mentioned here, because a large number of people use it for their own purposes and in some ways it may even win.
A program delivering even higher quality graphics in photography is of course difficult to find if you are already dealing with Adobe products, so static characters, drawings, high quality 3D photographs can really be made using this program;

However, the animation feature in

character designing

is not worth that much attention;

This program works well in conjunction with Adobe Photoshop, which only few people know about;

Has a lot of effects;
During the beta period (which is currently running) all mixamo.com products are free to use, there are no comments on payments and prices yet.
6. ZBrush
ZBrush is a program that mostly focuses on sculpting and painting. It is also quite popular among artists. Let's take a closer look.
A

robust toolset

filled with tools

that allow you to draw and work with the smallest details in a 3D picture, for example, ZModeler, Slice Mesh, PolyGroup;

Supports 3D Connexion devices, which allows freedom of navigation within the viewport;

It is possible to make models ready for the CNC machine, as well as models for 3D printing;

Also, users highlight the text string function in this program, since it is quite difficult to find a good program with such a detailed drawing, which is essential for

character design

;
However, there are also rare weaknesses:
Sometimes the program crashes;

The user interface is far from simple, the heap of toolbars can distract from work;

There are even users who call ZBrush visually unattractive, albeit very feature-rich.
Speaking of monthly subscription, the program will charge $39.95; the price for an annual subscription is $359; if you want to buy the rights to use ZBrush forever, you will be charged $895.
7. Poser
This program was aimed to create human characters, so you can find a lot of useful details here, and it is also a good source of inspiration.
Contains a large number of tools for dressing figures, styling hair and adding accessories from the library;

Often used to create dynamic content: videos and animations;

In the process of

animated character creation

or making an animated scene,

there is support for dynamic hairstyles and clothes that move along with the "physics" and human movements;

It has a wide range of drawings, models, textures, presets for 3D models that are so good for

character design

, as well as a multi-level shader system;

Export to popular formats such as OBJ, STL and FBX is available;
Among the regrets of users the following point can be found:
Due to the fact that the program is not sufficiently funded, it has stopped in development, and is updated very rarely, although it was launched with great ambitions and it could have a good future;

The program is good for students, students in the field of 3D, but it slightly limits the capabilities of professionals with long experience.
The program offers a 21-day trial period, free of charge, and after that you have to pay either for the old version of Poser 11 ($129) or for the new one: Poser 12 costs $249.
8. Cinema 4D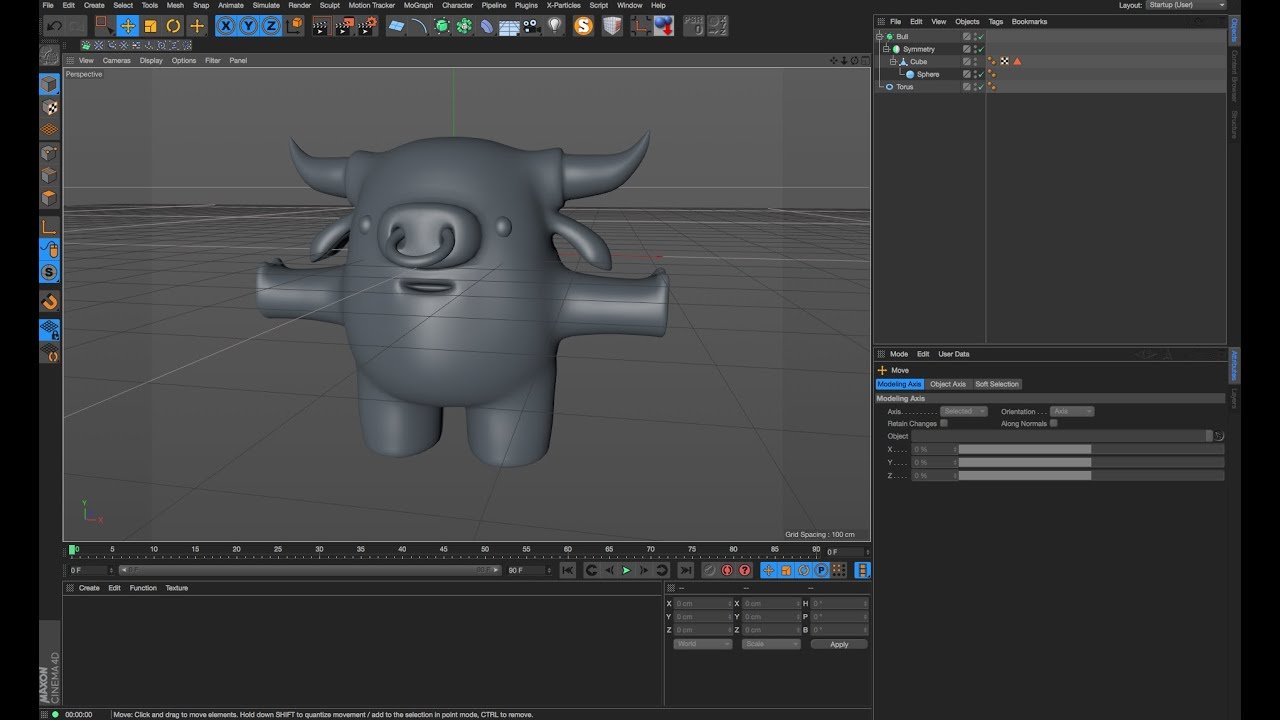 Cinema 4D Studio is famous for its excellent motion graphics and the quality that manufacturers give to users while working on projects. Let's look a little deeper at the most important characteristics of this software:
The set of tools in the program is not focused only on 3D

character creation

, but the assortment is still very large, which allows you to make high-quality 3D models;

Users note a visually pleasant interface with which you do not get tired of working even for a long time, which is an important distinguishing feature from many programs where developers do not attach importance to the visual component of programs;

The retopology option needs work;

Despite the huge collection of features, the program is understandable for both beginners and experienced 3D specialists;

Export to all popular formats is available;

It has a built-in render farm, which helps to render a large project weight faster;
However, with such a large list of advantages, there are also weaknesses:
When it comes to texturing UVs, bodypainting, rigging, the program doesn't do a decent job based on user feedback.
And also many people highlight its high cost, although there is a 14-day free trial, then you pay $94 per month or $999 according to the chosen plan, but if you compare it to the above mentioned, it's not that high, objectively.
9. Autodesk 3ds Max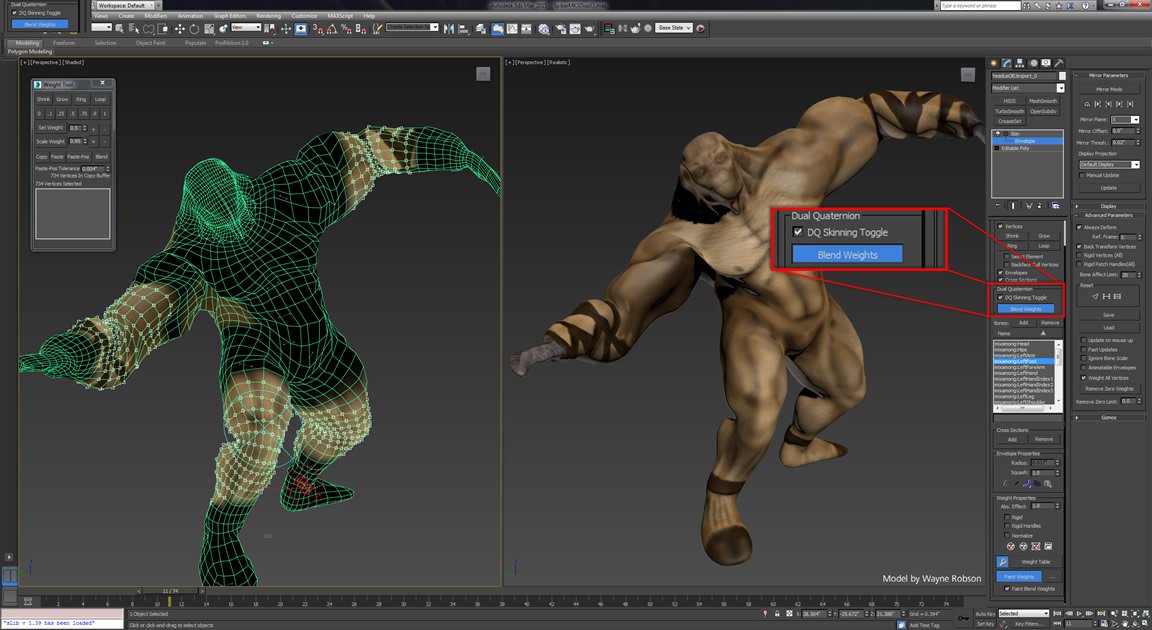 3ds Max Design software is focused on architecture, room design, and visualization specialists in other related areas, so it's not a perfect application for character creation. However, it creates a 3D high quality images and still relates to character design, so let's look at its important features:
Allowing you to implement really large-scale projects, 3ds Max weighs quite a lot and requires a lot of capabilities from your device; if they are not enough, the program will lag and it will be impossible to work;

The program allows you to make very realistic models and objects;

Interestingly, despite the fact that the program is complex and has many functions, users speak of it as a "good solution for learning 3D as a beginner", which indicates an intuitive interface;

Modifiers are called the best part of 3ds Max because they help reduce the number of polygons efficiently.
Monthly subscription costs $225, annual $1,785. You can also pay $5,085 for a 5 year subscription.
10. iClone
iClone is not as popular as the previous ones on this list, but it is called a really fast program, with a significant list of advantages:
Good for creating professional

character animation

for games, movies and other industries;

It does not specifically focus on

character creation

, however, users note that the set of modules, plugins and

software tool

s for textures, images, human forms is impressive, and this program is perfect for game designers,

game developers

and

game character

s;

It is possible to automatically adjust the movement of hair and other textures in conjunction with the movements of the character's body;

The program is equipped with a large number of toolbars and settings, so it is not easy to learn for those who are learning 3D

character design

from scratch.
For a whole package of tools you have to pay $398.
Conclusion
Thus, in this article, we have reviewed the top 10 modeling softwares for character creation, and each of them has its positive and negative qualities, so it is impossible to name the best one with certainty.
As mentioned at the very beginning, we advise you to try yourself as a 3D character designer. However, if you want really fast work and high-quality results, then contact us in any convenient way and be sure that the CyberFox team will do its best to make you satisfied with both the process and your product.
---
FAQ
Every 3D program aims to produce realistic-looking characters, but software such as Poser, DazStudio, and Cinema 4D have a lot of positive reviews on realistic 3D character creation.
It takes about half a year to a year to understand the basics, however, to become a professional in the field of 3D design, you need to practice and work for a long time, and this can take years.
First you need to install the program on your device, and then get down to the character creation in this program, going through 5-7 main stages: from visualization to rendering.