10 Best Free Room Visualizer and Interior Design Apps
Are you looking to expand your home, get a new kitchen or bathroom, or finally fix the garden? Or have you recently moved into a house and are planning on renovating several rooms? If you're going to be taking on any of these projects yourself or hiring someone professional, there's plenty of software for design projects that is readily available and user friendly. Plus, it's affordable (or even free) in many cases.
No matter what home improvement project you're taking on, from revamping a living room to touching up the paint in your kitchen, it's essential to communicate your ideas as accurately as possible with everyone involved. The best way to do this is by using a room planner or design app that can create a visual representation of your plans, says Cory Powell from DBS Bathrooms. He walks us through some free design software currently available for people who want to improve their homes' designs and interiors.
SketchUp
Cory insists that SketchUp is the most all-encompassing free 3D design software available online. He claims it's so immersive that you feel like you're physically moving through your future home, yet flexible enough to give you the experience of working with pen and paper.
The free version of this software is ideal for those with a casual interest in design. In contrast, the pro version is more comprehensive and tailored to individuals working professionally in architecture, construction, engineering and commercial interior design. So if you're planning on building an extension to your home or even just designing a treehouse, regardless of the scale of your project, this software will help ensure that every aspect of your final product meets your expectations.
Pros:
A user-friendly interface, the ability to add customizations and plugins, and the availability of a large online community for support.
Cons:
Limited materials library and lack of photorealistic rendering capabilities.

It may not be the best choice for more advanced or professional use.

Access to certain features and plugins may require a paid subscription.
Homestyler
Homestyler is the perfect app for anyone looking to do space planning, interior design, decoration, furniture arrangement, or home renovation. With this room designer, all you need to do is select the furniture you like and then move it around until you're happy with how it looks. The service is suitable for both professionals and amateurs alike. Thanks to its intuitive interface and simple tools, even people without experience can create unique designs.
With Homestyler, you can access thousands of individual furnishing pieces that can be placed in any desired space. You can then view and compare these different placements in 3D mode via the app's live visualization feature. Plus, once you're happy with your design, you can export it into DWG format with just one click—no need for prior preparations!
By keeping the dimensions of all elements accurate to the actual prototypes, you can avoid any inaccuracies in the implementation of the interior. You can view the design in 2D and 3D modes on PC, Android, or iOS applications.
Pros:
You can access this product through a web interface.

The presets are fantastic.

The product produces high-quality renders.
Cons:
Slow speed of operations and lack of precision when working with computer hardware.
Floorplanner
Floorplanner is an innovative tool that allows you to decorate and design online without downloading software. It's unique in that it offers an interior decorating function, but where it truly shines is its floor planner feature. As a result, you can see your completed project in 3D mode with a few clicks.
Floorplanner is an uncomplicated program that even first-time users find easy to use.
Pros:
The program is easy to use, no matter your level of experience.

Creates photo-like images that look real.

You can upload and download floor plans in various formats.



Cons:
Not enough freedom to personalize your furniture and home decor.

Poor landscaping abilities.
Room Planner
Room Planner is a free room design app that allows users to create a 3D model of any room in their home with their smartphone. You can add furniture, decide on the layout and design, and see it all come together in real time. The best way to draw up floor plans and strategies is to use 2D first to map out the area and then review and modify the design in 3D.
With Room Planner 3D, you have the liberty to start from scratch, add elements, or use a pre-made template. You can edit colors, textures and materials to make furniture, wall coverings, floors, etc. Another approach Room Planner offers is to edit each element's size until it creates the perfect final balance.
This interior design app is free and allows you to choose furniture from the IKEA catalog. You can then try out the furniture in your virtual room, changing things like the color of the carpets, paint on the walls, light, and accessories.
If you're looking for a room decorator app with an expansive range of furniture, this is the one! With options like tables, chairs, beds, cabinets and armchairs divided into categories, it's easy to find what you need in the catalog. What's more, Room Planner is also the most popular IKEA design tool.
Pros:
Lots of features.

Convenient to use.

Easy and friendly interface.

Selection of furniture from IKEA.



Cons:
You need to get a paid subscription to discover more features.
Roomstyler
Roomstyler is a user-friendly app that allows you to virtually design any room in your house for free! All you have to do is select the property type and room layout. Then, you can customize the shape by choosing from pre-made resources or drawing your own space.
Roomstyler 3D Home Planner allows you to add furniture and decor to your space and see the rooms from any angle with a virtual camera. Another great perk is that the furniture and accessories are all actual items available for purchase online from various brands such as IKEA, John Lewis, Moooi, Marcel Wanders, and more.
With Roomstyler, you can design your dream house right from your computer—for free! Our easy step-by-step guide will also walk you through the entire process so that even first-timers can create a masterpiece. Once you're done, look at your handiwork in realistic 3D renderings. And if you want to share it with friends or family, no problem! Just log in to your account via social media or sign up for an account on our website.
Pros:
Ability to view the work of other users.

Over 120,000 decor items.

The opportunity to bring your ideas to life: you can decorate your home with objects from the collections of John Lewis, Marks & Spencer, and others.

You can compete with other users to create designs based on given topics.



Cons:
No local saving or file export.

Limited workspace from top to bottom.

No real-time 3D design mode.
SmartDraw
Smartdraw helps you create visual graphics and presentations, including project charts, timelines, marketing charts, and flowcharts. With the flowchart application, you can also design floor and individual room plans. In addition, you can use SmartDraw to plan office spaces and apartments.
SmartDraw is fantastic room designing software that offers users a free trial period. Then, if you like what you see, you can purchase the entire program. With an extensive selection of furniture, cars, building materials, and preloaded plans,it's no wonder SmartDraw provides so much value for its low cost.
Pros:
Easy-to-use interface, the ability to add text and graphics to your designs, and the availability of pre-made templates.
Cons:
It does not have advanced features for more complex designs.

It may not be the best fit for more advanced users.
Housecraft
Housecraft is a free interactive room designer that lets you see how all pieces of furniture and decor fit in the right setting, so you can decide where they'll look best. This great room decorating app gives you access to an extensive catalog of furnishing items. In addition, you can adjust any piece's length, width or height. Then, following the instructions, you can use Housecraft to build an entire 3D house design!
With 3D room design, you can save time and money by examining how objects will look in your home from every angle before making a purchase. This free app makes it easy to find the perfect furniture for your home and plan the layout of your rooms.
Pros:
The room visualizer app is regularly updated.

It offers a simple interface.

Major bug fixes with every update.

Good app support.



Cons:
Lacks privacy.

Some features are missing.

Limited selection of goods.

There is no way to design a photo background and save it.
Planner 5D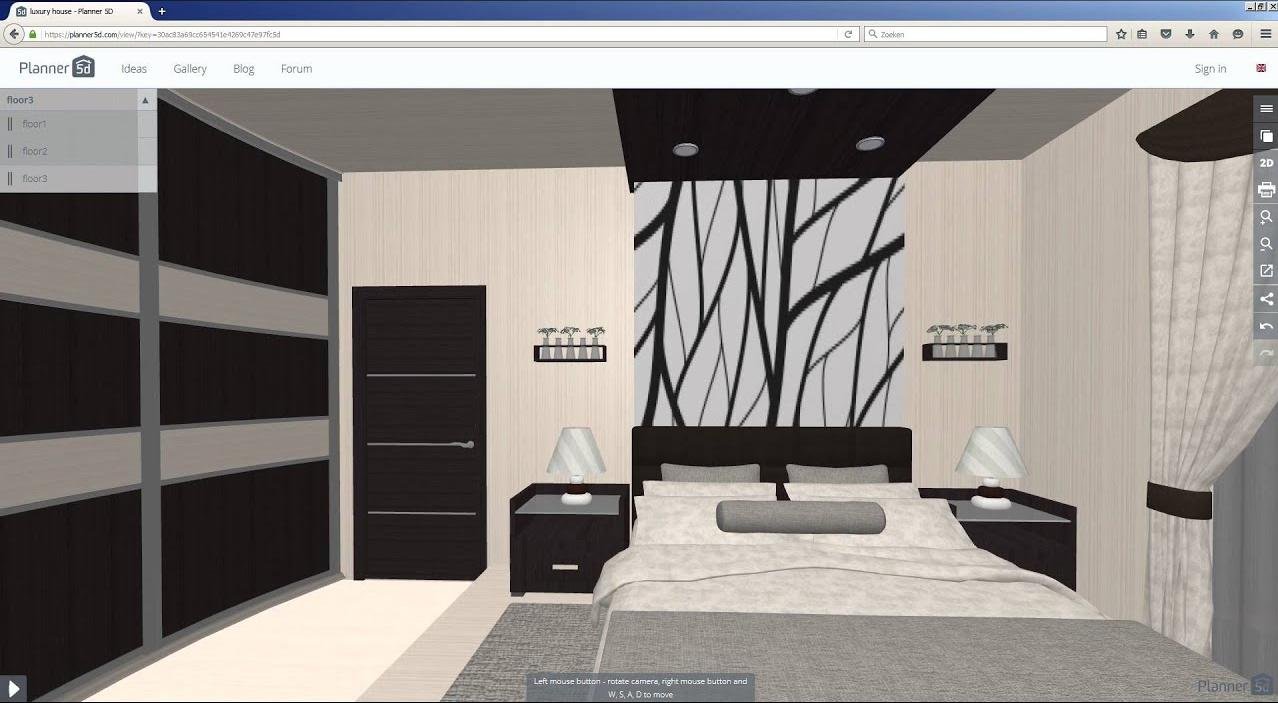 Planner 5D is an interior design application that allows users to work in 2D and 3D formats. With this room visualizer app, you can create a 3D design of your room and add virtual furniture models. You don't need any special architectural skills to use Planner 5B: the intuitive interface with convenient controls is suitable for both beginners and experts.
Planner 5D lets you design your dream home from the ground up or make improvements to your current residence. With an easy-to-use interface, hundreds of pre-made templates for furniture and appliances, and a color catalog with an unlimited number of objects, this app makes it simple and fun to see what changes would look like in real life. In addition, the 3D rendering feature gives you a realistic view of how your new space will come together.
Pros:
Availability of a gallery of projects.

Customizable control buttons.

Fullscreen and compact mode.

Friendly and pleasant interface.

High-quality texture rendering.

You can take and view screenshots.

Quick arrangement of various objects in the room.

Comfortable work with the house, apartment, cottage or office scheme.



Cons:
The software does not work on Microsoft Windows XP.

Advanced features are only available in the complete Planner 5D Interior Design (registration and subscription required).
Design a Room
Design a Room is perfect for anyone who loves experimenting with colors, textures, finishes, different flooring combinations, walls, ceilings, cabinetry, etc. Armstrong created this app so users can upload photos of their rooms or choose from the gallery. If you opt for the latter option, you can then decide on the style that interests you most: traditional, contemporary, or eclectic, which combines all styles if you're undecided.
The app will provide helpful tips to determine if your selected product is suitable for its intended purpose. For example, you wouldn't want to put hardwood floors in the bathroom. If you're planning on making any changes around your home, big or small, this app can help guide you towards choosing options that best suit your needs.
Pros:
Users can efficiently plan and visualize room layouts using virtual furniture and décor.

The program has a user-friendly interface, making it easy for anyone to navigate and utilize.

Various furniture and décor options allow creative experimentation with different styles.



Cons:
May not have as comprehensive or up-to-date options as more specialized interior design software.

Virtual furnishings may not accurately reflect the actual sizes and proportions.
HomeByMe
HomeByMe is the solution for when you can't seem to find inspiration for your home's furniture and decor. Use it to see what various house layouts and decor options look like before buying new items or remodeling your space. This interior design program has many components for editing and creating 3D models, and you can view the models from multiple angles.
This house design app allows you to work out the interior of your whole house or apartment in detail. Download a ready-made template or start creating your project from scratch. Draw at any scale, and drag windows, doors, and other technical elements with your mouse.
The Home Interior Design app is perfect for you if you want to renovate or remodel your home. With a catalog of over 20,000 products from famous brands and designers, you'll be able to find exactly what you need to put your personal touch on your space. And with the ability to view all products in 3D, it's easier than ever to see how everything will come together before making any decisions.
Pros:
Simple and intuitive interface.

Wide range of functions for working with the interior of the room.

Users can choose interior items.

In the menu settings, you can select and set the parameters of furniture and interior items.

You can change the model from 2D to 3D.
Cons:
Lots of paid features.

Difficulty navigating.

Can't set dimensions.

No output of detailed results.
The bottom line
In conclusion, we must state that there is no perfect room designer for realistic interior design. In this article, we have presented you with the best room design app options to choose from. Each of the programs discussed above has its advantages and disadvantages, but they are all worthy of attention and can significantly facilitate your work in decorating an entire home, or just a kitchen or bedroom.
The only way to know if an interior design app is right for your needs is to try it out yourself. With that in mind, read about the best available room design apps.
Leave a request,
we reply in 1 day
Or contact us in the social networks
FAQ
There are several room design apps out there that allow you to do this, including Houzz and Home Design 3D. With Houzz, you can upload a photo of your room and then virtually try out different furniture and design elements. With Home Design 3D, you can create a 3D model of your room and redesign it with their furniture and decor options.
If you're looking for a way to efficiently plan and design your rooms using virtual furniture and decor, a room visualizer app is perfect. Available on Android, Houzz and Home Design 3D offer cost-effective solutions that make it easy to see potential home redesigns.
One popular app used by property managers to design houses is Home Designer by Chief Architect. This room design app allows users to create floor plans and visualize home designs in 3D. It also offers cost estimation and virtual tours of the designed space. Other options for room design apps include Planner 5D and HomeByMe.
Several apps can help you rearrange your furniture, such as Magic Plan, Home Design 3D, and Planner 5D. These room design apps allow you to input the dimensions of your room and furniture items and then play around with different layouts until you find one that suits your needs. So give one of them a try for a stress-free furniture rearrangement experience.