3D Furniture Rendering Guide
When speaking about 3d modelisation in furniture, we need to remember that 3D furniture models can be called exact replicas of a real product. Most of the time, designers even have a clear picture of the end result before they start creating it. 3D furniture renderings help bring this vision to life. 
Interestingly, 3D furniture modeling and drawing can be used by both amateurs and industry professionals, because it's quite easy if you know how to use software. You might be wondering why 3D furniture design is important and why you should consider using 3D furniture design services. Let's explore this topic in more detail below.
For example, you might have an idea for a more ergonomic office cubicle, or think your hotel would benefit from new beds with storage compartments to save space. Or maybe you think a new formal dining table is just what you need to liven up the dining hall.
Maybe we should consider this home improvement project after all! A new coffee table and chair might be just what we need. In all such situations, 3D modeling gives you the power to create anything you can imagine.
What is 3D Furniture Rendering?
The use of 3D design has become widespread in recent years. It allows you to create a 3d object, that is to say in three dimensions, height, width and depth, in a digital environment. Improving the virtual prototype of any object is both fast and efficient. Instead of spending time making (and then changing many times) a physical copy, the designer devotes his efforts to optimizing the digital product, which can be done perfectly. After that the digital version can be turned into a physical one.
Today, 3D covers several areas, such as 3D drawing and architecture. How are they benefiting from 3D modeling?
3D drawing
3D drawings are more realistic, they reproduce the different details such as relief, shapes, distances and proportions. 3D furniture design allows perspective to be taken into account. Indeed, the point of view evolves in relation to the position of the observer. Professionals use four types of perspectives: frontal, oblique, aerial and atmospheric.
Architecture
3D modeling allows for better visualization. The plan is precise, it looks like a photograph. The builder can estimate the work to be done while the client will benefit from a realistic overview. In addition to the overall management of the project, 3D modeling software offers several solutions: designing the plans, carrying out a virtual layout and presenting the rendering.
The benefits of 3D design
Existing samples and video guides to start with
Designers do not always start from scratch, they can rely on existing models. The precision of the tools improves the quality of the result. Even if they have to create a new object, the information available is an asset during the design.
The modification allows virtual simulations by multiplying the parameters. Fixes after the build of the final version will be for the memories.
Technical documentation will be easier to produce. All data is available from the design phase. The production of the user and maintenance guide will then be simplified. And most importantly, the data will remain at your fingertips, accelerating future creations.
3D modeling strengthens collaboration between different teams, even if they don't speak the same language. They will understand the specifics of each model, without specific instructions.
The catalog of 3D design software is rich and varied. The developers have designed intuitive tools that are easy to use, even for beginners in the discipline. Free CAD software features models that speed up creation.
Cloud-hosted programs promote collaboration between different entities. Using files created by other people is possible. Tutorials make it easy to get started with 3D furniture design software. They take into account the level of the user.
The designer can rely on already existing 2D or 3D shapes. Afterwards, he will export his achievements in order to accelerate production.
A wide range of 3D design software
The first step is to select 3d software adapted to the field such as mechanics, design, video games, architecture or animation. Then, within the same domain, you can compare the available features against your goals. If you use a specific file, it is important that the tool supports this format.
The available budget also comes into consideration. If your means are limited, turning to free solutions is a reasonable option. Take the time to choose well. In addition to the license and maintenance, it is also necessary to provide training time through tutorials, exercises or training provided by specialists.
The cost changes according to the level. Updates may be chargeable. It also happens that a project requires the use of several software.
3D printing, a huge step forward
In the beginning, additive manufacturing was mainly used for the design of models, the overall visualization of the project and the verification of details. Today, it is used during the production phase. It allows you to make very complicated objects, which will be very difficult to make otherwise.
As the realization is carried out layer by layer, step by step, it is possible to obtain hollow parts without having to remove the components. Creating objects with different materials is possible. Achieving better quality, whether mechanical, thermal or chemical, then becomes easier. Finally, it is possible to decentralize production areas.
Software and Tools for 3D Furniture Rendering
An idea, a project or a part of any furniture to be built or repaired, 3D modeling is an essential step before manufacturing, regardless of the process chosen, to create 3D objects.
CAD (computer-aided design) gives the possibility of viewing the object in digital format and adapting it to your needs. It is a complex field that requires training and specialized software, which is why we offer our services for your projects, after several years of experience in the industry.
Thus, it is possible for us to produce all types of objects, simple or complex, in many sectors. The CAD services we use are fully designed for the production of technical drawings.
From a plan, a sketch, a photo or the physical object, we transform your part into a 3D model, ready to be manufactured.
Let's take a deeper look at what kind of software and rendering services you may rely on if you decide to do it yourself.
Blender, the open source 3D tool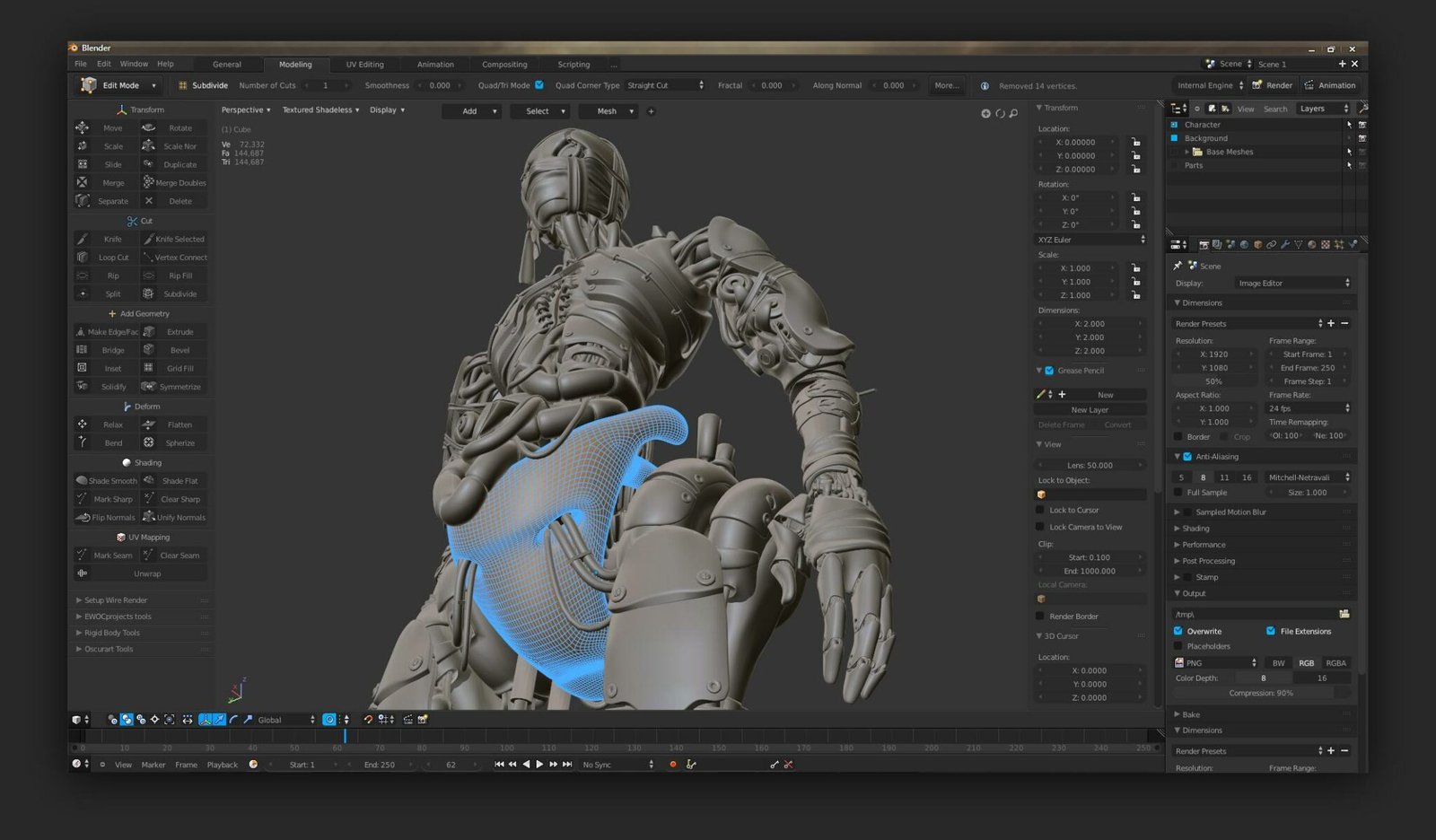 If you're looking for a 3D reference tool that's free, look no further. Blender is a completely free and open source 3D creation tool, and it is above all one of the most powerful tools on the market.
Many professionals use it and this is precisely the point that reduces its interest. In fact, despite the immense power of the software, you must first manage to take it in hand. However, if you are looking for a free tool, chances are that you are a beginner who is looking to get your hands dirty or carry out a small project. Nothing prevents you from choosing Blender anyway, but you have to consider the fact that it will take some time to master it.
FreeCAD, the open source 3D modeler
The second software we are going to view is FreeCAD. It is a very popular software, even if it is a little less known to the general public than Blender. Just like the tool we presented above, FreeCAD is completely free and open source. The freedom of creation in the tool is therefore almost as extensive, which makes it a very powerful solution.
FreeCAD has many great features. One of them that comes up often is the ability to create 3D objects from 2D shapes. It is also possible to do the reverse.
TinkerCAD, the easy and fast 3D design ideal for beginners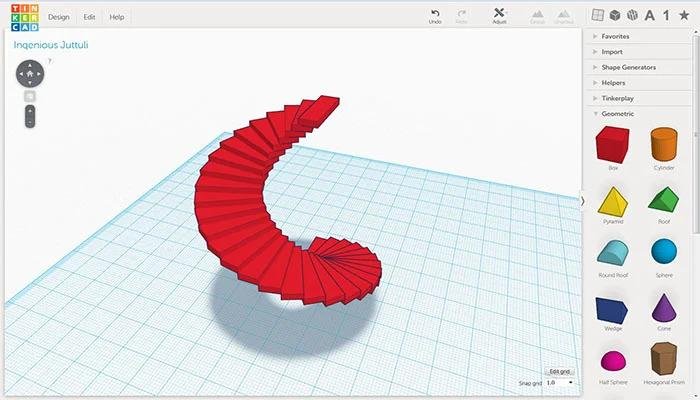 Next, let's see what TinkerCAD can offer in terms of 3D creation. Unlike the 2 tools we have just seen, this one stands out for its ease of use. Perfect for beginners looking for a hassle free solution. Indeed, its operation is simplified to the maximum. To build the different structures you want, you will actually have to do some "assembly". Concretely, it is necessary to combine several forms to obtain the desired object.
As you can imagine, TinkerCAD offers a number of shapes to allow you to obtain a sufficiently qualitative and personalized result. All you have to do is choose a shape, then place it in the workspace. You can use one of the many shapes offered by the tool or import your own. Then you can adjust these kinds of building blocks as you wish: position, rotation, size, etc. The goal, you understand, is to combine all of this.
Modeling Techniques
3D modeling is the act of manufacturing a building or an object in a virtual way using modeling software. It is then possible to view the entire object, by rotating it for example, unlike a 2D image where it is only possible to see one side of the object.
Once modeled in 3D, you will then be able to render this object without texture, this is the 3D model, perfect for a preliminary project.
To obtain a realistic 3D furniture modeling and rendering, a 3D exterior perspective for example, a lot of work on lights, textures and other features are necessary. Let's take a look below.
Texturing and Materials
Materials and textures allow professionals and customers to visualize the material and the surface structure of their products? so they could actually almost understand how it's going to feel like touching it. This allows them to review the final result in advance and make adjustments if necessary. 
It's very important to notice mistakes or differences in numbers, colors or shapes during the period of digital production working with augmented reality, when a specialist can add changes or redo the project before it's done in real life.
Also realistic product visualization is a great tool for effective marketing and selling the picture. 
Lighting and Rendering
The next step is to set the lighting for the scene. Lighting plays a crucial role in the realism and atmosphere of the final 3D render of furniture modeling, a very important factor in creating 3D visualizations. It can help set the mood and atmosphere of the scene.
Also there's an important step such as camera settings: pay attention to an angle of view, focal length, and depth of field: they are set to achieve the desired perspective and image composition.‍
The last step in the process is to render the image. It is the phase which consists of rendering of the 3D scene, creating 3D images or animations from the 3D models, combining textures, materials, lighting and camera settings altogether to create the final 3D rendering.
Post-Processing and Presentation
Finally, the rendered 3D images or 3D animations are post-processed to achieve the desired end result. Post-processing (or it's also called post-production) of a rendered image can help further improve the quality of free 3D rendering. This includes adding effects such as depth of field, color correction or inserting the 3D model into a real background.                   
A 3D visualization can not only represent technical details, but also convey emotions and stories. Especially in the field of interiors, furniture and home living, a 3D visualization can be used to convey a certain atmosphere or style. By incorporating people or animals, it is furthermore possible to tell a story that appeals to customers on an emotional level.
3D Furniture Rendering Services with Cyber-Fox
CyberFox makes 3D furniture rendering based on drawings, sketches, and photographs. We help implement any project, from modeling parts for production to creating a desired model. 
Use the callback order service, and we will tell you the deadline for completing the order and the cost of 3D furniture modeling production.
We are one of the top online 3D architectural rendering companies since we use cutting-edge technology and hardware to produce stunning 3D visuals. In addition, CyberFox's staff of specialists has completed thousands of projects and benefited from thousands more across the world.
We give you a realistic assessment of the work completion time. As a result, you always get the job right on time.

We will suggest how to achieve the best result based on your project. Just send the materials you have.

Our experience and expertise allow us to offer the best solutions to show your ideas. If you have any questions, feel free to ask.

We perfectly understand when you need visualizations urgently. We work fast.

We share our expert opinion on how best to present your project because we care.

You do not need to buy and learn expensive software and PCs. All the skills and equipment are available at Cyberfox.
3D product visualization is our main service. From the 3D models created beforehand, we make a representation of the product close to reality, which can be observed from all angles. Our customers can thus present and market their product in the best possible way.
What the customer receives with Cyberfox:

Punctuality
We give you a realistic assessment of the work completion time. You always get the job right on time.

Flexibility
Based on your project, we will suggest how to achieve the best result. Just send the materials you have.
Knowledge
Our experience and knowledge allow us to offer the best solutions to show your ideas. If you have questions, just ask.

Speed
We perfectly understand when you need visualizations urgently. We work fast.

Experience
We share our expert opinion on how best to present your project because we care.

Saving time
You do not need to understand the software or 3D imaging technology. Everything is available at CyberFox.
Leave a request,
we reply in 1 day
Or contact us in the social networks
FAQ
To render a 3D model there is a need to make a digital version of the object with all the detailed information and data, such as lighting, textures. When all the angles are done, you can render the model.
3D is basically "three-dimensional" which is an adjective describing something volumetric. Rendering is a process of "reading" a ready 3D model after drawing it.
There are a lot of different kinds of software that can help to render a 3D model perfectly, such as Blender, AutoCAD, Maya and others.
Post-processing is a process of "polishing" a 3D model: checking if everything is right and presenting it to a customer.
First off, you create a model, add lighting and textures and then you need to render it and finish the post-production.