3D Interior Rendering services
Drawings and sketches do not allow the customer to evaluate an interior design project or furniture layout plan, make decisions on artificial lighting, or choose placement of household and office equipment. It requires special knowledge and a good imagination.
Also, if shortcomings in the design are discovered at the stage of project implementation, it will be too expensive or impossible to eliminate them.
CyberFox is a team of professionals who provide services for modeling the interior of a room using 3D rendering. They bring design projects to life in the virtual space with the help of specialized software. With their help, interior designs can be viewed from different angles, and it's easy to make changes and adjustments, change the color scheme and design style, and place various interior items, accessories, and appliances.
The benefits of Interior 3D Rendering
3D Interior renders have the following advantages.
Preliminary result
You have the opportunity to see the interior before repair work and adjust the project. It is more cost-effective than redoing something during repairs when suddenly you realize that the chosen option is inconvenient, you don't like it visually, or you just forgot to put sockets in the place where you needed them.
Saving money
Unless you have planned everything perfectly from the very beginning without ordering a 3D project, any alterations, replacement of equipment or unsuitable furniture will most likely cost no less than ordering a 3D visualization of the interior.
Saving nerves
After the approval of the 3D project, you will no longer need to monitor the repair process itself so carefully and argue with the workers about the inconsistencies between what you imagined and the actual situation.
High result
The final stage is processing the characteristics and visualization of the design in 3D format. As a result, a three-dimensional image of the room with the selected decoration, lighting, and furniture comes out. A three-dimensional picture provides an opportunity to assess the compliance of all plans with the features of your home.
Our Services Include
With the help of 3D interior rendering services, you can quickly work out various options for the arrangement of lighting sources, decorations, furniture, and color solutions used in the interior. It is essential to entrust this work to professionals so as not to spoil all the designer's best ideas and developments.
Visualization of premises of residential buildings
A three-dimensional image of an object created with the highest possible realism and detail will help to understand the desired result and save you from wasting time, money, and effort on reworking an unsuccessful idea.
Three-dimensional images of rooms, kitchens, and other living and utility rooms go here. You can visualize any layouts, alterations, various options for the stylistic design of rooms, placement of furniture and household appliances.
Exterior visualization
Exterior visualization is the most effective way to assess the future of an architectural object. It is an extensive service of three-dimensional visualization of objects aimed at the virtual embodiment of buildings and structures located in an urban or natural landscape.
Such an integrated approach makes it possible not only to evaluate the various aspects of the architecture but also to place them as successfully as possible in the prevailing conditions of a particular area.
Top views and schematic images
This is an additional way of transmitting an architectural and functional solution and zoning of space, which helps to understand the fundamental ratios of rooms and the scale of furniture and determines the overall comfort level of the housing.
Such schemes are an appendix to the main planning drawings and serve as presentation material for customers and buyers.
Interactive 3D virtual tours
A 3D tour of an apartment or cottage creates a sense of presence in the building with the help of interactive elements, additional hints, and descriptions of advantages, and scrolling the mouse allows you to turn or move from panorama to panorama, increasing the viewing angle and viewing space. In addition, the virtual tour does not take much time, but it gives the closest workable representation of the building to reality.
Compositions with materials
This is a beautifully designed image to show the project's primary finishing materials, textures, and details. It is created from simple objects that complement the interior or exterior scheme.
3D Interior Rendering Services Workflow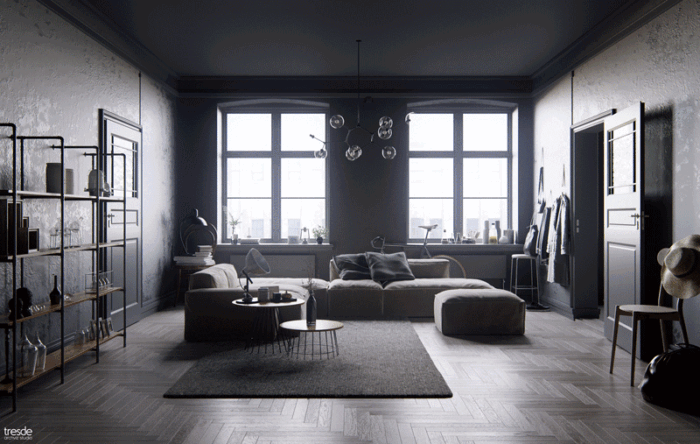 Project evaluation
At this stage, we study your material, evaluate the work and provide you with a commercial offer for the price and terms.
Project start
After agreeing on the cost, the CyberFox team starts work at this stage.
Execution of works
We do the main part of the work and show the completed sketches. We provide you with the principal components for approval and a detailed study of all sections.
Closing the project
We hand the finished project over to you. We sign the acceptance and transfer certificate, and accept the final payment.
Why Us?
CyberFox is a team of professionals with extensive experience in interior visualization. CyberFox clearly and harmoniously approaches each of its orders, so you get the desired result with minimal time and for a reasonable fee. Why choose CyberFox?
Punctuality
We give you a realistic assessment of the work completion time. You always get the job right on time.
Flexibility
Based on your project, we will suggest how to achieve the best result. Just send the materials you have.
Knowledge
Our experience and knowledge allow us to offer the best solutions to show your ideas. If you have any questions, just ask.
Speed
We perfectly understand when you need visualizations urgently. We work fast.
Experience
We share our expert opinion on how best to present your project because we care.
Cost of an Interior 3D Rendering Services
The cost of 3D visualization depends on the complexity of the project. The 3D visualization process aims to create a three-dimensional graphic image of an architectural or construction object.
| | |
| --- | --- |
| Exterior – Residential | $200-$700 |
| Exterior – Commercial | $350-$700 |
| Exterior – Commercial (Large) | $700-$2000 |
| Interior – Residential | $200-$550 |
| Interior – Commercial | $275-$1000 |
| 3D Floor plan | $50-$450 |
| 2D Colored Floor plan | $35-$350 |
| 2D Black and White Floor plan | $20-$200 |
The cost of 3D interior rendering in CyberFox is a transparent and flexible pricing system for our customers. By ordering a project from CyberFox, you get a high level of visualized images, a precise cost of the project, which remains stable during work, and 100% delivery of the project on time. We recommend contacting an employee to find out the exact cost of 3D visualization.
FAQ
It is a three-dimensional image of a future project with full details of proportions and texture reflection. 3D interior renders are created using special software.
3D interior rendering is a complex and professional job that takes 5 to 20 days. The timing depends on the complexity of the project and the details.
3D visualization of the interior is necessary to see and understand how the interior will look in the future. Such a project requires special skills and abilities to work in software.
Prices in CyberFox start from $199. To clarify the specific cost for your project, contact the manager.
With the help of 3D visualization, you can solve several essential tasks. First, having seen a graphically implemented project, the designer can understand the shortcomings and promptly make adjustments to his work. Second, a beautiful image of the future interior will impress the client.
3D interior renders can guarantee satisfaction and improve mutual understanding on many issues. In addition, you can use 3D interior rendering as a powerful marketing tool, attracting new customers and performing exciting tasks.
How to order architectural 3D rendering services?
Send us your drawings, plans, blueprints, 3D models or sketches
Quick quote
3D modeling stage
Texturing and lighting
Final stage-Visualizing Architecture and Post-processing
What our clients say about us
CyberFox has helped
increase the conversion by
300%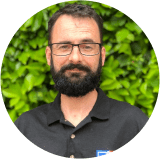 Scott Vincent
Founder, OnCourt UK
The skill set within Cyber Fox is formidable. Well-structured, timely project management and deep industry insight have accelerated our ability to scale the business. Despite language being a perceived hurdle at the outset, Stefan and the team have communicated clearly, offering ideas and opinions of great value in the process.
OnCourt look forward to further developing our successful business relationship with Cyber Fox. If like us, you're looking to broaden your 3D horizons, we highly recommend discussing your project with Cyber Fox.
Read more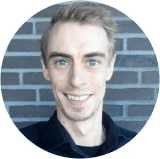 Peter Rosbjerg
Founder, Rosbjerg3D
Rosbjerg3D and CyberFox have worked together on multiple substantial projects for a wide range of clients in many different industries. With great communication comes great results, and CyberFox has always shown to provide world-class support and service and precise communication in fluent English.
CyberFox have great experience in defining customer needs and will quickly get to the core of the challenge they are given. The experienced and very skilled team at CyberFox always provide professional consulting, and their combined problem-solving abilities always ensures novel and innovative solutions for the task given. The combined skillset of the CyberFox team guarantees reliable and professional solutions to be developed that serve the customer's needs – and often more.
A huge recommendation and huge Kudos to the whole (and always friendly and welcoming) team at CyberFox.
Read more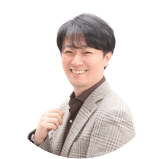 Jay Park
CEO at Art&Space IT
Cyberfox always delivers the highest quality results.
A company that offers more than anything you can imagine. With Cyberfox, you can always achieve successful project results. Best partner ever!

Max Kardasevych
CEO Tino Agency
We worked together with the Cyberfox team on three different projects. The team has established itself as strong professional developers and managers;
Thanks to this, we have built long-term cooperation and will continue to attract them to work on our projects.
We always have complex and non-standard projects, so we needed a team with strong expertise. Cyberfox successfully coped with all the tasks assigned to them.
Read more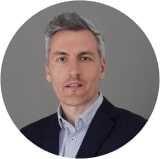 Daniel Blumenthal
3D Designer
The CyberFox team helped us with the solution to convince customers of our products interactively. The task was to create a virtual house that represents our variety of products and replaces a classic drop-down menu. We are really enthusiastic about the optimization of the 3D model and the solution of this task using WEBGL.
The speed and precision with which CyberFox stood by our side is unparalleled. We would work with this great team again at any time.
Read more
You can work
with us from
anywhere
in the world
We will be in touch with you regardless
of
your
time zone

North America
Bookcase (parametric)
---
We has developed more than
5,600+
variations for
14
days
Learn more

East Asia
Interior of the limousine
---
We has developed more than
1,800
variations for
65
days
Learn more

West Europe
3D-configurator «OnCourt»
---
We has developed
100+ million
variations for
2
mounth
Learn more

---
This demo was made to demonstrate
our ability to create
Web3D
games.
Learn more

South America
Virtual museum
---
Such virtual spaces allow
the user to visit museums
online
Learn more


East Europe
Virtual exhibition
---
Brand awareness was increased
by 2 times
thanks to the virtual exhibition
Learn more
Contact us,
we will
reply within 24 hours
or contact us on our social media accounts
or contact us on our social media accounts