What Is 3D Modeling & How Does It Work?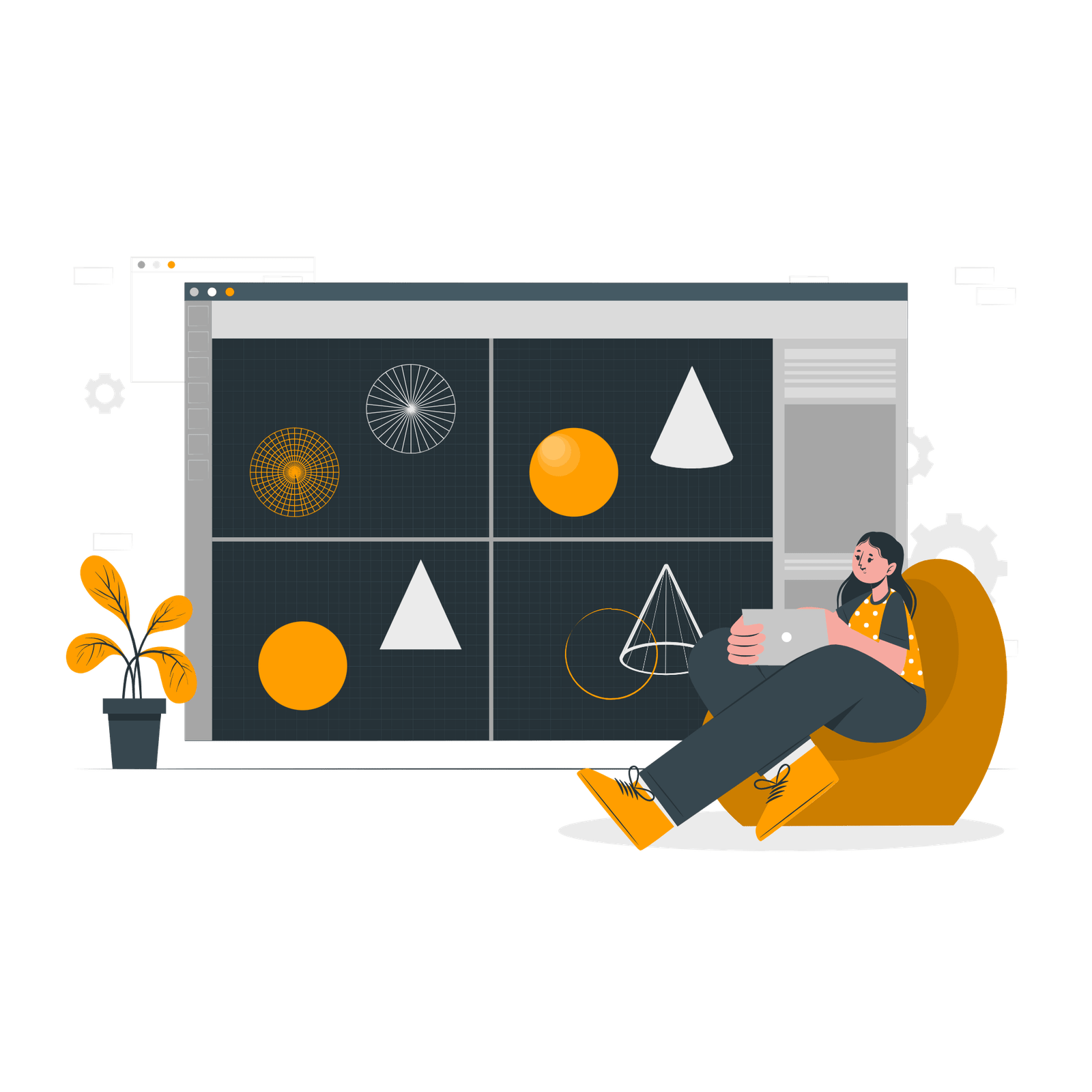 3D visualization of objects using computer programs allows you to imagine the future project in reality. 3D models make a deep impression, and provide an opportunity to achieve amazing results. These technologies are an excellent solution for many industrial, construction, jewelry enterprises, and especially design studios and the entertainment industry. 3D modeling, visualization and animation of objects occupy the main place in the implementation of many business projects.
So how exactly does it work? What are the steps of 3D modeling? What are the best modeling programs to use? This article covers all the questions you have and even more.
What to do if you need 3D modelling
Let`s first take a look at the situations that you might come up with in your life when you really need 3D modeling and nothing else can help you:
I want to see it real
Generally speaking, the main reason why you will once need 3D visualization is when you want to see what a thing looks like in reality, but you only have it on paper or on the screen of your laptop in the format of a two-dimensional picture. The 3D image will give you a digital representation of what exactly you want to have in real life.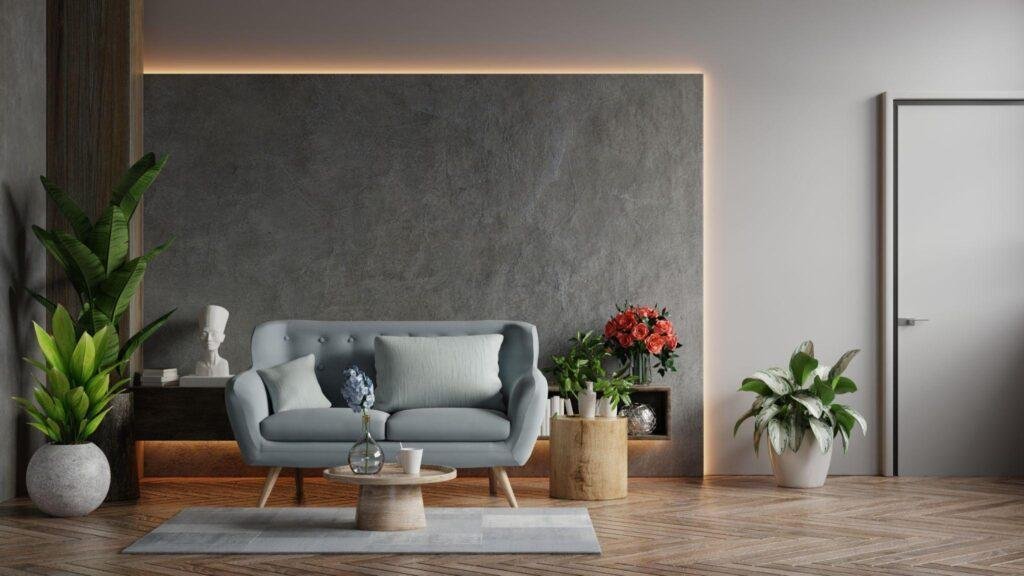 I`m on budget / I don`t want to waste my money
3D visualization gives us the most complete image of an object that does not currently exist: seeing this image more real, you can change the design, sizes and shapes right in the project, you don`t waste money on these experiments in real life, you can check all pros and cons within the project, making it as perfect and personal as you like and only after that bring it to life.
I need something special
When you try to search for some inspiration in social media or on design websites, you will always encounter a problem of similarity. Everything is so basic, simple and for a wide audience. If you want your apartment, room or any space to be unique, you need to take it over. A 3D model creates a bright, memorable and understandable image for any customer. You will be able to change it only to what you want to look like and that`s only about 3D modeling.
I don`t have time to shop / choose / search on the Internet
The visualization is quite fast and there is always the possibility of making certain adjustments or changes: it does not require much time and additional financial costs. A 3D model helps to create an idea of ​​the necessary materials, dimensions and other characteristics of the future object.
Summarizing all of the above, it can be noted that 3D modeling is a completely unique technology with a great future, which provides humanity with truly amazing opportunities.
Advantages of ordering at CyberFox
CyberFox is a professional team of experienced specialists working with 3D and polygonal modeling. CyberFox clearly and harmoniously approaches each of its orders, so you get the desired result with minimal time and for a reasonable fee. Why choose CyberFox?

Punctuality
We give you a realistic assessment of the work completion time. You always get the job right on time.

Flexibility
Based on your project, we will suggest how to achieve the best result. Just send the materials you have.
Knowledge
Our experience and knowledge allow us to offer the best solutions to show your ideas. If you have questions, just ask.

Speed
We perfectly understand when you need visualizations urgently. We work fast.

Experience
We share our expert opinion on how best to present your project because we care.

Saving time
You do not need to understand the software or 3D imaging technology. Everything is available at CyberFox.
What Is 3D Modeling?
3D modeling is the process of creating a three-dimensional image of anything you need. Sometimes it can be a conversion of a two-dimensional picture into a three-dimensional one. The three-dimensional picture can be called a virtual model, which can demonstrate the size, shape, appearance of an object and its other characteristics with maximum accuracy.
If you are a beginner, there is a lot that might be important for you, such as info about the best software programs, types of modeling styles and others. Below we will cover all the basics about the above mentioned and more. Read on and learn about that. You may also ask us any questions if you like.
Uses of 3D Modeling
Though 3D modeling is really easier than experimenting in real life, takes less time and money, it`s anyway a rather complicated process, no matter if we`re talking about printing or visualization.
Printing
Printing on a 3d printer is required for the presentation of goods, products or a whole range of services. Using this process for 3d printing technology requires special knowledge and skills, so 3D designers study a lot to achieve success in this type of work.
Visualization
The modeling process and visualization depend on the complexity of the task and is necessary in the manufacture of products and their packaging, in the formation of volumetric animation and product prototypes, when you need to evaluate the technical and physical features of the product, how it will be formed in the original size, shape of the material or configuration.
3D modeling is an integral part of many creative professions, such as:
advertising and marketing (design of exhibition stands, POS materials, package design, etc.),
science and education,
medicine (visualization of the human anatomy, medical products: prostheses, orthopedic appliances, dental implants, demonstration of results of plastic surgery),
engineering,
architecture and interior / exterior design,
urban planning,
computer game developing,
cinematography and animation.
Kinds of 3D modelling styles
There are several types of 3D modeling that 3D artists mostly work with:
Hard surface modeling, which is about modeling cars, armor, robots, buildings, furniture and other non-living objects that have smooth, static inflexible surfaces;
Organic modeling, in opposition to the hard-surface one, is focused on creating living creatures, such as humans, animals, plants. It`s commonly used in animation.
You can look how they are different here:
Both kinds are about polygonal modeling at their core. Though the hard-surface type takes some time to develop, this is anyway a bit easier than the organic one, because all these flexures, textures and curves are way harder to implement, especially in motion 3D graphics.
Stages of creating a photorealistic 3D image
3D modeling
First of all you need to create a three-dimensional sketchy model file of the scene and all objects in it with desired shapes and sizes.
Recreating physical qualities of textures and materials
The next step is texturing, when you assign raster or procedural textures and colors to the surface of an object.
Choosing light sources
The next step is an installation and configuration of light sources: patches of reflected lights and shadows make your model realistic and make us feel it`s volumetric.
Placing virtual cameras
No matter if you have an animated or static picture, you need to place "a camera" from an angle you need, so the 3D picture could look the most outstanding.
Animating
When you want to give movement to the objects (if needed).
Rendering
Rendering is a visualization, which allows you to build a projection in accordance with the selected physical model.
Postproduction
The final model gets the last touches and comes to finishing of the work.
If you consider 3D printing, then the output of the resulting image to the output device (3D printer) is the final step.
3D modeling software
Now that you understand all the steps of 3D modeling and have a device that you can work with, let`s have a look at the most popular software programs that can help you have a good experience while creating your own 3D projects.
We will cover the highlights of the programs, mentioning their cost and expected level (some of them are better for beginners, some are good for pros).
Autodesk Maya
Maya is a great choice for professionals: suite of tools for characters` creation, animation, rigging, modeling and visualization is so wisely put into the system that specialists have been using it for a long time (it has been used to work on many Oscar-winning films), but for a beginner it might seem very complicated.
The program interface and functionality can be customized for specific tasks a specialist personally needs right now: you can put all necessary things on screen and hide others. The function list is so wide, so lots of users doubt this program for the same reason: it gets too complex to figure out what to do.
Well, it takes time to master this software. However, if you are looking for a reliable 3D modeling tool, Maya will not disappoint you. There are numerous tutorials to learn how the program works.
You can have a paid subscription, the first 30 days are free trial period.
Autodesk 3Ds Max
Another popular software from Autodesk is 3ds Max. This is also a professional 3D modeling tool, but it`s more convenient for beginners. There also is a large range of object modeling, animation and rendering solutions used in many areas.
While Maya is considered to be the hardest one, 3ds Max is quite simple: the process of understanding how it all works is way easier, the program also provides different tutorials, online courses and extensions.
There is also a trial period of the first 30 days of usage, students and teachers have the opportunity to use the program for free for 3 years, and others can have a paid subscription.

ZBrush is focused on 3D digital sculpting and painting. ZBrush is the best choice for those who need an extremely detailed high quality 3D picture. The program provides all lighting and shadowing tools, as well as a set of rendering tools. No surprise, the program is widely used in films, video games, illustrations, in the production of toys, in jewelry and other fields.
For sure, everytime a program has a lot of tools, some users may find it complicated, however, it`s widely appreciated among professionals due to its photorealistic modeling, intuitive workflow, proven toolset, and real-time feedback.
Blender
Blender is a great choice for a beginner, because there is an open source 3D modeling package, which is perfect for people who value their time and don`t need deep knowledge about 3D modeling.
There is everything you need: modeling, rigging, animation, rendering, compositing, motion tracking, sculpting, video editing and game creation – it`s as equipped as the professional program, but here it`s simplified and the interface is OpenGL-based and absolutely flexible.
Blender is available in 36 languages ​​and platforms, free for use and has a large community of users that are always ready to give a hand or advice or any kind of feedback if something doesn`t go well. 3D modeling isn`t a 5 minute job, so even such a simple program like Blender still needs some time to be read about and hours of practice to reach a good result.
Wings 3D
It is a free and open source 3D modeling software also suitable for beginners, containing all basics like moving, scaling, rotating, extruding, trimming, bulging and bridging effects. Using the Wings 3D you can set the texture of the model, and then export it for drawing and overlay. If you need to have a detailed modeling, the program provides tuning and sculpting.
The program is localized into 15 languages ​​and is available for free download
What are some examples of 3D modeling?
As already mentioned, there are different types of 3D modeling, so the results of work are different. Let`s take a quick look at the examples of 3D projects;
3D modeling from a photo
The first type of 3d modeling is modeling using a photograph, which allows you to convert an object into a 3D model for further work. For example, if you want to surprise a person by presenting a mini-copy of him, it is only enough to send a few photos to modelers that will print a small statue of the person.
Reverse engineering
Reverse engineering is obtaining accurate data about the geometry of a product based on its physical model. The reverse engineering procedure is divided into three stages: 3D scanning, processing the scans in a special modeling program, taking precise dimensions, and developing drawings based on the scan results.
3D modeling from image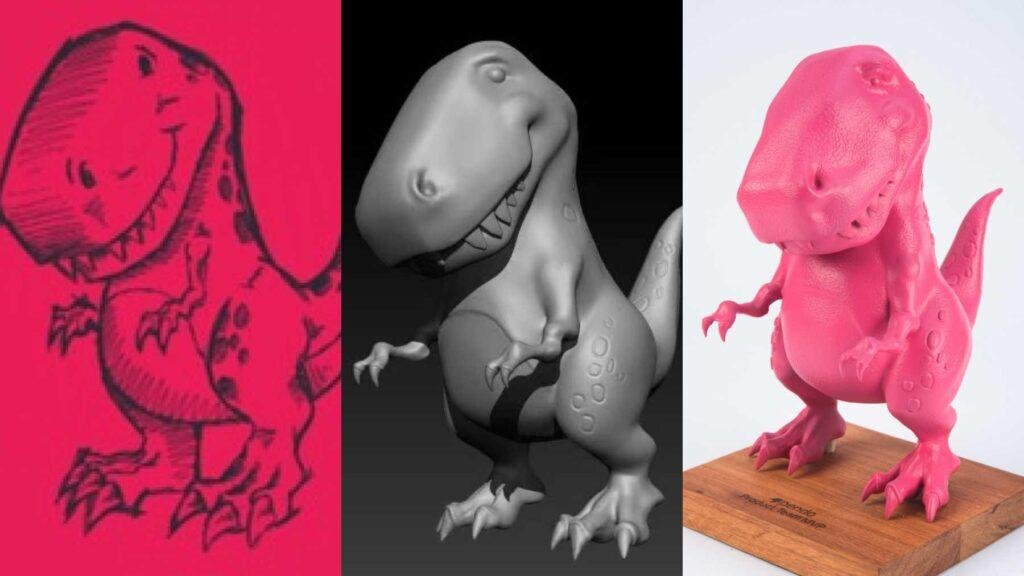 Development of a 3D model of cartoon characters based on the provided image. The finished computer model can be further used for animation, visualizations, and printing 3D figures.
Image modeling takes place in two stages:
Selecting the original image depending on your desire.
Image modeling and conversion to 3D model.
Conclusions
In the article we have reviewed the most popular software, dividing them by a professional and a beginner level, talked about all the steps of creating a 3D model A to Z, watched the examples of 3D models and mentioned the types of 3D modeling styles.
3D visualization is in demand now, that is why the number of programs and websites about this is growing, but you need to find something for yourself. Something that can make your life easier, less stressful and less time consuming.
The CyberFox team of professionals offers you all the above mentioned and more: you will have your result in the best possible way: we`ve had experience in diverse fields and projects, from 3D shoes and sports equipment to virtual interactive tours and game webGI.
CyberFox is 24/7 ready to answer any of your questions, rooting for your perfect product.
Leave a request,
we reply in 1 day
Or contact us in the social networks
FAQ
It is the whole system that consists of people, hardware and software working in a sequential order to do tasks in a determined time frame.
There are several programs that are good for beginners, but the most popular ones are Blender, CyberFox and Wings 3D.
The main aspect of 3D modeling in design is that it's focused on creation of interior objects all together in one space.
It is a creation of 3D characters and scenes using 3D programming.
3D graphics, usually called CGI or 3DCGI, is a set of techniques helping create 3D objects using desired shapes and colors and allowing to create a geometrical projection of a 3D model of any scene.
No, it's easy, especially if you follow tutorials of the program you choose for working. CyberFox offers simple tools and an intuitive interface that help you do the work fast and efficiently.