How to Create a Model for 3D Printing: The Ultimate Guide
Three-dimensional printing technology has been around for several decades, but it has only become widely available and affordable in recent years. This innovative manufacturing process allows businesses and individuals to create physical objects from digital designs using various materials.
There are many advantages to 3D printing, which is why it has become so popular. Perhaps the most obvious benefit is that it can be used to create customized products that are unavailable elsewhere. This is especially useful for businesses that need to make parts or products that are not mass-produced.
3D printing is also much faster and easier than traditional manufacturing methods, saving you time and money. In addition, 3D printed products are often more robust and durable than those made with conventional methods. This is because a 3D printer can create products with precise dimensions, resulting in a more substantial overall effect.
Finally, 3D printing is environmentally friendly. Unlike traditional manufacturing processes that create a lot of waste, 3D printing uses very little material and energy. As a result, it has a much smaller carbon footprint than other manufacturing methods.
What to do if you need 3D modeling services?
One potential problem you may encounter when making a 3D image is that the final print may not look realistic. This is because the software used to create 3D images is not perfect and can sometimes create images that are distorted or have strange artifacts. 
Another problem is that it can be challenging to get the lighting right when creating a 3D image. Again, the light must be captured from all angles to achieve a realistic appearance.
You can entrust the 3D printing process to the CyberFox professional team.  
Creating a 3D model with CyberFox
CyberFox makes 3D models based on drawings, sketches, and photographs. We help implement any project, from modeling parts for production to creating an architectural model. Use the callback order service, and we will tell you the deadline for completing the order and the cost of 3D printing.

Punctuality
We give you a realistic assessment of the work completion time. You always get the job right on time.

Flexibility
Based on your project, we will suggest how to achieve the best result. Just send the materials you have.
Knowledge
Our experience and knowledge allow us to offer the best solutions to show your ideas. If you have questions, just ask.

Speed
We perfectly understand when you need visualizations urgently. We work fast.

Experience
We share our expert opinion on how best to present your project because we care.

Saving time
You do not need to understand the software or 3D imaging technology. Everything is available at CyberFox.
Read on to get a brief overview of various 3D printing software.
Design a 3D Model using CAD software
You will need to download and install the software to design a 3D model with one of the CAD tools. Once you have installed the software, you will need to launch it and create a new project. After creating a new project, you will need to choose the template you want to use for your design. 
Once you have chosen the template, you will need to select the objects you want to include in your design. After you have selected the objects, you will need to position them in the scene. Once you have set the objects, you must save your project.
Best CAD software tools 
There are many different CAD software tools available on the market today. Some of the most popular include Autodesk AutoCAD, FreeCAD, and Fusion 360. Each of these software programs has its own unique set of features and capabilities. Therefore, when choosing a CAD program, it is essential to consider your specific needs and requirements.
Blender
Blender is powerful CAD software that can be used to create 3D models and renderings. It has many features and tools that make it ideal for creating complex models and designs. Blender is also very user-friendly, making it an excellent choice for beginners and experts.
If you're looking for powerful and user-friendly CAD software, then Blender is a great option. It has a wide range of features that make it perfect for creating complex models and designs, and it's also straightforward to use. So whether you're a beginner or an expert, Blender is an excellent choice for anyone interested in creating 3D models and renderings.
The benefits of using Blender CAD software include its user-friendly interface, advanced rendering capabilities, and support for multiple file formats. Blender is powerful, free, open-source 3D CAD software that can be used for various design applications.
AutoCAD
AutoCAD is a computer-aided design (CAD) software application for 2D and 3D design and drafting. It is developed and sold by Autodesk, Inc. 
Up until the debut of AutoCAD, almost all commercial CAD systems were run on mainframe or minicomputers, with each CAD operator (user) working at a separate graphics terminal. In 2010, AutoCAD was released as a mobile and web app marketed as AutoCAD 360.
Architects, project managers, engineers, graphic designers, and other professionals use AutoCAD across a wide range of industries. As a result, AutoCAD has become an industry standard over the years and is one of the world's most widely used CAD programs.
Fusion 360
Fusion 360 is powerful CAD software that enables you to create 3D designs and simulations. Fusion 360 can quickly turn your ideas into prototypes or final products. The software is easy to use and provides a wide range of features and tools to help you get design projects. Fusion 360 is an excellent choice for a comprehensive CAD software solution.
Fusion 360 enables you to create complex 3D designs and simulations. The software has many features and tools. In addition, Fusion 360 can quickly turn your ideas into prototypes or final products. As a result, Fusion 360 is an excellent choice for a comprehensive CAD software solution. Fusion 360 provides many features and tools. For example, it can quickly turn your ideas into prototypes or final products.
FreeCAD
FreeCAD is a parametric 3D CAD modeler and drawing tool. It is open-source software released under the LGPL license. FreeCAD is based on OpenCasCade, a powerful geometric modeling kernel, which ensures that new users will be able to create or modify their designs quickly. The software also includes an integrated scripting console, allowing users to write macros and automate repetitive tasks.
FreeCAD is an excellent choice for both beginners and advanced users. It is easy to get started with, yet powerful enough to create complex designs. So whether you are just a beginner or an experienced CAD user, FreeCAD is the right tool.
Tinkercad 
Tinkercad is free and easy-to-use 3D CAD software. It's used by teachers, kids, hobbyists, and design professionals to imagine, 3D design, and make anything.
The Tinkercad workflow is simple: you start with a basic shape, then add or subtract other forms to create your 3D design. You can also add text, images, and colors to your design. Once you're happy with your plan, you can download it as an STL file or 3D print it directly from Tinkercad. 
Tinkercad is an excellent tool for anyone who wants to learn 3D CAD or create simple 3D designs. It's perfect for newbies to CAD, and it's also an excellent tool for experienced CAD users who want to create quick and accessible 3D designs.
Slice the 3D model using a slicer
When creating a 3D printable model, it is essential to consider how the model will be sliced into layers for printing. The slicing process can be quite different. For example, an FDM printer typically slices models into thin layers that are then printed one at a time, while an SLA printer naturally cures each layer at once.
Best free 3D printer slicer software  
There are many different ways to slice 3D printer files, and it can be tough to know which slicer software is the best for your needs. However, if you're looking for the best free 3D printer slicer software, you've come to the right place. We've rounded up the best free slicer software options on the market so that you can find the perfect one for your needs.
Cura
One of the most popular free slicer software programs is Cura. Cura is an open-source slicing program compatible with a wide range of 3D printers. It offers a simple interface that's easy to use and comes with various powerful features. As a result, Cura is an excellent option for a simple yet effective slicer program.
CURA software provides several benefits to users. One advantage is that it is easy to use and understand. The software provides clear instructions and tutorials that make it simple for people to use. In addition, the program is meant to be simple to use and understand. Another benefit of the software is that it is affordable. 
PrusaSlicer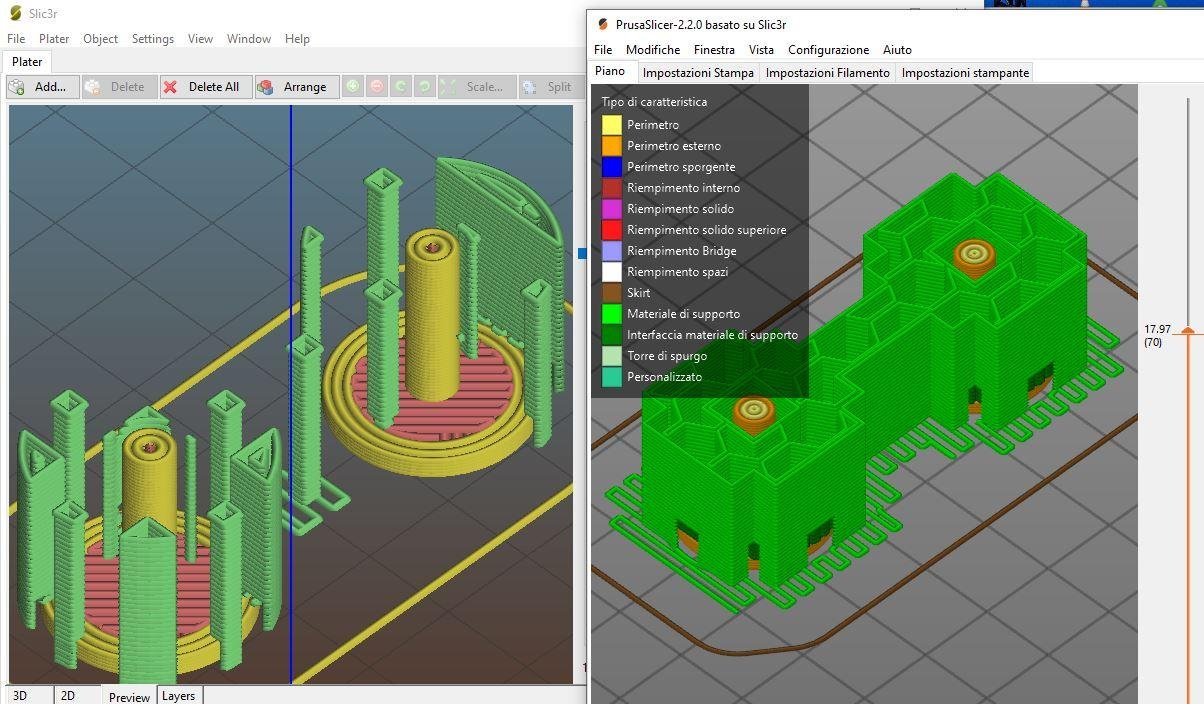 PrusaSlicer is powerful yet easy-to-use slicing software that lets you quickly and easily prepare your 3D models for printing. It's extremely flexible, with lots of customization options and functions. It's one of the most adaptable slicing program solutions available. PrusaSlicer is a free, open-source 3D printer slicing application. It's one of the most popular slicing applications available, and for good reason. 
PrusaSlicer offers many benefits over other slicing applications. For example, it has a user-friendly interface that makes it easy to get started with 3D printing. Also, the wide range of features allows you to customize your prints and get excellent print quality.
PrusaSlicer supports a wide range of 3D printers.
OctoPrint
OctoPrint is open-source 3D printing software for the Raspberry Pi. It allows you to print from a USB-connected printer and can be used with any 3D printer. OctoPrint is easy to use and provides a great way to start 3D printing.
OctoPrint software makes it easy to get started with 3D printing. It includes a user-friendly interface that makes it simple to connect your printer and start printing. OctoPrint also provides a wide range of features that allow you to customize your printing experience. These features include adding plugins, changing the appearance of the software, and much more. OctoPrint is an excellent choice for those who are looking for easy-to-use 3D printing software.
Save your 3D model to an SD card
Remember that you will need to save your 3D model before sending it to the 3D printer. You might want to keep your 3D model from getting to the 3D printer for several reasons. First, if you have a very large or complicated model, sending it directly to the printer can be difficult. 
Second, if you want to make changes to your model, it is much easier to do so in a program like Blender or TinkerCAD than trying to make changes directly on the 3D printer. Finally, if you want to share your model with others, it is much easier if you have a saved copy that they can access. 
How to avoid mistakes when creating a 3D model for 3D printing
There are a few things to keep in mind to avoid mistakes. 
Don't ignore software guidelines
3D printing, in essence, is the process of building three-dimensional solid objects from a digital file. It uses additive manufacturing, in which a 3D printer builds up layers of material where successive layers of material are laid down in different shapes
3D printing is a process that builds an object by adding material layer by layer. This contrasts with subtractive manufacturing processes, such as machining, where the material is removed from a solid block to create the desired shape. When creating a 3D model, following specific software guidelines is essential to avoid mistakes. Doing so can ensure that your model will be printed correctly and without any issues.
Some common mistakes people make when creating a 3D model include not using the correct software, using the wrong settings, not following the right steps, and not having a proper understanding of the process.
Don't ignore material guidelines
It is essential to consider the material guidelines of the chosen printing technology. The high temperatures involved with fusion filament deposition (FFD) make it impossible to fabricate items that may not be able to withstand them. If not, your model may warp or deform during printing, resulting in an unusable final product.
Additionally, it is essential to consider the tolerances of the 3D printer you are using. Each machine has different capabilities regarding accuracy and precision, so your model must be designed within those constraints. Otherwise, you may end up with a printed object that does not meet your expectations.
Finally, remember that the price of 3D printing material can vary greatly depending on the type of material you choose. Plastic is the most affordable option, but metals and other materials can also be used for 3D printing. Consider these factors when deciding which type of material to use for your project.
Don't ignore the printing technology
It is essential to consider the specific printing technology used. Each type of printer has its strengths and weaknesses, and choosing the wrong technology can result in a poor-quality print.
For example, using an FDM printer to produce a highly detailed model will likely result in a lot of wasted material and a poor-quality finish. On the other hand, using an SLA printer to make a large model may be very time-consuming and expensive.
If you're unsure which technology best suits your project, don't hesitate to ask a professional 3D printing service for advice.
Don't ignore wall thickness
It's important to consider wall thickness. Thin walls can cause problems during the printing process, so it's best to ensure your model has thick enough walls to print successfully. You can use Blender to add thickness to your model's walls or adjust the settings in your 3D printer's software to add thickness during the printing process.
Either way, ignoring wall thickness when creating a 3D model is likely to cause problems down the line, so it's best to consider it from the start.
Don't ignore file resolution 
File resolution is something you can't ignore. The more detailed your model is, the higher its resolution. However, if your file resolution is too high, printing your model can take a long time.
To find the right balance, you'll need to consider the type of material you're printing with, the size of your model, and the level of detail you need. With that in mind, here are some general guidelines to follow:A resolution of 0.1 mm is typically sufficient for models made with an FDM printer.
If you're printing with an SLA printer, a higher resolution of 0.05 mm is recommended.

For larger models, you can get away with a lower resolution. However, a higher resolution is necessary for smaller models to capture all the details.

The level of detail you need will also dictate the appropriate file resolution. If your model only needs to be printed at a low level of detail, you can save time using a lower file resolution.
Remember these tips, and you can find the perfect balance of file resolution for your needs.  
The bottom line
3D printing is a way to manufacture and 3D design products. While there are still some limitations to what can be achieved with 3D printing, the potential applications of this technology are vast and continue to grow. 
As the technology continues to develop, 3D printing will likely significantly impact many industries, from healthcare to aerospace. 3D printing is already significantly impacting the manufacturing process, with companies such as GE and Airbus using 3D printed parts in their products. In the future, entire products may be manufactured using 3D printing, with each item customized to the individual customer.
CyberFox's proprietary software takes thousands of pictures of an object from various angles and then combines them to create a 3D printing model.
Leave a request,
we reply in 1 day
Or contact us in the social networks
FAQ
3D modeling can be challenging, but with the right tools and a little practice, anyone can create high-quality 3D models. The key is to start with simple shapes and gradually add more detail as you become more comfortable with the software.
A variety of processes may be used to create 3D models, including stereolithography (SLA), selective laser sintering (SLS), and fused deposition modeling (FDM). Each one has pluses and drawbacks, so it's vital to pick the appropriate one for the task.
There are a few programs that you can use to create 3D models for printing, but the most popular ones are Autodesk Fusion 360 and Blender. Both programs are free to download and use, so you can try them out and see which one you prefer.
Because the method to produce three-dimensional models is dependent on a variety of criteria, such as the type of model you wish to create and your experience with 3D modeling software, there is no one-size-fits-all solution. Some tips include starting with simple shapes, working with reference images, and taking advantage of modeling tutorials.
Yes, you can 3D print from your phone. The most popular way to do it is with a special piece of software that allows you to send things directly to a 3D printer. The most popular apps are 3D Builder and 3D Hubs.
Check out our other articles