3D Modelling for Beginners: Guide
3D modeling is now taking over the world in an unprecedented way. We can find 3D on social media where we spend every free second of our time, in movie theaters where we spend our weekends, and in the advertising banners we see every day on our way to work or sending our kids to school.
Now a lot of people want to find more information about 3D modeling and learn the art of it, whether it's for a hobby or a career, and nowadays it's really not as difficult as it used to be.
In this article, we will describe in detail all the steps that an aspiring 3D artist must take in order to be able to make at least some simple 3D model.
How does 3D modeling work?
3D modeling is based on creating a volumetric space or object that can be viewed from different angles and made to move if necessary.
Nowadays, programs for creating 3D images are fighting among themselves for the quality of the created image, the reproduction of colors, the detailing of textures, and the ability to make a character or space so believable that it cannot be distinguished from a real photograph.
But in general, with the exception of the difference in techniques, this is always about the same workflow: to start drawing an object from scratch, in any application you are offered a mesh canvas as a designation of space and dimensions, and you can start building a 3D model from some form (sphere, cylinder, cube), stretching it in different directions, achieving the desired shape. If the object is complex, then to build it, you need several of these shapes, stretched and rotated individually.
What happens next? Let's look at the whole process from A to Z.
Workflow of Creating a 3D Model
As we said earlier, technically it all starts with the formation of an object in the application space for 3D modeling. However, in reality, it all starts even earlier. Let's see what are the 7 most important steps you have to go through in order for you to get an amazing 3D model as a result.
Visualization
In fact, it's no secret that everything always starts with an idea. First you need to think through your 3D model as much as possible to the details, visualize it first in your head or find a suitable reference on the Internet. If you know what you want, then the result will not be long in coming, and the process itself will be faster, because you will not waste time experimenting (although sometimes this cannot be avoided when creating a unique model).
Doodling
In order to fix your idea, you should resort to the good old drawing on paper. If you can accurately depict on paper what you want to get in 3D, then you will achieve 98% of the result (always leave room for errors). Inexperienced 3D artists skip this step and immediately begin to form a model, however, drawing on paper gives a more detailed understanding of exactly what shapes and sizes are needed.
Box modelling
And only now we can come to the technical part of how to model 3d. Open any application for creating 3D pictures and select the "Box modeling" technique. If you are reading this article, you are most likely not a professional yet, so at the very beginning of the journey of a 3D artist, it is important to learn how to apply the most basic features to your work. "Box modeling" is the most primitive technique for refining and editing an object, it is easy to learn how to use it even for a beginner in this industry.

Texturing
Once you've got the shape, dimensions, and generally accurate skeleton of your object, it's necessary to apply colors and apply materials to it to give it a realistic look. In the 3D world, this is called texturing. You can apply textures by downloading the ones you need from the Internet, but the simplest ones can be selected from the library inside the applications.
Lighting and shadowing
This step is also significant, because it is lighting and shadowing that give the model volume and realism. Without this, your models will be flat as 2D and all work is meaningless.
There are many different techniques for lighting as well, and beginners can use the "three-points lighting" technique, which needs to be given a light angle and will illuminate an object from three different angles using key light, fill light, and backlight.
Rendering
You are almost at the finish line, now the work of the CPU (central processing unit) and GPU (graphics processing unit) begins. Your 3D software at this stage should read and commit all the data that you have progressively loaded into your object over the previous five stages.
The rendering process depends on many factors: the power of your device on which you are creating the model, the complexity of the model, and the capabilities of the application you are working with. Because of this, it may take minutes, hours, or even days.
Editing (optional)
When you see the render result of your work, you can always bring it to the ideal state if there are any errors and inaccuracies. For this, there is the last seventh step.
Best 3D Software for beginners
Today, there are many both paid and free programs that help answer the questions of how to do 3d modeling and learn it by practice. Further, in the subheadings, we list the main programs, paying attention to the main features of each of them.
BlocksCAD
This is one of the easiest 3D drawing options. You can transform your shape into any shape offered, rotate, zoom, move. You can save your work in STL, OBJ and some other 3D graphics formats.
Blender
It is an open source 3D computer graphics software that is also completely free. Although it is very easy to use and suitable for beginners, it is also used by professionals, because there is a large set of tools.
SketchUp
This program is designed more for architects and is focused on furniture topics: it is suitable for creating 3D designs of interiors, exteriors, and buildings.
Morphi
This is a beginner friendly program with an extremely clear interface that does not have any specific direction, but allows you to edit and render 3D designs for AR / VR, as well as 3D printing, animation, and so on.
3D Slash
This program was created in order to make 3D modeling understandable and accessible to any person, and the technique of working in the program is based on building objects from cubes, which are then converted into objects of any shape.
TinkerCAD
This modelling software is loaded directly in the browser and works online. Free to use, it is designed in a way that even children can understand, which is why it is often called a good start in the field of 3D design. You can also use coding here.
Leopoly
This program is good for 3D sculpting, customizing, and 3D printing among the initial stages of beginner artists in this field. It has a huge number of tutorials, so it's easy to learn.
SelfCAD
It is also a free user friendly online CAD Software that is used in culturing, slicing and 3D printing. It has integration with various social networks and programs, but you can share your art only by purchasing a subscription.
Onshape
The CAD packages of this program also allow you to work online, but at the same time slightly limiting the designer's rendering and tools capabilities. This is a great program to get started in 3D design, but it's not enough for an advanced level.
Fusion 360
This program is widely used by both beginners and professionals, and has a large selection of tools, emphasizing on freeform.
Sculptris
This program, as the name suggests, focuses on the concept of modeling clay, making sculpting the object the core of the work.
FreeCAD
Although many people say that this program is good for beginners, the experience of professionals suggests otherwise: in order to use FreeCAD, you need at least a little understanding of the modeling structure in practice. But if you're a fast learner, go for it!
What Kind of Computer Do You Need for 3D modeling?
In fact, even a rather mediocre computer can handle most of the 3D programs discussed above. Naturally, if the model becomes too complex, with an abundance of graphic elements and effects, then working on an average device can also be more difficult, slower and more nervous.
To a greater extent, this manifests itself at the stage of rendering, and therefore if you consider purchasing a computer with a graphics card like an RTX 3070, then it is quite possible that you can go through all the stages of 3D modeling without extra effort and extra time.
3D Model ideas for Beginners
Among the things that a novice artist also needs to know, there is one more theoretical block. There are two main areas in 3D modeling: technical (engineering and architecture areas related) and artistic (related to gaming, animation, and so on). They differ in learning curves and hardware, which is used when performing 3D design, and in this block, we propose to consider some ideas for models that you can use in your work.
Mechanical Components
This is almost the easiest way to learn how to technically draw, master orthographic projection and practice sketching. Often used in CAD training.
To create more organic looking components, try different features like Loft. Most tutorials can be found freely on the Internet.
Coffee Mug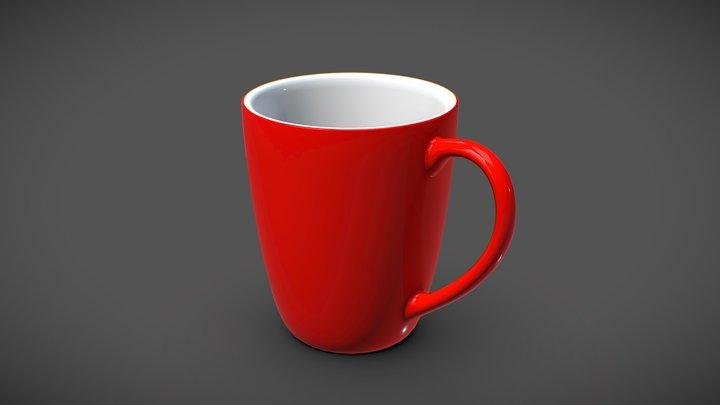 Mugs, and generally different items of utensils make a very interesting and simple idea to start in 3D design. You can begin with the simplest shape of a mug (a cylinder or a parallelepiped), and then add details in the form of a handle or filling this mug with liquid or whatever.
Then you can experiment with the design of the mug, bulges, colors, framing the edges.
Chess Pawn
Chess seems to be a little more difficult level, but only at first glance: in fact, it's just a few spheres of different sizes and shapes, and one cone. Take a closer look.
When you flatten almost all the balls, cut off the cone and put a beautiful ball on top, smoothing out all the corners, you will have a beautiful pawn. Having figured out how to work with a pawn, you can try to make a more complex chess piece, such as a bishop or a knight.
Hand Tools
For designing tools there are also a lot of guides on the internet, but even having them is of course a bit more of a challenge because the tools have quite a few details to take into account.
However, if you remove the panic from the huge number of details, you can see that one large hammer is also a combination of one elongated parallelepiped and one small cylinder, the ends of which can be designed in different ways.
Flower Pots
Pots, vases and small planters are the perfect start for a beginner 3D artist: they come in a wide variety of sizes, shapes, colors, and best of all, they don't have a lot of elements.
By studying and honing the skill, you can add more details; you might even consider 3D printing.
Furniture
Talking about pieces of furniture like couches, chairs, beds, wardrobes can be quite interesting to work with. And although at first glance it may seem complicated, imagine some kind of armchair in the abstract: it's a simple cube, cut deep from one corner, on which a fabric is stretched: a texture.
Robots
Robots are also a direct teaching of students to think not about how the figure looks as a whole, but what it consists of.
Any robot consists of different shapes such as cubes, parallelepipeds, cylinders, spheres and everything that your imagination is capable of. Any object is a collection of simple shapes with smoothed (or, in the case of robots, not smoothed) corners and edges.
Cartoon Characters
We left the characters for the very last point, since this is really the most difficult item to create.
In fact, everything that concerns the bodies of characters is very similar to the creation of a robot, but facial expressions take the leading position here. 3D face sculpting is the most challenging action that is still being studied and perfected by the most professional 3D designers in the film and gaming industry.
Conclusion
If you have been drawn to 3D design for a long time and you decide to take it seriously, then the best advice in this case is to try to find and join thematic communities. It is an amazing feeling when you do not know something, but there are people nearby who will always prompt and direct you on the right path.
CyberFox is that team of professionals who are not only in touch 24/7, but will also do all the work so accurately and efficiently that you will not need to go into details, think about deadlines and worry about the result. Each important stage of work will be supervised with you and you will be pleasantly surprised by the results.
Leave a request,
we reply in 1 day
Or contact us in the social networks
FAQ
No, now the Internet is full of resources and guides that fully show and tell how to make a 3D model. The hardest part is getting started.
3D modeling is as good hobby as dancing or learning to code. You never know if it can grow into a profession, but if you like it – why not study it?
No, most often 3D modeling goes separately from coding.
Yes, you can learn both through tutorials on the Internet or by buying courses from popular 3D programs, or by joining various communities of 3D artists, where everyone helps each other to understand incomprehensible and complex things.
Check out our other articles