10 Brands Using Online Product Configurators to Boost Their Sales
The ability to customize purchases in real-time was once considered a bonus feature for customers. However, with the increasing demand for online shopping experience and a decline in physical foot traffic, customers now require and will soon expect the option to personalize their purchases before checking out.
To meet this rising need, online product configurators have been developed, allowing customers to view photorealistic graphics of products and make real-time changes to their color, material, size, finish, and other features. This technology is revolutionizing both the consumer and corporate experience, as configurable items can sell for up to 50% more than those bought in-store, according to The Motley Fool.
The business case for product configurators is strong, especially when considering the decreased overhead of e-commerce. As the retail environment continues to evolve, it's essential to highlight 10 businesses that are using online 3D product configurators to stay ahead of the curve.
Brands Leveraging 3D Product Configurators
Here's a list of leading brands using a product configurator software that we would like to tell you about in more detail in our guide:
Nike
Tesla
IKEA
Trek Bikes
Suitsupply
B&O
Blue Nile
Scavolini
Audi
Wilson
1. Nike (Footwear)

Lifestyle companies like Nike have a keen understanding of how consumers have switched from identical mass production to highly individualized purchasing patterns. Using its interactive online configurator, Nike By You enables you to choose one of its enduring sneaker styles and modify every component of the shoe, from the sole to the eyelets.
You have a good selection of color choices, and you can see the shoe from above and from the side. After making alterations, the shoes are exhibited in a series of six close-up shots from all angles, including the soles, without a zoom or rotate capability.
2. Tesla (Automotive)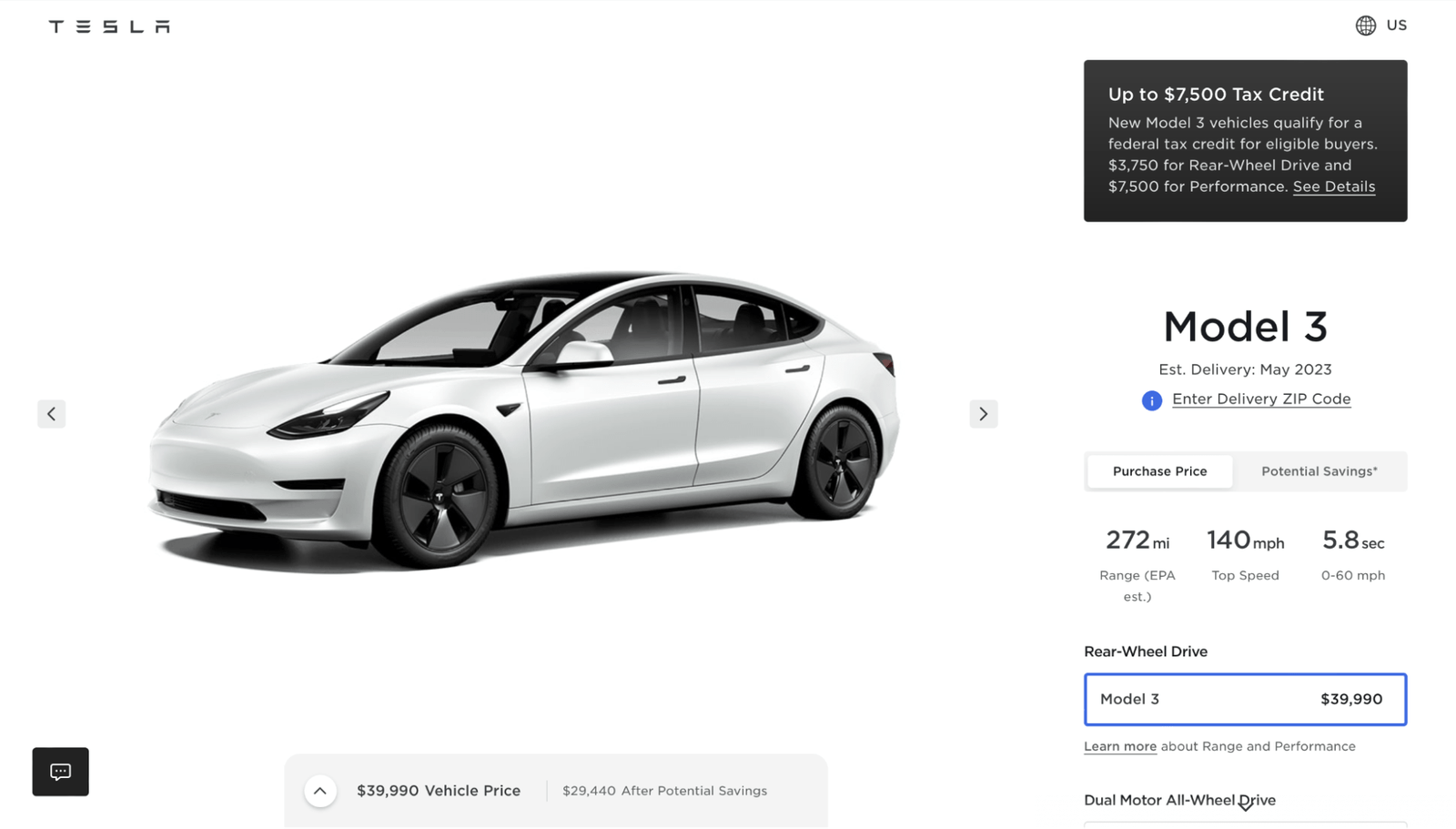 Industry norms and conventional product design processes are being challenged by Tesla's whole business model. Tesla owners take satisfaction in being a part of cutting-edge innovation, much like Apple devotees did before them. The opportunity to customize a Tesla significantly narrows the distance between manufacturer and consumer when coupled with this degree of brand affinity.  Emotional, tactile purchases can only be advantageous for Tesla and its financial situation.
Right from the home page, you can access Tesla's visual configurator. The five steps of customization are fairly straightforward: pick your model, the color, and the interior, decide if you want to go with complete self-driving, and lastly, make the payment. The future is now yours to own!
A picture of your personalized automobile is shown on the final screen, along with the cost. Although it would have been great to be able to zoom in or rotate the image, doing so might have complicated the process, which is already impressively simple.
3. IKEA (Furniture)

When talking about product configurators, it's also important to note Ikea's planning tools because they serve as a notable industry example. It has been their long-standing practice to use customizable products to increase client interaction.
The kitchen planner is dynamic, and entertaining, and provides a wonderful overall picture of how your selections work together.
You have access to every imaginable customization option. From the countertops and amenities to the cabinet doors. There are several options, ranging from the sink tap to the drawer knobs. The configurator offers you an easy subtotal of your fittings while you are actively creating. You may swiftly evaluate the elements of your design thanks to it as well. You may use this to keep expenditures in check and avoid going crazy.
After your journey, you may share a link to your design, as well as download it as a PDF. A list of the elements is also summarized at the bottom of the page so you can see exactly what is included.
4. Trek Bikes (Cycling)
Trek Bikes is an excellent illustration of a business that successfully uses 3D product configurators to improve the customer experience. Customers who use Trek's online bike configurator may create the bike of their dreams by selecting from a wide range of customizable choices, including frame type, color, components, and extras. Customers may see their designs come to life before making a purchase via the configurator, which offers high-quality 3D representations of each bike.
Trek Bikes has noticed a considerable boost in customer satisfaction and sales since deploying the 3D configurator. Customers may design bikes that are exactly right for their preferences and requirements, making bicycling more pleasurable and individualized. Customers may use the configurator to customize their purchases and examine how various parts and extras affect the bike's overall appearance and performance.
5. Suitsupply (Apparel)

The 3D configurator offered by Suitsupply has transformed the way customers buy suits. Customers may design customized outfits that are fitted to their particular desires by providing a high level of customization and personalization. Clients may customize their suits' kind of cloth, style, fit, and size using the 3D configurator. Customers are more inclined to make a purchase when they have the option to design a one-of-a-kind product that precisely matches their requirements, which has been a crucial component in boosting sales.
Greater customer satisfaction is another benefit of the 3D configurator. Clients may examine the designs for their bespoke suits in real time and make any necessary changes. This enhances overall consumer satisfaction while also decreasing the possibility of returns or exchanges. The 3D configurator from Suitsupply has helped the business stand out in the congested retail industry and has developed into a key selling feature for the brand.
6. B&O (Consumer Electronics)

A wonderful illustration of how personalization can increase consumer engagement and sales is the 3D product configurator from Bang & Olufsen. Customers may tailor their audio equipment using the configurator to their own preferences and interests. This feature offers a distinctive consumer experience and aids in the company's differentiation in a crowded market.
Clients may also use the configurator to view the whole catalog of the business's items, increasing visibility and possibly increasing sales. Bang & Olufsen has benefited from 3D product configurators by giving consumers a fun and interactive opportunity to tailor their audio equipment, which has helped to increase sales.
7. Blue Nile (Jewelry)

The 3D jewelry configurator from Blue Nile has completely changed how consumers buy jewelry. Customers may create personalized wedding bands, engagement rings, and other jewelry utilizing the company's online platform by choosing the metal, stone, and cut from a selection of possibilities. Customers may view a realistic depiction of their design in a 3D model of the item and make any required adjustments before purchasing. This degree of personalization gives clients a distinctive and tailored experience, which boosts Blue Nile's revenue.
Blue Nile offers clients a more dynamic and captivating buying experience by making use of 3D technology. Users may explore many alternatives and try out various combinations in the configurator until they discover the ideal item. The option to create a unique jewelry piece from scratch increases sales and gives buyers a sense of control over their purchase. This technique has worked well for Blue Nile and is in line with the current retail sector trend of personalization and customization.
8. Scavolini (Kitchens & Bathrooms)

An online 3D product configurator has been implemented by the Italian kitchen and bathroom furniture business Scavolini to assist consumers in designing their dream homes. Customers using the configurator may fully customize and personalize their experience by choosing the sizes, materials, colors, and finishes of their furniture items. Customers can quickly see their ideas using the configurator, experiment with various possibilities, and come to an informed conclusion, which increases customer happiness and sales.
Thanks to the 3D configurator, Scavolini's product configuration process has been streamlined, and manufacturing mistakes have decreased. The organization can ensure that the completed product fits the customer's requirements and minimize the need for expensive and time-consuming changes by enabling consumers to generate precise and comprehensive drawings. This has led to a considerable decrease in waste and a rise in the company's profitability while also improving overall production efficiency and raising customer satisfaction levels.
9. Audi (Automotive)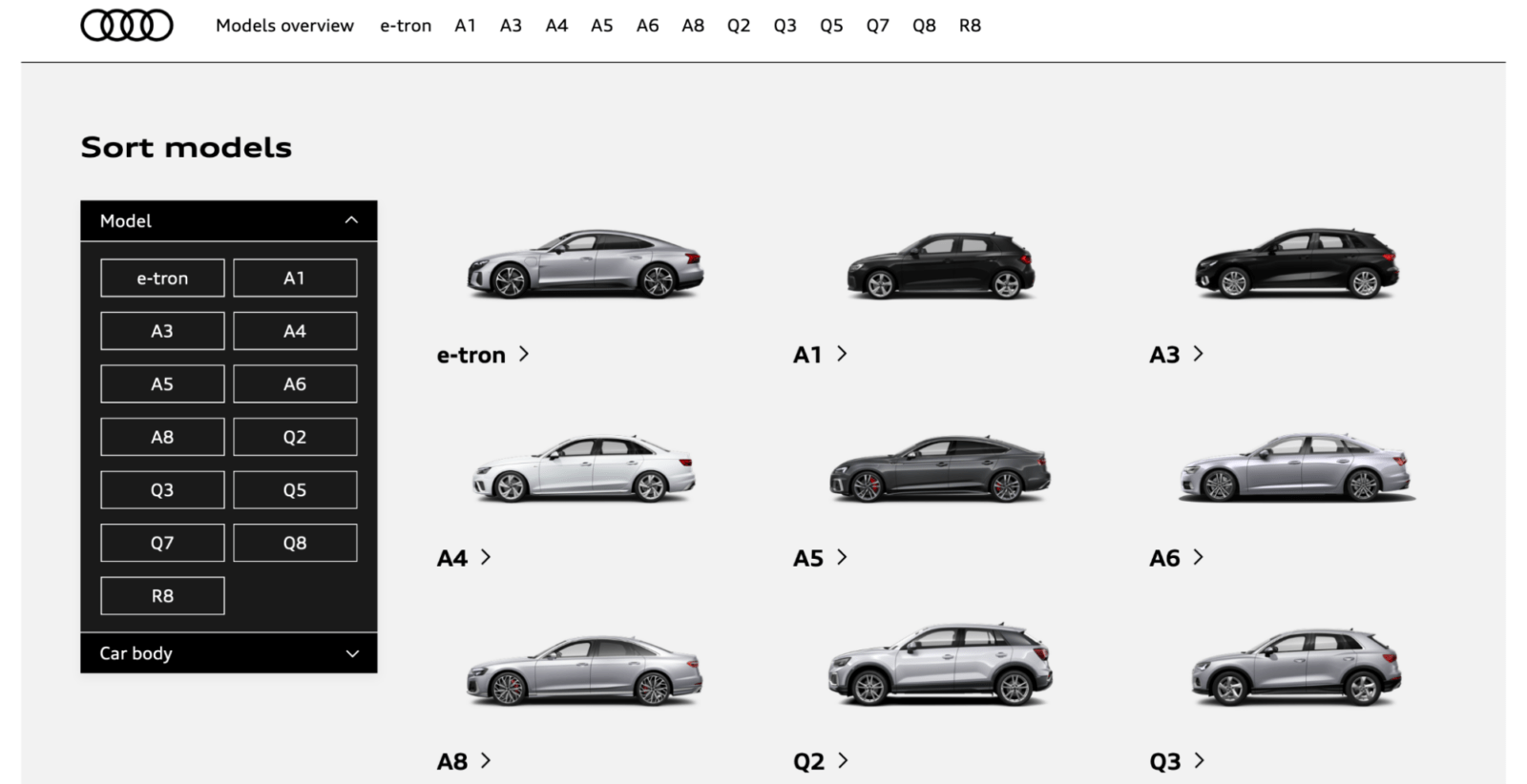 Customers may fully personalize their ideal cars with a huge selection of features and options using Audi's 3D configurator, which delivers an engaging car-buying experience. It is simpler to pick the ideal automobile when users can examine their choices in photorealistic detail and contrast several setups side by side. To assist clients in making wise selections regarding their purchases, the configurator also highlights the most recent features and technologies offered in Audi automobiles.
Audi has enhanced sales and customer happiness by utilizing the capabilities of 3D configurators to provide customers with a more interesting and tailored buying experience. Customers who use the configurator may design and picture their perfect automobile, which makes them more likely to make a purchase. Additionally, because the configurator is accessible from anywhere, customers can customize their cars at their own convenience and pace.
10. Wilson Sporting Goods (Sports Equipment)

Wilson's 3D configurator allows clients to create their own sporting equipment, such as footballs and tennis rackets, by choosing details and personalizing colors and patterns. Customer engagement is increased by the individualized experience, which eventually boosts revenue.
Key Takeaways from Successful Brands
The benefits of using 3D product configurators in enterprises have been shown by successful firms. Sales have risen, customers are more engaged, and there are fewer product returns, according to their reports. Businesses need to concentrate on making the correct software selections, improving the aesthetic appeal of their products, and offering a smooth user experience if they want to emulate their success.
Implementing 3D Product Configurators in Your Business
By utilizing a 3D product configurator, you can improve customer satisfaction and boost sales. Start by determining which items may profit from configurator technology and then explore your alternatives. To guarantee a seamless deployment and continuous assistance, be sure to engage with a reputable supplier like CyberFox – we're always ready to bring all of your ideas to life as soon as possible, even the craziest ones.
Conclusion
Businesses aiming to boost sales, enhance customer satisfaction, and differentiate themselves from rivals have found 3D product configurators to be game-changers. Sales, customer happiness, and brand loyalty have all grown as a consequence of the highlighted firms' effective implementation of this technology to provide clients with the choice to customize their purchases in real time. Consider cooperating with a 3D configurator provider like CyberFox if you're willing to grow your company with the help of your own product configurator and beat out the competition. Thank you for reading!
Leave a request,
we reply in 1 day
Or contact us in the social networks
FAQ
A 3D configurator is a program that enables online customers to modify things in their current condition.
Without employing a salesperson, you may rapidly comprehend the customer's needs, provide a pricing determination on the customized product, and guide them through a quicker and more straightforward consultation – or purchasing – process.
The garment and automotive sectors both employ this kind of program. Additionally, product configurators have a number of advantages for both clients and businesses: they can decrease lead times and inventory costs for organizations, as well as boost client satisfaction.
You may take into account collaborating with a technology supplier like our company – CyberFox – to build an online product configurator for your firm. By collaborating with us, you'll facilitate deployment and guarantee a flawless user experience for your clients.
Unfortunately, when implementing a product configuration tool, you may be faced with some drawbacks, including high initial cost, as well as the time and effort required to create the necessary 3D models. However, by working together with the right product configurator provider like CyberFox, you can definitely avoid all the possible difficulties.