2D Animation vs 3D Animation: What's the Difference?
On social networks, users share video content 12 times more often than text and images. Plus, videos can increase sales of online stores by 130%. Many business owners use animation to tell about the history of the company or upcoming ideas. Such videos are usually dynamic and engaging.
See the following stats about 2D and 3D animation:
About 55% of organizations publish up to 6 videos per month.

90% of users recognize the usefulness of animation when making purchase decisions.

70% of subscriptions on social networks are made by users because of video content.
What if you are in need of animation services
Animation is a skill that is gained through practice. It usually takes several years to master all the knowledge and skills. If you want to learn animation, you should familiarize yourself with the basic theory, and then start learning how to use 2D animation programs like Adobe Animate, Blender, Synfig Studio, and so on.
Advantages of ordering at CyberFox
CyberFox is a professional 3D visualization studio that works on many different types of projects. The key priorities of our studio are comfortable cooperation in a pleasant atmosphere and delivering beautiful results.
CyberFox is famous for the well-coordinated work of professionals who love their job. Our experienced 3D modelers develop polygonal models, our 3D visualizers deal with materials and lighting scenes, and our artists create a realistic 3D image.
You don't need to tackle this complex technical task yourself. Your personal project manager will help you plan your vision, gather the materials, and lead the project until it is successfully completed. We are committed to serious cooperation, so we provide round-the-clock communication by the phone numbers listed on the studio's website.

Punctuality
We give you a realistic assessment of the work completion time. You always get the job right on time.

Flexibility
Based on your project, we will suggest how to achieve the best result. Just send the materials you have.
Knowledge
Our experience and knowledge allow us to offer the best solutions to show your ideas. If you have questions, just ask.

Speed
We perfectly understand when you need visualizations urgently. We work fast.

Experience
We share our expert opinion on how best to present your project because we care.

Saving time
You do not need to understand the software or 3D imaging technology. Everything is available at CyberFox.
The Basic Definition of 2D and 3D Animation
Read on to find out the differences exist between these two processes.
2D Animation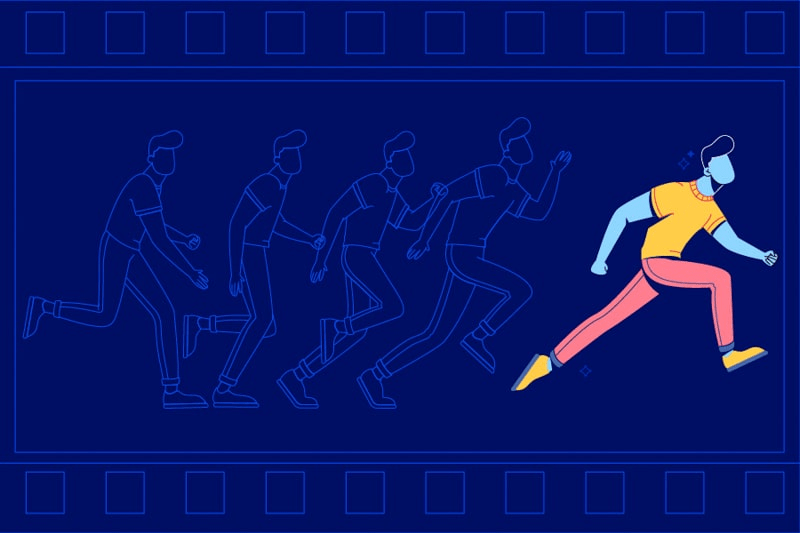 No matter what technological advances we make in the future, 2D animation isn't going anywhere. If used correctly, you can use it to promote a brand, product, or service.
2D animation allows you to solve the following tasks:
Quickly, simply, and effectively convey information about a service, product or promotion.

Provide visual training or instruction.

Build audience loyalty.
The basis of 2D animation is height and width. A (more or less) flat two-dimensional has been an artistic medium for millenia. Traditional animation was created on paper sheets, but as technology improved, transparent sheets were used. Each scene is unique and drawn by an artist from scratch. Nowadays, characters are animated on a computer using animation software.
Good animators are able to give their characters emotion, set the mood, and create an atmosphere that engages the viewer.
3D Animation
The basis of 3D animation is height, width and depth. It's easy to imagine such animation in the form of origami. Just make yourself a bird figurine from a thin sheet of paper and flap its wings.
3D animation is used for artistic purposes as well, but is also often used for applied tasks such as engineering simulations. Since we experience the universe in three spatial dimensions, 3D animation is good for realistically visualizing movements, spaces, and characters.
To get a three-dimensional image, professionals follow these steps:
Modeling

—

Creating a mathematical model of the scene and the objects in it.

Rendering — Constructing a projection based on the mathematical model.
The general process of creating 3D character movements can be loosely compared to traditional stop-motion photography (such as claymation), but the actual procedure is much more technical, involving advanced software. You can see examples of 3D animation in Pixar cartoons.
3D animation is suitable for architecture and construction, and can also be used to create animated images of products in online stores that can be digitally rotated to show them from all sides.
Examples of 2D Animation
Since 2D animation is traditional, there are many real-world examples. Two-dimensional graphics have found their application in creating such cartoons as:
Bugs Bunny

Daffy Duck

Elmer Fudd

Rick and Morty

The Simpsons
Examples of 3D Animation
These days, 3D animation has become widespread in many different fields, such as the film industry, animation, architectural visualization, design, and computer games. Using three dimensions allows you to create more accurate images with detailed realism. Here are some examples:
Frozen

Shrek

Jurassic Park

Avatar

Toy Story
Difference in 2D and 3D Animation Process
A two-dimensional graphic is a flat image represented on the horizontal (x) and vertical (y) axes. If you try to rotate the image, it will turn into a line, like when you look at a piece of paper edge-on.
Such graphics are more attractive and easily perceived by consumers. 2D graphics are used to animate infographics in various fields. The originality of this method lies in the possibility of presenting complex information in an interesting way.
Unlike 2D, 3D graphics have a shape in three dimensions. The depth axis (z) is added to the parameters. This third axis makes it possible to rotate the object from different sides; thus, 3D graphics add volume to images. This allows the viewer to estimate the size of the object and the distance to it.
The popularity of 3D graphics in the film industry predictably prompted professional companies to switch to that medium. Many of the largest companies have used premium 3D graphics with dazzling effects for their promotional videos.
Mathematically speaking, the only actual difference is the z axis, but psychologically, adding depth makes the graphics look different. Characters and objects are usually more textured and have shadows they wouldn't have in 2D graphics. The shapes are more streamlined, and the colors and textures are more realistic.
One important difference between these two types of graphics is the software used to create them. After Effects is a program that helps to create 2D animations. 3D graphics require skills in Cinema 4D, Houdini, Autodesk Maya, 3DS Max, or Blender.
2D Animation
It is important to understand how 2D animation is created and what stages it comprises.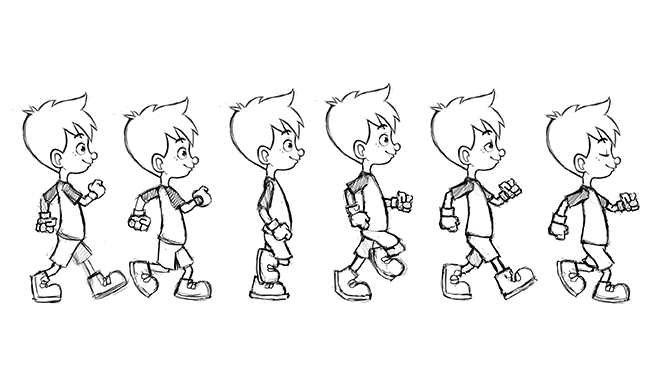 Scripting
Specialists receive technical specifications from the customer. After that, they begin to develop a script for a short 2D animation. Each scene should convey specific information to the audience.
Storyboarding
This stage involves drawing up a series of simple frames to represent the future complete animation. An illustrator does this work with a pencil. This is necessary to visually depict the storyline of the animated video.
An animated video storyboard can be useful in the following cases:
To get the client's approval for the scenes of the future

animated

video;

To visualize the project from a professional point of view and avoid mistakes in production;
To sketch out the plot and visualize what the animated images will look like.
Animation combined with infographics will help to place semantic accents, create the right atmosphere, and convey a large amount of information. Each type of animation can bring its own original features to your video.
Visual Elements and Development
The next step involves visual development of characters, objects and backgrounds. Visual development is impossible without storyboarding and refinement. A color palette and visual style is chosen, and characters, objects, and backgrounds are digitally drawn. After that, assets are imported into animation software.
Animation
These days, creating 2D animation is virtually impossible to imagine without software, such as Adobe After Effects and Adobe Animate. Instead of hand-drawing each frame, animators can add backgrounds and digitally manipulate individual elements of a scene, such as characters' arms and legs, to create motion across frames.
Audio Integration
The best animation studios provide the opportunity to introduce sound effects into 2D animation. Studio engineers record dialogues with voiceover artists, and sound effects are either recorded or stock effects are used. Then, all the sounds are synchronized with the animation.
Editing and Reviewing
This is the final stage, where the animation is checked and given a final edit. Specialists check sound sync, visual components and continuity. Then the final video is given to the customer for consideration.
3D Animation Process
3D animation includes several stages.
Scripting and Storyboarding
Like 2D animation, all the standard actions such as writing a script and creating a storyboard are carried out at the preparatory stage. All of this is just as necessary when creating a visual 3D video.
3D Modeling
At this stage, the illustrator creates three-dimensional computer images and graphics. To do this, you can use programs such as The Brush, Autodesk Maya and 3ds Max. The basic modeling process is connecting sets of points with lines and polygonal shapes to create wireframe models.
Texturing
After creating all the details, the specialists give them a texture. With this, they achieve the effect of realism.
Rigging and Skinning
The most significant stage requires special training. At this stage, the characters come to life. Special functions are developed that allow you to control groups of joints in the skeleton. The principal goal that the animator faces is to create realistic movements for the character.
At the skinning stage, the animator highlights certain areas that affect the movement of the model, paying particular attention to the angles of articulation. Everything must look authentic.
Animation
At this stage, a complex multi-component process takes place. The most significant goal of an animator is to create realistic animation without errors. Animators focus on individual frames for frame-by-frame animation of details and objects.
This is the key stage. It is at the animation stage that all objects move according to the script and the technical specifications.
Lighting for Realistic Visuals
Lighting plays a huge role in creating realistic effects in 3D animation. At this crucial stage, animators try to choose the right light for each frame to get the best result.
Such a process requires high knowledge and skills from specialists, as well as a creative approach for the correct selection of lighting.
Compositing and Special FX
At this stage, all the parts are combined. This is necessary to achieve the right visual effect. Compositing is the development of a holistic image by combining several layers of captured photo or video material, as well as adding CG images.
The major task that compositing performs is making the viewer believe that everything on the screen is part of one complete picture.
Adding Special Sound Effects
Many developers deal with sound at the end of the process. This is wrong. It is important to conduct research at the beginning of development and determine what types of sounds will be needed.
Modern sound designers use a combined approach. Some sounds can be real recordings, and some can be digitally generated..
Editing and Reviewing
At this stage, a team of developers views the animation and evaluates the results of the work. They make changes and corrections where necessary, and then the video is ready for rendering.
Rendering
The final step is rendering. This is the process in which the 3D models are rendered into a 2D video format for viewing.
2D vs 3D Animation Cost: Major Pricing Factors
Calculating the cost of animation depends on your individual requirements of the client. The major factors that affect the cost are appearance, style, and duration. Even after determining these parameters, you will only get a preliminary estimate due to the variables involved.
Resource Intensity
Most studios use expensive software to create animations. Particularly specialized software is necessary for the development of 3D animation, since special effects play a major role. Creating 2D animation is cheaper. Here, the main part of the cost is the labor involved.
Animation Complexity
At this stage, it is important to consider the depth of detail. If the animation contains more elements, then its price will be several times higher. High realism and fancy special effects significantly increase the cost.
Animation Length
Logically, the duration of an animation also affects its price. The longer it is, the longer it takes to make, so the more expensive it will be. Of course, if it's just a simple stick figure, even a long animation won't be that expensive.
Number of Characters
Characters in animated videos help to convey the information to the viewer in more detail, but several characters make creating animation difficult. Animators must consider their appearance, movement, style and character. All this requires detailed development and implementation.
Experts admit that character development is one of the toughest parts of animation. Each part of the body should balance the movement according to the scene.
 Required Deadline
Deadlines also play a big role in the cost. It can take anywhere from one to several weeks or even more to create a minute-long animation, depending on the complexity. If it's an urgent project, then the cost increases several times due to the cost of hiring more specialists.
The manager considers all these factors, which are unique for each video and may vary. Average prices start at $4,900 per minute of 2D animation. A minute-long 3D animation video will cost $9,900.
Conclusion
Do you want to create 2D or 3D animation to promote your business and attract customers?
CyberFox is a studio that offers 2D and 3D solutions for your business. Our services include a wide range of possibilities:
Detailed explainer videos

Product demonstration videos

Educational videos

Teaser videos

Corporate videos
Using animated videos makes your brand memorable among competitors. Using them, you will attract more attention, which can later become an excellent source of conversion.
Leave a request,
we reply in 1 day
Or contact us in the social networks
FAQ
3D animation is more complicated than 2D. It is important to achieve excellent performance, data structures. In addition, it is important to have a professional knowledge of programs and mathematics.
3D animation is more difficult than 2D animation due to the more complex range of motion, geometry, lighting/shadowing, and textures involved.
Due to the reasons described above, 2D videos are faster to make and cost less than 3D videos.
If the major focus is on the story, then 2D animation is better. If the purpose of the video is to show the scale, choose 3D animation.
It depends on your goals. If you have a limited budget and/or timeframe, then you should give preference to 2D animation. If these things are not so limited, go for 3D.
As a general rule of thumb, 3D animation costs more, but length, style, complexity, and graphics all also affect the cost. 3D, by definition, is higher in complexity.
No, it's optional. 2D involves more drawing skills, and 3D involves learning complex programs, so choose whatever sounds more up your alley.
Yes, you can. There's a combination of both technologies which is gaining popularity today. Some call it 2.5D technology. Animators draw all objects and characters in a three-dimensional format using textures, but with flat animation elements.
Check out our other articles