How to Make a 3D Scan
You have probably heard that 3D scanning is the new black now: the technique of scanning objects in reality, to translate them into a 3D look, is used in many fields and areas. This greatly facilitates the work of a 3D artist and takes a minimum of time.
However, few people know that you can make a 3D model even with a smartphone. Some smartphones already have a built-in scanning app installed by default, such as SONY Xperia XZ1, Lenovo PHAB2 Pro and iPhone 12. For some phones, this application needs to be downloaded separately from the App Store or Google Market.
In any case, now this is a really useful feature that both beginners and professionals use, and in this article we will walk you through the steps on how to 3D scan an object for 3D printing.
What to Do if You Need a 3D Scan an Object
The quality of scanning objects depends not only on the technical characteristics of the 3D scanner, but also on the ability to use it. In this article, we have put together a quick guide that will help you take your scanning technique to the next level, even if you are a beginner 3D modeler. 
By taking the tips below into account, you will be able to digitize even the most complex and highly detailed objects of various sizes and shapes.
Advantages of ordering at CyberFox
CyberFox is a great professional solution for your business. You can order any service related to 3D modeling from us in a matter of minutes. Our team creates a three-dimensional model and can integrate it into virtual reality, view and change the shape, materials and color of the object. Why choose us?
Punctuality

We give you a realistic assessment of the work completion time. You always get the job right on time.

Flexibility

Based on your project, we will suggest how to achieve the best result. Just send the materials you have.

Knowledge

Our experience and knowledge allow us to offer the best solutions to show your ideas. If you have questions, just ask.

Speed

We perfectly understand when you need visualizations urgently. We work fast.

Experience

We share our expert opinion on how best to present your project because we care.

Saving time

You do not need to understand the software or 3D imaging technology. Everything is available at CyberFox.
How 3D Scanning Works?
First of all let's take a minute for a theory class to understand the terminology and the whole process of : what is a 3D scan? It is a digital volumetric representation of a real object or a person on a device such as a phone, a tablet, a computer or any other 3D scanning gadget. 
The thing is about capturing shapes and colors using an infrared transmitter that projects thousands of microdots onto the object. While scanning, these special sensors collect all the data of items, forming a finished 3D file in the result. 
If you like the result, you can leave it like that, and also you always have an opportunity to edit it with a 3D modeling application. After that you can use it however you like – advertisements, VR games and even 3D print it. So, how to scan a part for 3d printing and what do you exactly need for making a perfect 3D model scan – let's read on.
What do I Need to Create a 3D Model on My Smartphone?
Reading the heading, you might think your smartphone is the only important possession for creating a 3D model, but it is not exactly like that. You will need to have several things taken into account, especially if you don't have this option built-in, which means your phone wasn't made directly for this. 
Let's cover the main things to consider.
Choosing the right application
As mentioned before, if you don't have the option of 3D scanning built-in in your smartphone like SONY Xperia XZ1, you will need to choose the right app to download. Speaking of iOS, there are apps such as the Scandy Pro app or Polycam app () that are able to capture objects instantly in Photogrammetry Mode using the special LIDAR sensor, which works only with iPhone 11 Pro and higher or any rear-facing camera with the ability of photogrammetry.
Latest versions of iOS
You will not have any possibility to do it with iOS that is lower than 14.0. It is already said in the previous point: depending on the LIDAR sensor existing in late versions only, you just can't do the scanning with iPhone 7, for example. 
Lights and shadows
Thinking of the visuals is a very important thing while capturing any object, and it's especially important when you have only a smartphone for that: avoid dark and blurry places, try to seize the moment in a light and clear place or set a good lighting right for an object you're going to scan.
A tripod and a turntable
An optional piece of advice, but still useful: a tripod will simply make the whole photoshoot process easier and faster, as well as a turntable, which can rotate the object (possible with small things) and get you similar pics with high level of quality and sharpness.
Top 3D Scanning Apps for Smartphones
If you don't have a 3D scanning software already installed on your smartphone by default, you will need to download it yourself. The applications we are going to speak about further are the ones that are based on the photogrammetric method. It is a 3D scanning technology allowing the creation of 3D models out of 2D pictures or photos. 
Photogrammetry is a technique used when making a 3D model. When you take overlapping pictures of an object you need to have in 3D, you do it from different angles, and the special software combines all of the pictures together and generates a volumetric 3D model that can be turned around and edited in any way you need. So the higher the resolution of the device you take photos on and the more high quality pictures you have, the better 3-dimensional image you will get in the result.
Let's take a look at the applications that are able to scan objects and their main features, so we could answer the question of how to scan something for 3d printing.
Qlone
The first on the list is the Qlone app, a popular 3D scanner application with lots of tools having its own pros and cons. For example, the key feature of it is its merging capabilities: the program is taught to show the better 3D result out of a variety of different 2D pictures while scanning and rendering. When you are finished with your 3D model scan you may share it on any social platform. 
On the other hand, the work with the applications starts with printing a black and white mat, which looks very similar to QR-code and putting an object you need to have in 3D on top of the mat. This is technically not very hard, but still takes more time and resources. 
One more thing is, exports of the 3D scans are available in different formats like .OBJ, .STL, .PLY, .X3D, but you need to pay for each finished work to export it.
Trnio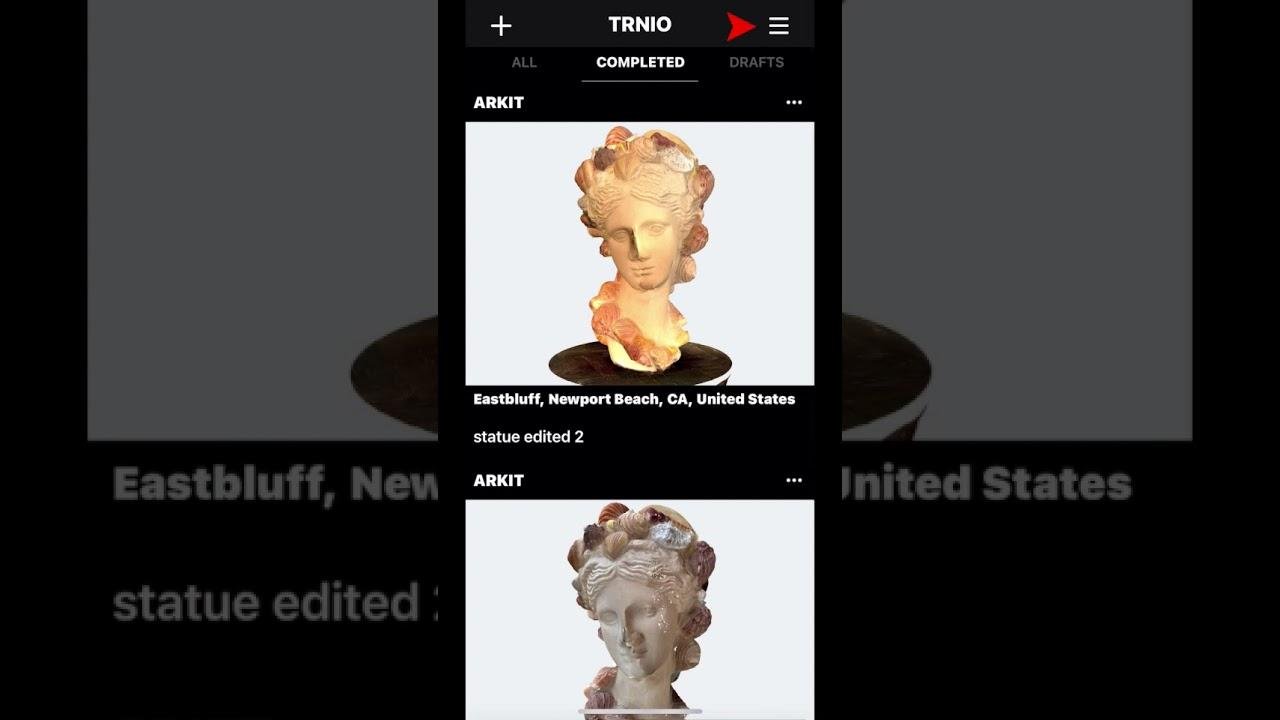 Trnio is known to be a great app for scanning objects offering two working modes: the object mode and the scene mode. The first one is about capturing one object from various angles, and the second one is focused on moving around large items scanning such things like landscapes, buildings, streets and other outdoors objects.
Strengths are, for all steps of usage of the application you get clear guidelines, so you will never miss any. Another advantage is social media space within the application. Registering an account, you can create your own 3D collection of models and be shared, liked and followed by other accounts.
Speaking of weaknesses, it works only with iOS, so Androids stay aside at this point. 
Scann3d
While the previous app was only for iPhone owners, this application is only for Androids.
The key points of the Scann3d are its simplicity in using and beautiful and catchy design of the interface. Beginners use the app because it has got the result in instant, you don't need to do hard work in settings or do any kind of preparations and all the rendering process is performed automatically.
But also according to the feedback of users it is known to be too primitive having only the easiest way of rendering and developing a 3D model, so it suits well only for simple projects.
Scandy Pro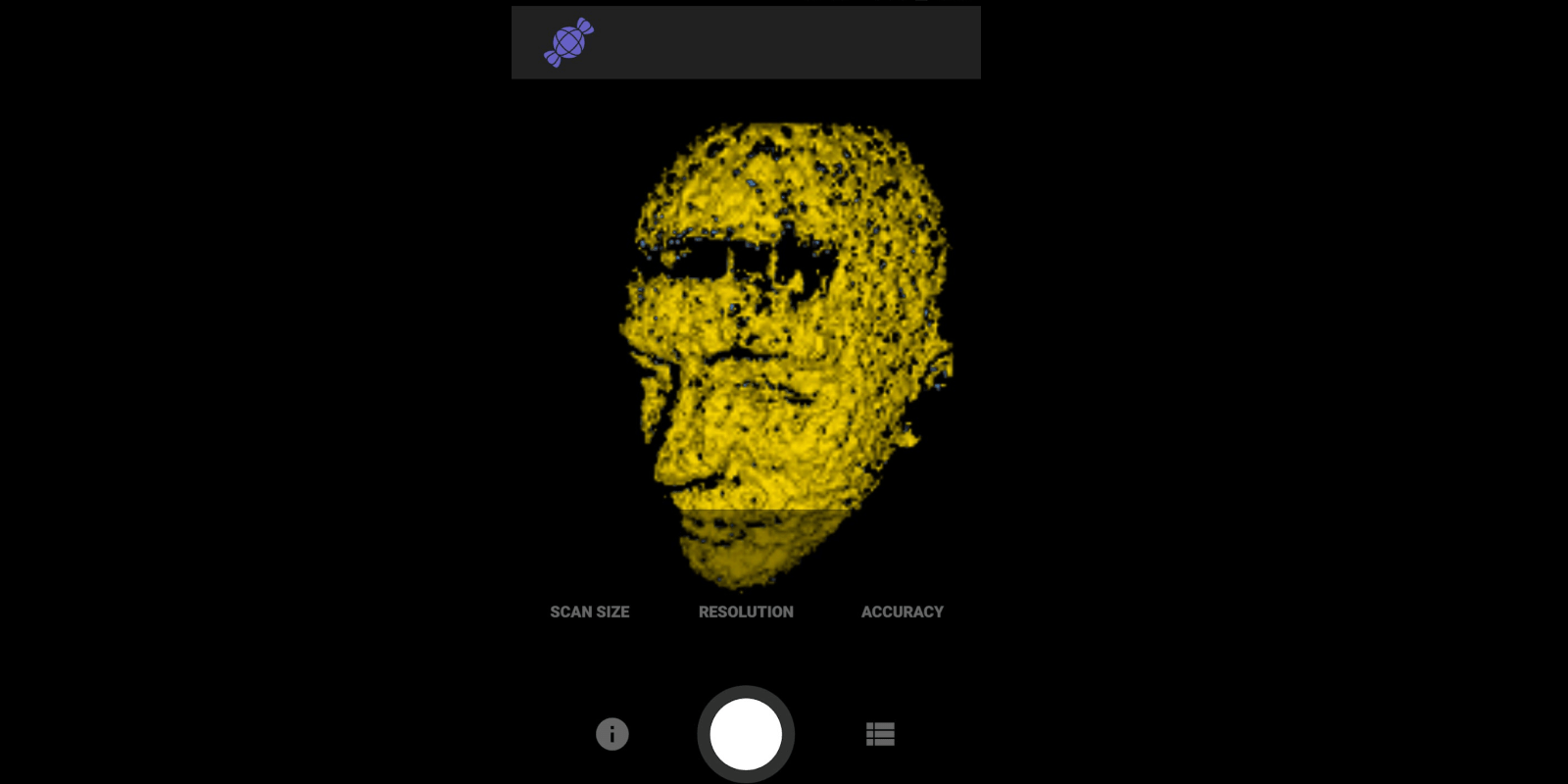 This application is used by many people mostly because of its wide spectrum of tools and features that allows to render large files and is able to generate high-quality 3D models. Supporting all kinds of formats needed for exporting of 3D files, it doesn't let pictures lose quality while collecting all data and forming a 3D image.
Although the other side of it, the app is compatible with iOS only, but for some reason files aren't stored in the Cloud space, so once deleted, they can never be recovered back. Some are concerned about it, calling it the biggest disadvantage of the app. 
itSeez3D
The app is widely used in cases when small objects are needed to be scanned. Scanning big ones is a challenge for this application and it is said that the quality of a finished 3D model scan can be quite low from time to time. 
Though it's important to mention, the procedure of rendering and creating takes minutes and is not very time consuming, and the scanning process itself is totally free and unlimited, but you need to pay for every exported file.
Bevel
This application is of the rarest ones that are compatible with both Android and iOS and is known to be very easy to use (must be plugged-in to a device) and absolutely free to download and export files. 
In addition, it doesn't take up much memory storage space during operation. A special eye-safe laser usually captures scales and geometric details, while a smartphone camera is only able to capture textures or colors, so rendering and scanning in Bevel are performed extremely fast, in seconds. However there is the other side of the coin which is related to lack of features (the app literally can do the scanning and simple editing only), for example, it can't generate 360° 3D scans. 
Polycam
It's a very popular application that also can be used on both Android and iOS and is very powerful. Professionals say about this app that it's a good one for scanning, mentioning it has got two modes: Photo Mode and LiDAR Mode. The first one is a great tool for creating a 3D model by photogrammetric method and the second technology is about processing certain scenes: sceneries, streets and so on. 
On the contrary, it's focused on creating more detailed things, so the operating process takes time so it's good when you need complex things done in 3D.
A Step by Step Guide to 3D Scanning Anything
Creating a 3D model using a smartphone is quite simple, and the workflow only requires a few steps, which we'll cover just below.
Step 1: Prepare your Object for Scanning
First of all, you need to set up your model. Mount it on a turntable or just place it on a plain surface so you can capture it from multiple angles.
Step 2: Set the Lighting
When setting up a model for scanning, it is very important to avoid uneven or direct harsh lighting. You need your object to stand out from the background, and then the quality of the 3D model will be high enough.
Step 3: Set your smartphone
When you scan with a smartphone, you need to put your phone on a tripod, so the shots can seem stable.
Step 4: Open the App and start taking pictures
Open any app that matches your phone model and start taking photos. A minimum of 20 photos is required to make a solid model, but in fact, the more photos you include in a photoset, the better and clearer the model will be.
Step 5: Photograph the object from all sides and angles
Use a turntable to round the object or a tripod to have the same height of pictures. After making a full circle around the object, turn it on its side to capture areas that you might accidentally miss.
Step 6: Choose the options you need
After uploading the images, it's time to create the

3D model

. To do this, most applications offer a choice of the desired resolution: reduced (for social networks and other publications on the Internet), medium (for a game asset) or full (maximum resolution).

Select an option to define mesh size (

3D model

) and texture (color on model).

Also choose an object masking option to filter out the background of your finished

3D model

.
Step 7: Generate a 360-degree video
If you need to have a video, you can also produce a 360-degree video of your object or a scene using tools inside of the application. Worth mentioning is, not all apps provide this function.
Step 8: Processing photos and creating a 3D model
The next step is photo processing and rendering. This process will take a little time, depending on the resolution and detail of your model. After processing is complete, be sure to check the model to determine if it was scanned correctly and cleanly.
Step 9: Export, save and share your model grid
Since you've created a model you can save and export it in any desired format such as .OBJ, .STL, .PLY, .X3D and others, and share it wherever you want: social networks.
Tips for 3D Scanning Objects
There are multiple tips that are important to take into account when scanning objects, such as having a proper lighting with balanced white color, and avoiding shadows, since they really can't be clearly read by the software.
The second good advice is about set the camera in the way the object can fit in and keep the equal distance between the camera and the object at every shot. That is why tripods or turntables are really good options.
Tips for 3D Scanning People
When scanning people, it's even less complicated, because you simply need to capture the face in profile from one ear to the other by walking around the person. After you made similar shots on the equal distance to the face, make sure that you have all edges and angles of the face caught and no single detail was left behind.
Another thing is, the facial expression must be the same at all pictures, so the sensors couldn't be confused and it's better to place a person in front of the monotone background, so the colors of body and face aren't mixed up with the background.
Conclusion
Until a couple of years ago, creating a 3D model with a smartphone was something new, people were interested in these programs, studying how well a smartphone can make a 3D model without additional skills in 3D design.
This is now the norm, and programming professionals are constantly improving these applications so that the quality of the picture is higher, the time spent on rendering is less, and so on, expanding the user base and scope of 3D use in our modern world.
CyberFox is a leader in creating high quality 3D models. For a long time, the studio has been creating 3D models, animations for many large companies and customers. Affordable prices and flexible studio policy allow organizing high-quality teamwork. And if you have any questions, feel free to ask!
Leave a request,
we reply in 1 day
Or contact us in the social networks
FAQ
Depending on the app and the size of the object, the whole process of scanning takes from seconds to minutes or hours (if you have a building to scan, for example).
If you need to scan with a mobile phone, then with the ones like SONY Xperia XZ1 it is totally free, because there is a built-in app, but if you have an average Android or an iPhone, you need to download an app like Scann3d or Polycam and scan your object using their tools. Sometimes you need to pay for a subscription, about $10 per month, or pay for exported projects: from $1 to $10 each.
Though it's more complicated, you still can shoot yourself from different angles and download the pictures into the app.
Depending on the size of the car, it may take about 30 mins, because you will need to thoroughly scan every single unit to make the whole picture as realistic as possible.
It may take from 10 to 30 mins, depending on how clear and detailed you want this 3D image to be.