How to 3D Scan With a Phone: Tips & Best Apps
Hundreds of 3D scanning apps are available for your mobile phone. The most common approach is photogrammetry, in which many photographs are processed to recreate almost anything from reality. The program saves the file and makes it ready to use in the virtual world after processing the pictures taken during the scan.
Let's start with what you should and shouldn't do while scanning. Then, we'll review exactly what you need to do to get the most out of your 3D scanner. After that, we'll show you a few notable phone 3D scanning apps that may be useful.
There are several ways to utilize your phone's 3D scanning technology. You can scan your head and convert it into a file that matches the body of the person it will be worn on. Using almost any phone with a decent camera, you'll be able to scan your entire body for 3D printing or game development. Of course, you'll also need someone to scan you.
What is 3D scanning?
A 3D scan is a digital representation of the thing or person you're scanning. During a 3D scanning session, you'll use a 3D scanning program on your tablet or phone to capture an item's form (object, face, or body of a person).
The device's separate sensors record information regarding the item's form, depth, and color while 3D scanning it, resulting in the final 3D file. After that, you can modify the result of a 3D scan with a 3D modeling program. This lets you use your 3D scan as an avatar in VR (Virtual Reality) games and even allows you to print it. That's how the object changes from a physical to a digital form.
We've previously covered some 3D scanners on the market and some 3D scanning devices available for purchase, but these are primarily intended for professionals or educational purposes. Today, the most frequent and straightforward technique to 3D scan anything is to use a smartphone or tablet. In our previous blog article, we showed you how to create a 3D scan with a tablet. Today, we'll show you how to make a 3D scan with a mobile phone!
How do 3D scanning apps work?
Photogrammetry 3D scanning technology. By definition, photogrammetry is the study of measuring things from photographs. Simply defined, you snap photos of a 3D object, and the program stitches them together. The final 3D scan is rendered in color and tactile feel using this method.
Here's how to do 3D scanning using a smartphone (iOS or Android). Take a lot of photos of the thing from various angles with your smartphone (typically 360° around the object). 3D scanning applications generally give tips and suggestions to ensure that you take good photographs.
The program then combines these pictures and stitches them together to build a 3D model. The final 3D model is then exportable or modifiable using additional 3D scanning software. In some situations, users may also print their 3D models with a 3D printer.
What to do if you need 3D scanning services
You should keep a few things in mind if you're thinking about 3D scanning an object. To 3D scan an object, you'll need to take many pictures from different angles. It's essential that the object is well-lit and that there aren't any shadows cast on it. You'll also want to make sure that the object is not moving.
If you're 3D scanning yourself, you'll need to have someone else take the pictures for you. It's essential that the person being scanned remains still and does not move their head or body during the process.
Once you have all of your pictures, you'll need to upload them to a 3D scanning program. This can be done on your computer or smartphone. Once the pictures are uploaded, the program will stitch them together to create a 3D model. The quality of your 3D scan will depend on the quality of the images you take.
If you need 3D scanning services, you can entrust this work to CyberFox. We have a team of experts who are experienced in using the latest technologies and software to provide high-quality 3D scanning services. Contact us today to learn more about our 3D scanning services and how we can help you achieve your goals.
3D scan with CyberFox
CyberFox makes 3D scans based on drawings, sketches, and photographs. We help implement any project, from modeling parts for production to creating an architectural model. Use the callback order service, and we will tell you the deadline for completing the order and the cost of 3D scan processing.

Punctuality
We give you a realistic assessment of the work completion time. You always get the job right on time.

Flexibility
Based on your project, we will suggest how to achieve the best result. Just send the materials you have.
Knowledge
Our experience and knowledge allow us to offer the best solutions to show your ideas. If you have questions, just ask.

Speed
We perfectly understand when you need visualizations urgently. We work fast.

Experience
We share our expert opinion on how best to present your project because we care.

Saving time
You do not need to understand the software or 3D imaging technology. Everything is available at CyberFox.
Read on to get a brief overview of various 3D scanning software.
Uses of 3D scanning
3D scanning allows you to 3D scan and make 3D printed models from existing reference objects. As a result, it may take less time to construct an object in 3D modeling software before printing it. 3D scanning makes modeling objects from the ground up much more accessible since most professionals can take hours or longer to do so.
Although the accuracy of your 3D model won't be as fantastic, you'll save a lot of time by not using the software's manual editor.
3D scanning can be used to create a virtual representation of you for VR and VR projection. It's also beneficial in creating rudimentary models for 3D modeling professionals to work with. It's a fantastic tool for prototyping, particularly if the object is complex. You can generate some excellent 3D models from a smartphone 3D scan with just a little fine-tuning.
How to make a 3D scan with a mobile phone
If you already own a smartphone, you can install one of the many 3D scanning applications on it. For a successful 3D scan, the same standards apply across all 3D scanning apps, and we'll help you fulfill them! In general, the procedure for 3D scanning is as follows.
To scan a person or an object, you must first find a location where you can walk around. Then, begin the scanning procedure as directed by the app, and the camera on your smartphone will capture all the relevant information.
The app converts the data into a 3D model after the 3D scanning is complete and the data is collected. You can then save the outcome and print it, use it as an avatar in VR games or other 3D scanning applications, or save it to your smartphone library.
How accurate is phone 3D scanning?
Scanning with a smartphone in three dimensions and producing an accurate 3D replica is possible. Although a smartphone's scanning accuracy isn't as good as that of a portable 3D scanner, it does a good job and even meets the demands for medical 3D scans.
Regardless, 3D scans done with a smartphone are pretty accurate as long as they feature facial recognition tech and you don't just rely on the camera. The quality of your 3D print will be determined by the camera and the software that combines all the pictures.
The greater the camera quality, the more accurate it is. DSLRs can produce higher-quality images, but a smartphone is sufficient for people who are simply learning or making a 3D model for personal use.
Tips for 3D scanning with a smartphone
When scanning an item, ensure you use the correct light, inside or outside. It is suggested that you use a direct bright light to ensure that the entire surface of your subject is illuminated equally, especially if 3D scanning at night.
While it may be easier to keep the light off such objects, consider that 3D scanning software can't readily read shadows. Also, try to maintain an equal distance when scanning around the thing to get a consistent result. Furthermore, remember that your models should fit the screen; so keep an optimal distance and don't scan from either too close or too far away.
3D scanning of moving or thin things, such as tree leaves, is not recommended. Also, avoid shiny items since they lack geometric contrast and cause reflections that are difficult to capture during the 3D scanning procedure.
Additionally, remember that when you 3D scan an object, you must avoid blending it with its surroundings so that the depth sensors on the 3D scanner can capture the item's volume. As a result, transparent things cannot be correctly represented on a 3D scan because they cannot be distinguished from their background.
Maintain your distance from the object
When 3D scanning an object, you should maintain a specific distance from it. This is because if you're too close, the thing will be too big for your smartphone screen, and if you're too far away, it will be too small. If you can't see the entire object on your screen, move back until you can.
The object must be well-lit
When 3D scanning an object, the object must be well-lit. If the thing is in a shadow, the 3D scanner will have trouble capturing it. Therefore, it is best to use direct sunlight or very bright artificial light.
Maintain your height for every rotation
When 3D scanning an object, you must rotate around it to capture every angle. Therefore, ensure your smartphone is always at the same height when turning. If your smartphone height changes, the 3D scanner will have trouble capturing the object correctly.
Create a point of reference for round objects
It is best to create a point of reference if you are 3D scanning a round object, such as a ball. This point of reference will help the 3D scanner capture the thing correctly. To create a point of contact, you can use a piece of tape or a marker. Place the tape or feature on the object and ensure it is visible at every angle you 3D scan.
Top 10 3D scanning apps for a phone
Qlone 3D Scanner
The app requires a bespoke mat that can be purchased from the website for use with ordinary printing paper. The most significant drawback is that the larger the item, the bigger the mat, causing your printer's paper size to restrict what you may scan. By using this mat, you can create a dome for the camera to record in and provide it with the area. The scan's primary focus is confined to the dome's interior, while all other noise is eliminated.
The scanner can be used to make any changes once the scan is completed. Text, merging two different scans, and resizing are all possible modifications. The 3D image can then be uploaded to a website or exported as an OBJ or STL file for 3D printing after the scan is finished.
Cost: Free (with in-app purchases) for iOS, ~$20 for Android

App rating: 3.4 stars

Aimed at: Hobbyists and beginners
Scandy Pro
Scandy Pro is a user-friendly 3D scanning app for the iPhone and iPad. While an item is being scanned, the program provides on-the-spot previews. This saves time by allowing users to see whether or not the scan is what they want right away.
This 3D scanning software is best used with lidar on newer iPhones and iPads. Lidar is a technology that uses light to measure varying distances. This allows users to create accurate models of rooms or use their phones as surveying tools. When it comes to 3D scanning, this function opens up a world of possibilities.
The Scandy Pro app has a primary user interface that takes pictures as soon as the procedure begins. To guarantee the scan is successful, you must secure the smartphone and rotate the item (ideally smoothly on a turntable). During the whole scan, the image remains presented to the camera.
When the scanning is finished, the object can be modified in the app using the supplied editing tools or exported right away. In addition, STL files generated from scanned objects can be sent to 3D scanning software like Meshmixer for further refinement.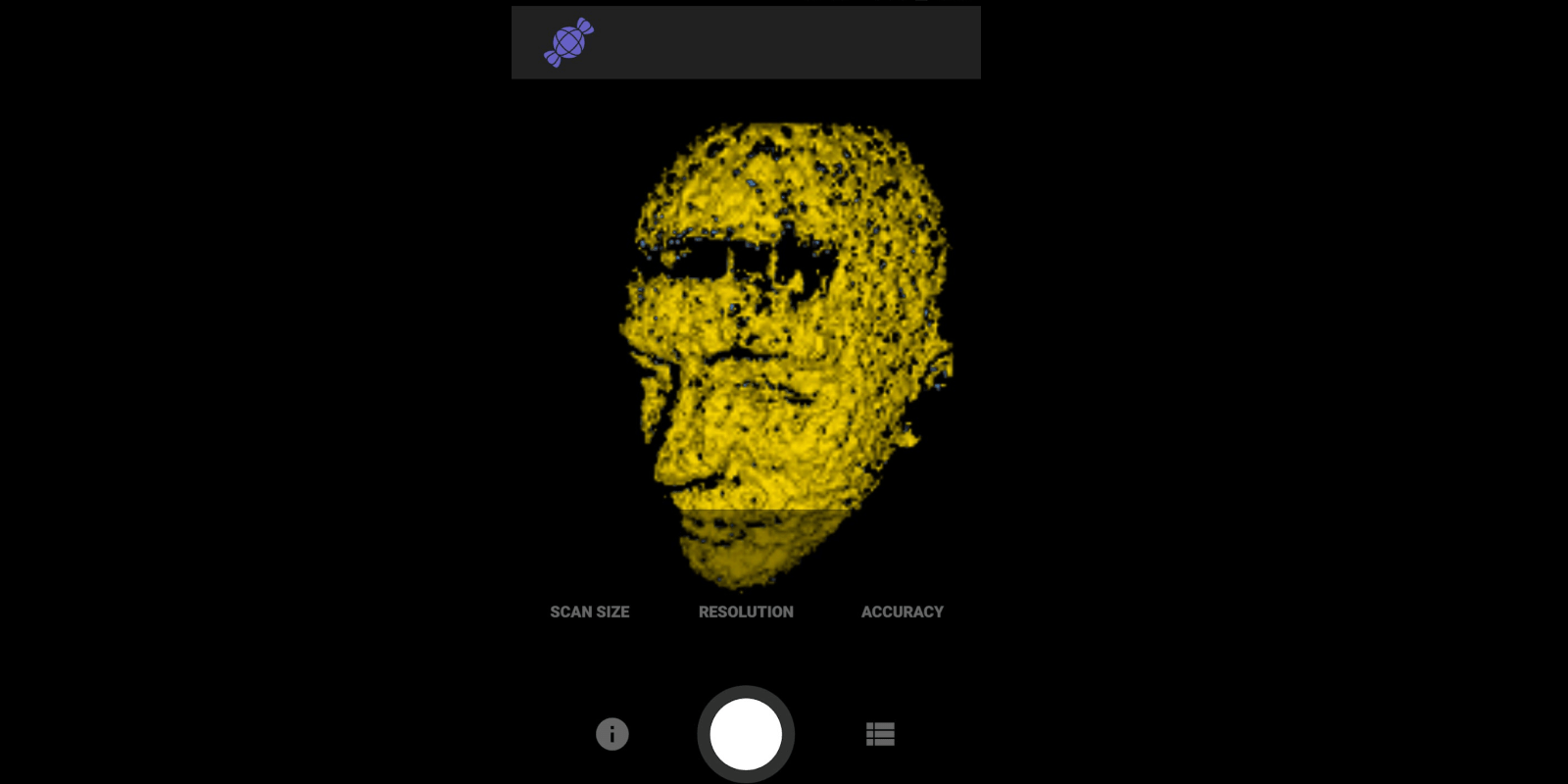 Cost: Free (with in-app purchases)

Platform:

iOS

App rating: 4.3 stars

Aimed at: Users of all experience levels
Trnio
Trnio is iOS-based 3D scanning software. Everything from a small thing's measurements to an entire environment can be captured using this program. The object mode takes photographs automatically as you walk around the item with a single push of the button.
The ARKit mode is a "simple scanning" mode that works well for scanning oversized items or spaces. Only devices with ARKit active may utilize this feature. You can also access library pictures and transform them into 3D models. You can even use the camera on your smartphone to capture 3D images of yourself!
This 3D scanning app offers a great deal of functionality, but it does need some setup to ensure good results. For example, outside lighting is suggested because dirty backgrounds can cause problems.
Trnio supports producing OBJ files as a result of scans. In addition, you can use a program like MeshLab to transform files to STL or PLY format if you want them in another file type. Files may also be used for 3D printing by enhancing them with MeshMixer or Blender beforehand.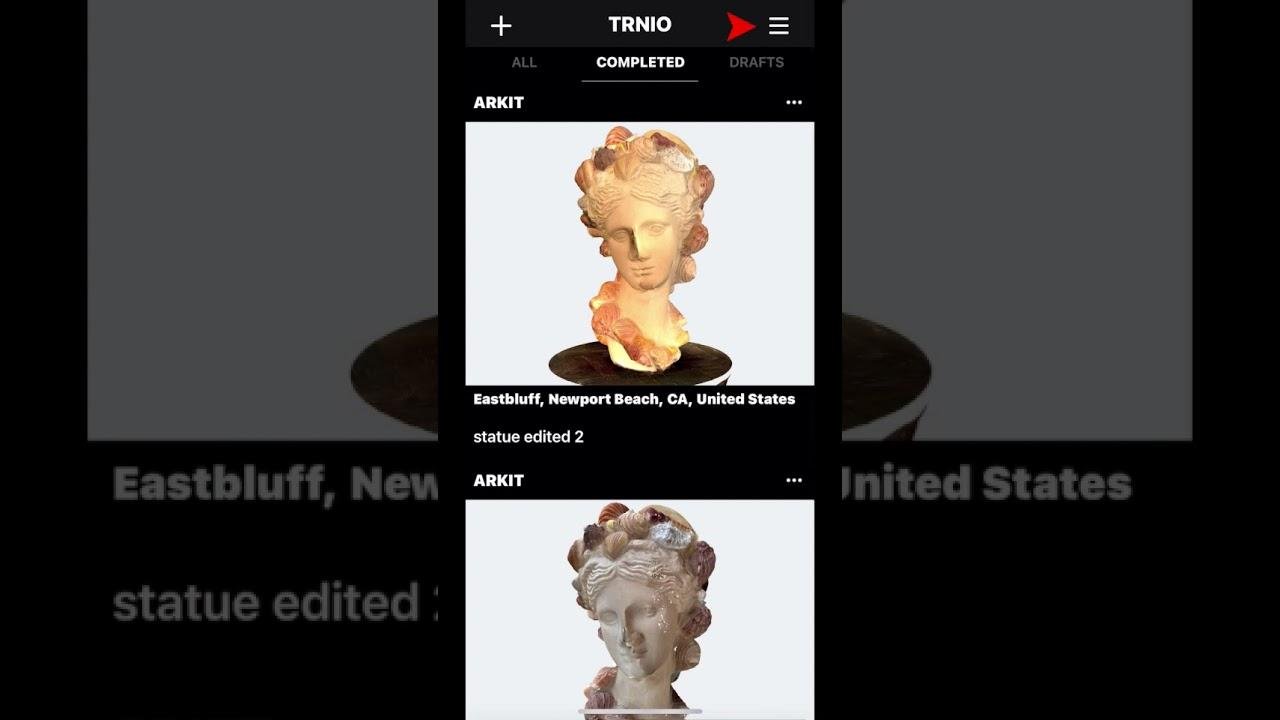 Cost: ~$5

Platform:

iOS

App rating: 3.8 stars

Aimed at: Beginners and outdoors enthusiasts
Bellus3D FaceApp
Capture a 3D Selfie with the world's first true-to-life 3D Selfie camera that allows you to feel what it's like to do so for the first time. Use your iPhone with the built-in 3D TrueDepth Camera to scan your face in such incredible detail that you'll think you're seeing your reflection.
Use your 3D face scan to make 3D figurines, ornaments, or engraved crystals. Export and take your face to a 3D printer. Move your virtual head around and see it from all angles, left, right, and underneath. You can zoom in and out to see detail.
The app captures your face quite accurately, so you can use it in apps that require precise measurements, such as for custom eyeglasses or medical goods. The new directory view allows you to save your scans and retrieve them at a later time for analysis and export. Make a shareable URL mobile phone browser link so that people who aren't using the 3D scanning app can see and interactively explore your 3D selfie.
Cost: Free to download

Platform:

iOS

 

App rating: 3.5 stars

Aimed at: Hobbyists and professionals
Spin Me Round
To build a 3D digital image, photogrammetry employs photographs from different angles. The photos are taken around the subject and then stitched together to produce a 3D point cloud. There are a few things to consider if you're thinking of employing this technique of 3D scanning:
Time: Making a photogrammetric model may take anywhere from 50 to 1,000 photographs.

Effort: Make efforts to enhance the image quality for better outcomes. Use the optimum lighting possible, which should be as bright and uniformly diffused as feasible.

Results: The results are determined by the camera's ability. If the camera takes low-quality photographs, the scan will provide poor results. If your smartphone camera isn't sufficient, you can purchase extra hardware to enhance scanning capabilities.
So, now that we know what awaits us let's go into the point cloud of these applications!
Scann3d
SmartMobileVision's Scann3D is a free 3D scanner app created in the United States. It works with Android mobile phones and tablets. It employs a patent-pending photogrammetry technique to produce accurate 3D modeling.
With this 3D scanning software, any device with a camera becomes a standalone tool for converting photographs into 3D forms: the image processing is done immediately on the device. This rapid reconstruction feature allows for quick processing. It takes only a few minutes, depending on the number of photos to convert.
Scann3D offers autocorrection, which means it corrects itself according to the device's lens. Third-party 3D scanning applications can store, share, and modify data using this program. Users can share their 3D scans directly via their Sketchfab account, and the 3D models can also be used for AR or 3D scanning applications.
Cost: Free to download

Platform:

Android

App rating: 1.7 stars

Aimed at: Hobbyists and professionals
itSeez3D
Intertech's ISeez3D is a 3D scanning application for iPad. If your tablet isn't equipped with the Occipital's Structure Sensor, you will also need one. You can use this program to make high-precision three-dimensional representations of people or things.
To generate a 3D model, you must walk around the object or person to be scanned, as directed by the program. The 3D scanning app provides instructions to help you get the best scan possible. Models can be modified in the 3D scanning app or downloaded for offline editing after the scan is finished.
You can also share models with others or post them on social media. Models can also be exported in OBJ or PLY formats for 3D printing.
Cost: Free to download, then ~$7 per export (subscriptions available)

Platform:

iOS

(iPad only)

App rating: 3.8 stars

Aimed at: Hobbyists and professionals
3D Scanner App
This is the 3D scanning app for you if you have an Apple device with lidar (an iPad Pro, iPhone 12 Pro, or iPhone 13 Pro). And the fee is very reasonable: it's free. 3D Scanner App allows you to create 3D models in real time from photos and videos, including high-resolution and texture data.
The program's interface can be upgraded. It includes many advanced features missing from the free version, such as painting directly on your model and enabling UV unwrapping. There is also a stronger focus on animation, including Blender Game Engine integration. The export feature can export scans in a variety of formats, including OBJ and USDZ.
Cost: Free for the basic platform (contact

Laan Labs

for commercial pricing)

Platform:

iOS

App rating: 4.5 stars

Aimed at: 3D and CAD designers; architects; AR, VR, and XR hobbyists and professionals
Canvas
You can use Canvas 3D scanning software to make a 3D model of a room and then convert it to several CAD file types. This function is ideal for modeling an interior area.
You can quickly capture an entire area. Simply start the scanning procedure by walking around the room, scanning from top to bottom, and it will be completed in a matter of minutes. These scans can then be exported as fully editable CAD files (for a fee) or as a variety of other file types (for free).
You can revisit the scans at any time via the Canvas internet viewer. Because it's quick, user-friendly, and error-free, Canvas is a fantastic designer tool. In addition, this 3D scanning software will capture every aspect of a location while scanning, allowing you not to overlook any details.
Cost: Free (~$0.15 per square foot to export to CAD)

App rating: 3.8 stars

Aimed at: Design professionals
Polycam
Polycam is iOS-only 3D scanning software. You can use Polycam to make three-dimensional representations of a group of photographs. For example, if your mobile phone has a lidar, you can scan rooms in real time. Polycam lets you save, export, and exchange your scans in various formats, including OBJ, GLB, FBX, DAE, and STL.
Polycam's photogrammetry mode, according to user reviews, is slower but of better quality, whereas the lidar mode is fast but has a lower mesh quality. Overall, Polycam is a capable program that continues to expand and add valuable features.
Cost: $7.99/month ($4.99/month for a year's subscription)

App rating: 4.8 stars

Aimed at: Hobbyists and professionals
The bottom line
In the last 5 years, 3D scanning with smartphones has become increasingly more feasible (2016 to 2021), owing to how far photogrammetry and face recognition technology have developed in high-end smartphones.
A 3D scan produced on a smartphone has a lower resolution than a portable 3D scanner, but it's sufficient for most of us, especially for personal use. However, it meets the criteria for being beneficial in several medical specialties.
The best approach to making a good 3D scan is to do it using the proper technique outlined in this post, particularly in the lighting section. If you want to export any files, all of the best 3D scanning apps have a cost. In most circumstances, you may pay a modest fee for single exports.
Cyberfox Studio uses the latest 3D scanning technology to create high-quality 3D scans and prints. So whether you need a 3D scan for personal or business purposes, Cyberfox Studio can help you get the job done quickly and efficiently. Contact us today to learn more.
Leave a request,
we reply in 1 day
Or contact us in the social networks
FAQ
Yes, you can 3D scan with your smartphone. However, the quality of the scan will not be as high as if you were to use a professional 3D scanner.
There are several apps that you can use to create 3D models. Some of the more popular ones include Canvas, Polycam, and Trnio.
Smartphone 3D scanning is not as accurate as professional 3D scanning, but it is accurate enough for most purposes.
There are several Android apps that you can use to create 3D models. However, as of now, there is no Android 3D scanning app that offers lidar scanning capabilities.
Check out our other articles