What is the Best 3D Clothing Design Software?
Fashion has always been one of the important parts in different areas, like gaming or the movie industry. The NFT market now is another big world to discover and conquer, and 3D printing service in the fashion industry has been practiced quite often recently. 
3D fashion designers improve their skills everyday to create clothing items and accessories, making them more and more realistic. Software programs for creating 3Ds offer a wide range of tools for high quality renders in the result.
Which one of them is the best? That is the question we are going to cover in this article. Read on to find out all pros and cons of each program and choose the best one for yourself.
What to do if you need a 3D model of a clothing design?
Let's have a look at some points that might be important when thinking about creating a 3D clothing model. You may consider doing it on your own, but if you need to save your energy and time you always have professionals from CyberFox around. 
Advantages of ordering at CyberFox
Once you've chosen CyberFox, you will never want to imagine what it's like to work with others.
Punctuality

We give you a realistic assessment of the work completion time. You always get the job right on time.

Flexibility

Based on your project, we will suggest how to achieve the best result. Just send the materials you have.

Knowledge

Our experience and knowledge allow us to offer the best solutions to show your ideas. If you have questions, just ask.

Speed

We perfectly understand when you need visualizations urgently. We work fast.

Experience

We share our expert opinion on how best to present your project because we care.

Saving time

You do not need to understand the software or 3D imaging technology. Everything is available at CyberFox.
Why Do Fashion Designers Use Software?
Today, there are a huge number of 3d fashion design software programs that help create complex patterns and help realize the most daring ideas. Thus, the creation of digital clothing designs through such virtual platforms is a really powerful step towards the digitization of fashion.
3D modeling in the fashion industry is used not only in clothing, but also in the manufacture of shoes and jewelry, and the goal of developing 3D clothing is to eliminate unnecessary physical samples and waste that occurs when cutting a pattern or trying on. It also incomparably reduces production and lead times.
Moreover, with the passage of time and the development of technology, we see how every single part of our lives adapts to the existing changes and the reality in which we live. The digital world and the 3D world are becoming a big part of us and our lives, so the fashion world is increasingly saying yes to the latest technologies, choosing to speed up time and work in minimal space.
Benefits of Using 3D Clothing Design Software
Among the 3D programs for designing clothes and accessories that help designers and 3D artists create prototypes of images and mix colors of fabrics, there are paid and free ones.
However, despite how much it may cost, let's look at the benefits of using such apparel software in general.
Facilitating the process of testing different colors, shades, types of fabrics;

Not letting you get lost among the papers, because all designs and drawings are saved in the cloud or in the program's memory;

Ability to easy sharing with other people, teams, make copies, save countless times;

Automation of repetitive tasks is provided to speed up the process of making a 3D model (changing the size, scale, adding watermarks, text, patterns, and more);

Offering the most realistic visualization of how fabric and accessories will look like and fit a human body;

Presenting a simple, intuitive interface and ease of use;

Providing a wide range of templates for easy design and inspiration;

Recommending lots of options for colors, patterns and other tools;

Having an opportunity to change the style, width and length, the amount of fabric right in the process of working on the design;

Experiencing really fast and energy efficient real-time digital workflow management.
20 Best 3D Software for Clothing Design
There are a large number of programs on the 3D market with which you can create the design of clothes, accessories and other items. Some of them can be downloaded for free. Some were created not only for fashion design, but very well and often applicable in the fashion industry.
Let's take a look at the most popular and forward-looking programs to decide which one you could possibly choose and use.
TUKA 3D
TUKA is one of the most popular companies in the fashion world and have been in great demand among 3D artists and fashion designers for a long time already.
Among the sewing professional designers, TUKA has established itself as the CAD for sewing pattern design, and the platform has a large community of designers who create, share, and look for inspiration every day.
This project has several client service packages in different areas: textile and print design, model and sketching, 3D fashion design, marketing and other creative and business areas.
Subscriptions start at $20 per month.
Marvelous Designer
This program is focused on the modeling of fabric and textures – it was the main idea of developers in the beginning of creating the Marvelous Designer project. Every character, every detail there is drawn so realistically that users cannot tear themselves away from the screens.
Other features include the creation of 2D sketches, templates and animations. This fashion design software is very suitable for unusual, atypical and even bizarre designs, inspiring the full disclosure of the designer's personality, thanks to numerous sophisticated functions.
You can purchase a license for Marvelous Designer for $490, there is also a free demo version.
Valentina
Valentina is a totally free program focused on creating 2D sewing sketches and patterns. In fact, most programs that are similar in functionality are not so cheap, so the availability of free design tools in the project is a big advantage for users.
Another nice benefit of Valentina is its ease of use: there are no too complex confusing overloaded tool packages, but at the same time it creates a certain limit of opportunities within the software.
However, if you only need 2D sketching or drawing in the field of fashion design, this program is an excellent solution.
Blender
Blender is one of the brightest representatives of free programs for 3D modeling. This program does not have any narrow specialization regarding clothing design and does not offer working in 2D mode, but has an extremely wide range of different functions and facilities with colors, textures, shadows in 3D format.
If you want to see your model in motion, Blender definitely has enough tools to create simple animations, so you are in the right place.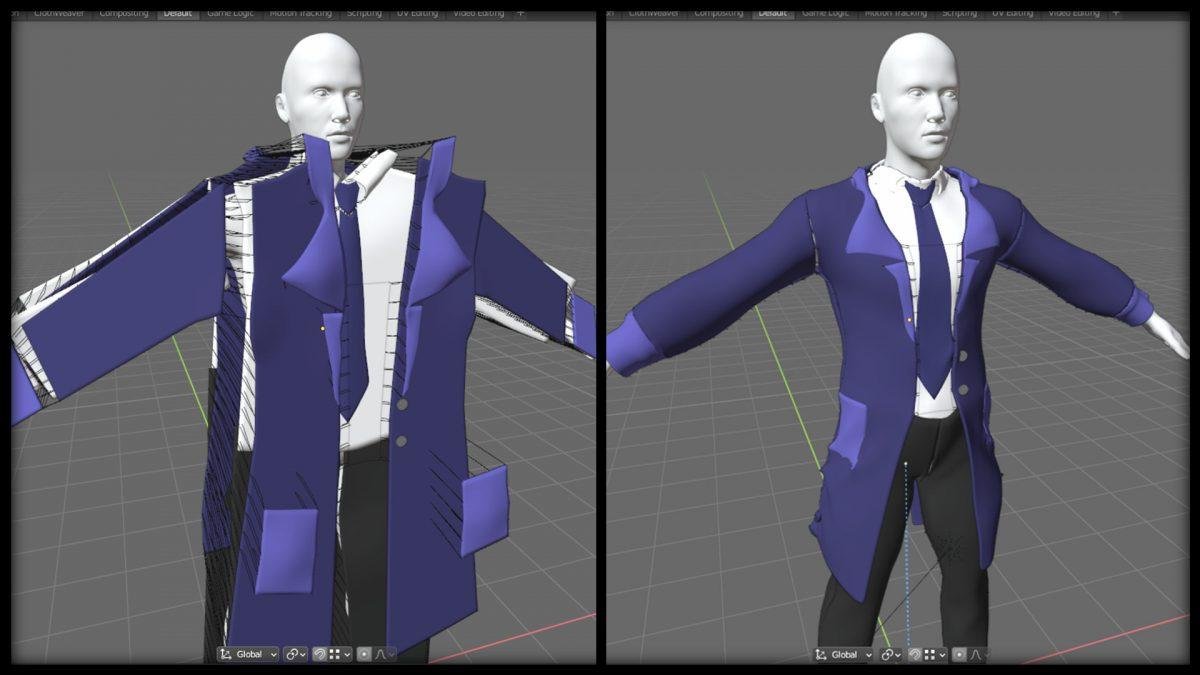 Tailornova
Your most daring concept designs can easily be brought into life with Tailornova.
Its distinctive feature is, first of all, that it is not software that can be simply downloaded to a computer or other device, but a web interface in which all your actions take place online and are instantly saved in the history of the Cloud and can be shared for seconds with other team members.
The Tailornova service is directly connected to the fashion industry and allows you to create the most realistic look, given the choice of colors, fabrics, styles and sizes, by saving and providing options for individual fit.
Browzwear
Singapore-based design company Browzwear has a program of the same name that, unlike many of the programs on this list, actually specializes in 3D clothing design.
Due to its narrow specialization and taking leading positions in the market, the program includes many tools that allow you to draw and develop the image of each look in a unique way and in the highest quality.
There are several fashion design software packages here, which offer ample opportunities for patterning, as well as templates for different types of clothes, and a chance to understand how clothes will look on the real body in motion or in certain poses.
Due to the fact that this program is designed for the large budgets of large companies that use the services of Browzwear, there might be a little inconvenience to use it if you are a solo professional, freelancer, because the price offer may be slightly overpriced.
CLO 3D
A key feature of the CLO 3D program is the ability to create a 2D layout before creating a 3D image. This project is a self-contained interactive fully equipped 3D CAD clothing design solution.
A huge selection of colors, sewing patterns, fabrics, styles are presented; it is also worth mentioning that users are able to see clothes in motion, add layers, folds and implement their most diverse ideas in design.
After a month of free trial, all features of the CLO 3D program cost $50 per month.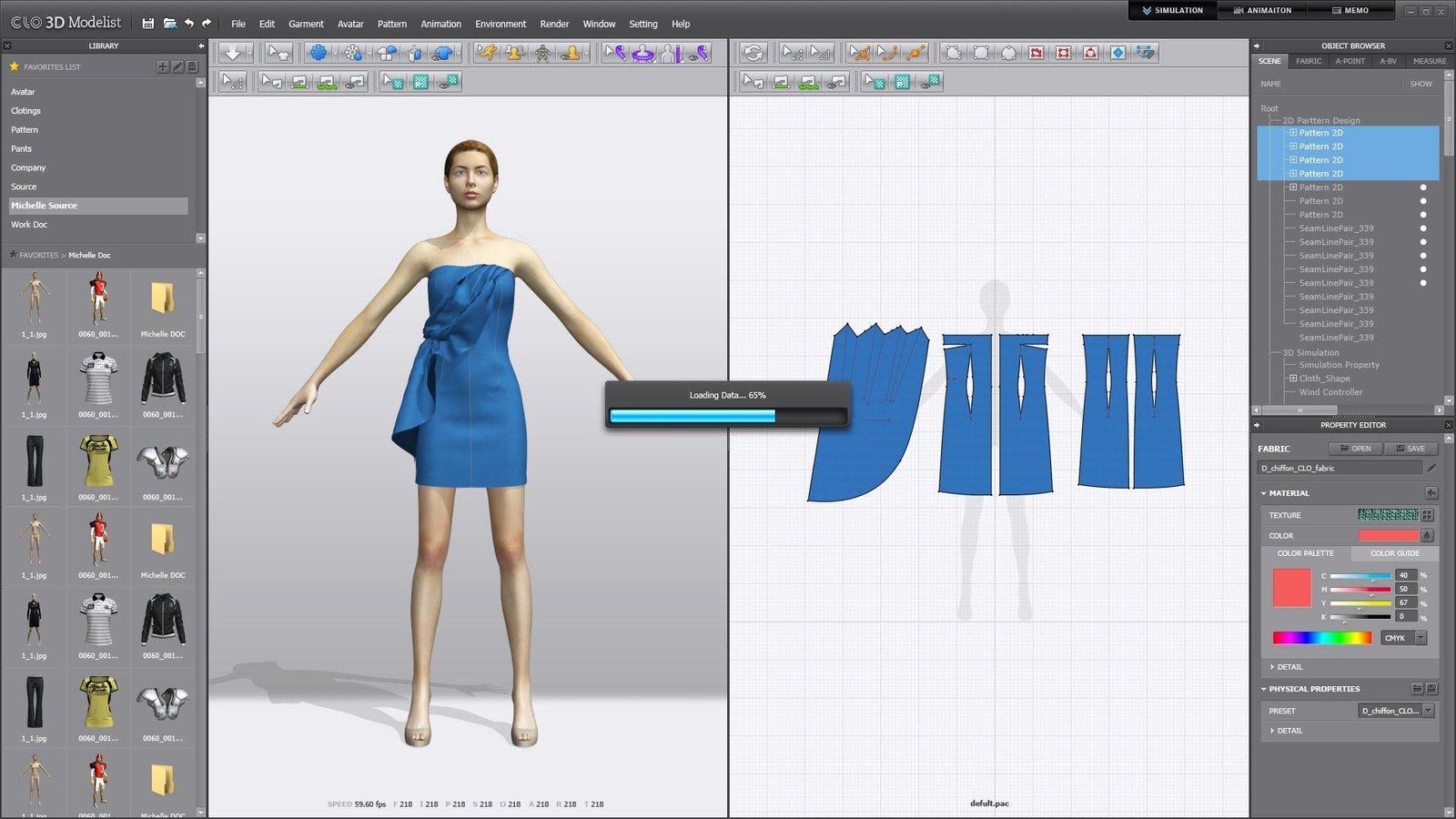 Digital Fashion Pro
This program differs from others not only in useful features regarding fashion design, but also in providing online courses in fashion design for beginners and intermediate levels in the field of modeling and tailoring different types of clothes. If you would like to start your own clothing line or business, then you should also look into the Digital Fashion Pro software.
This is a full-scale clothing design software doing service for all possible areas in the field of fashion, which includes a large number of different tools for creating 2D and 3D sketches and images.
Among the weak points of this program a very unusual thing can be named: after purchasing the paid version, you should first wait for the official delivery of Digital Fashion Pro and its individual installation on your device.
Adobe Illustrator
Everyone has heard of Adobe Illustrator at least once in their lives. This fairly popular program cannot really be called a 3D fashion design tool directly, but it is an incredibly good and powerful base for understanding what vector graphics are in general.
A professional specialist in 3D fashion design is unlikely to first think of Adobe Illustrator to make their 3D models, however, students or some video game designers choose this program as a starting point with limited 3D options, to then move on to something more professional and limitless in opportunities.
Since the Adobe Illustrator program itself is very popular and has many other useful and unique features, on the Internet you can find countless manuals and guides for using it. The cost per month is $20.
SnapFashun
It is a fairly easy to use all-in-one program most commonly used by non-fine arts major students. Experts in garment design are likely to say SnapFashun is too basic for people with experience.
The fashion design software is convenient, flexible and user-friendly, allowing to use it 24/7. Support works in the same way in this service.
SnapFashun is well updated and integrated with new versions of Adobe software, however, it still requires refinement and more detail in clothes, accessories, footwear.
Edraw Max
Edraw Max is a professional software for creating graphs, diagrams, drawings, schemes, mind maps, sketches and floor and room plans. Not specializing in fashion design directly, the program is equipped with a large number of tools for any creative experiments that can be used before you would want to create a 3D model.
Edraw Max offers a trial period before purchasing.
C-Design Fashion
This program focuses directly on fashion design and greatly simplifies the entire production cycle thanks to the design tools it offers.
Suitable for both beginners in design and professionals, this clothing design software is quite easy to use. It allows you to integrate files from other programs such as Adobe products into your work and collects data about your work, providing a table of sizes, colors, fabrics, etc.
C-Design Fashion is an incredibly comfortable apparel software for making clothes, viewing your sketches on real bodies, as well as doing business and monitoring tools in real time.
Monthly billing starts at $49.
WGSN
WGSN is a trend forecast website, subscribers of this platform from different backgrounds can network and work "creating tomorrow" – as the site's slogan says.
WGSN's services cover fashion and lifestyle forecasting, data analysis, crowdsourced design validation, and expert consultation.
An annual subscription to WGSN costs $3,000.
Cameo v7
Cameo v7 is a really powerful pattern making, grading, customization and marker creation fashion design software for designers. There are many templates, prints and patterns on offer here that you can edit, change, get inspired from and use as a base for your creative experiments.
The product presents a number of guides, thanks to which you can understand how to use it as efficiently as possible.
Export to the standard AutoCAD DXF, PDF and other formats is provided.
Designer Pro
Not a very popular, but still quite progressive application that directly competes with Adobe, however, many users say that many of Designer Pro's features are really good.
This software has a free version and a paid subscription.
Corel Draw
Corel Draw is also a very popular image editing program in various formats, including 3D, directly competing with Adobe Illustrator. However, it is worth mentioning that Corel Draw has absolutely unique tool packs that you definitely won't find anywhere else. Among the most key features of the platform are vector graphics, editing photos, animations, and typography.
You can also find a large number of tutorials on the Internet that help you understand the program faster. Monthly maintenance costs $249 per year.
EFI OPTITEX
This program is also an Adobe Illustrator partner, specializing mainly in sportswear, logo design, and has a large number of different pattern templates allowing limitless pattern drafting.
In addition, Optitex is a handy project management software providing valuable tools used in business.
Optitex does not have an open price, but you can request it from the service, they provide a free trial version before buying.
Fusion 360
This is another 3D modeling program that has a wide range of features and is not specifically focused on fashion design.
It also presents popular functions for creating 3D models of freeform shapes, colors and formats.
You can see your work in real motion and share the results on social networks.
The program costs $60 per month, $347 per year.
Pattern Smith
Pattern Smith is a very narrow CAD fashion design program that focuses on design patterns and does it in 2D. Further, the patterns can be converted to 3D, but for the most part, they draw and create digital patterns.
It is worth stating that this is a unique program with countless options for editing, cutting, overlaying and so on.
Pattern Smith, like most of the programs on the list, has a demo version, but you will pay $1,000 per year when you buy it.
Smart Designer
This Korean fashion design CAD program is just starting its journey into 2D and 3D fashion modeling. Offering a large number of comprehensive tools for a wide variety of sketches and looks, this project also provides the user with more industry-specific functions, such as creating clothes from knitwear, using draperies, folds, and so on.
To find out the price, contact the service support.
Conclusion
Now we have definitely come to the moment when we can say, the world has already changed and will never be the same: 
We value time, because everything changes, moves and flows incredibly fast; 

We have accustomed to occupying a minimal workspace around them, because the work can be done using fewer and fewer devices and does not require physical movement; 

And we do not pause discovering new professional horizons, because if you stop even for a second, you will definitely fall behind by a few steps.
Trends in the fashion world are not left behind: garment designers come up with more sustainable fabric options, simplify and speed up the process from sketching to finished material, as well as digital skills of 3D designers are honed every day.
Fashion design software programs such as Marvelous Designer or CLO 3D specialize in virtual clothing design and have a huge number of functions, helping bring the fashion industry to a new level: when you think less about fabric costs and more about creativity.
Softwares like Pattern Smith or Edraw Max have a narrow focus on 2D sketches, while multipurpose programs like Adobe Illustrator, Blender or CyberFox, on the contrary, have a wide range of features and at the same time offer many options for 3D design.
If you have a great desire to make a breakthrough in the fashion world, or at least start your fashion project with something, you can contact us. Professionals from CyberFox are ready to answer any questions, listen to your expectations and make your project truly unique.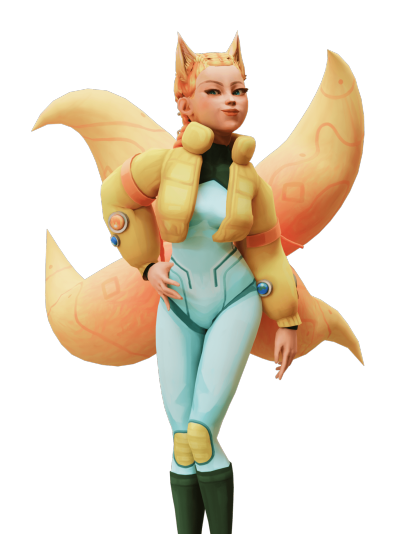 Fill out the form and we will reply within 1 working day
FAQ
If you don't know how to create a design of a cloth, you need to check the 17 programs mentioned above and download one of them. This must meet all your requirements, but first, you'll need to do some sketch.
It works fast: trends are so quickly exchanging one another, metamorphoses are gradual and all you need to take care of is your time. 3D programs make the process easier and less energy consuming.
The most popular ones are Blender, Valentina, CyberFox. Although lots of clothing design software programs offer a trial period.
Each product has their own advantages and disadvantages, but according to the reviews, it's necessary to say that TUKA, Digital Fashion Pro, Browzwear has got a demo version and can be used for free for a while.
According to the reviews, users say it's complicated in a good way, meaning it has lots of opportunities to reach for a great result.
Leave a request,
we reply in 1 day
Leave a request,
we reply in 1 day